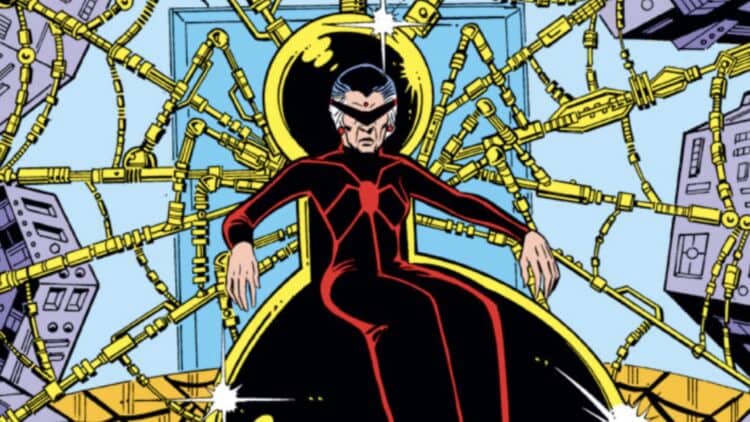 The Spider-Verse is expanding at a fast rate as Sony has confirmed that Madame Web will be released a month after Spider-Man: Across the Spider-Verse drops on June 2, 2023. Thus far, Dakota Johnson will be headlining as the titular character in the upcoming animated feature, with Sydney Sweeney (Cassie from Euphoria) also confirmed for a role, though it's unclear what character she'll be playing at the moment. Originally, Madame Web – known as Cassandra Webb – made her debut in The Amazing Spider-Man #280 in 1980 and the character has helped out Spidey on multiple occasions. Madame Web has yet to make a live action debut, nor did she make an appearance in the first Into The Spider-Verse feature. There's not much to go on when it comes to the story as Sony hasn't confirmed what the plot is, though it's a year away so that's to be expected.
When it comes down to it, Sony is moving forward with its plans to extend the Spider-Verse. The company recently released Morbius; however, whatever goodwill that the Tom Holland features had brought, the Jared Leto vehicle quickly killed it. Still, plans appear to be on track to expand the Spidey universe. So, when it comes down to it, is a Madame Web spin-off necessary? Here's the thing, I think the idea of a female Spider-Man is great. However, why not go with Spider-Gwen? Now, it could be a case where executives thought her character is too similar to Peter Parker and Miles Morales; Spider-Gwen is also bitten by a radioactive spider and she isn't too different from her male counterparts. She shares the same universe as Parker and Morales, so there isn't much fun to play with that world like Spider-Man 2099 or Spider-Man Noir. However, that doesn't mean that you can't make a good Spider-Gwen movie, but understandably the parallels between Spider-Gwen, Peter Parker, and Miles Morales aren't too different.
Now Cassandra Webb is vastly different. In the comics, the original character was paralyzed, blind, telepathic, clairvoyant, and precognitive mutant. There's so much layers to play with her character. First, she doesn't need Spider-Man to help her carry the film. That's one of the biggest issues with Morbius and Venom are that the villains felt that he needed Spider-Man in their world. Granted, their backstory is interesting enough for a deep exploration without the masked crusader, but the recent films never went into a direction that really justified its own existence. Madame Web is a unique character with an interesting origin story herself, and while it's not clear if she'll have all the traits from her comic book counterparts, there's something deeper and different that the filmmakers can mess around with. The big concern with a Madame Web spin-off is that it feels like Sony is throwing a bunch of interesting characters from the Spidey universe without careful planning.
Given the fact Sony has wanted to expand the Spider-Man universe since the mess known as The Amazing Spider-Man 2, the studio likely has been planning for a lengthy period of time. However, going back to Morbius, the film felt random. This is one Spider-Man's big villains, and instead of introducing him first in one of the live-action films that would've gotten audiences invested into the character, they decided to completely insert him in a solo feature without much fanfare. Venom is a whole another issue to talk about. Long story short with him, he's not as interesting without Spider-Man. The main purpose for bringing those two up is due to the fact that they don't feel connected to the overall universe. Thankfully, Sony isn't going The Amazing Spider-Man 2 route by focusing on the future, but it would've been great to incorporate characters that Sony plans on making solo features with into the world of Spider-Man in a subtle manner. The world of Spider-Man so far doesn't feel connected because everything has been kept secret. Venom is out and about eating people, but Spider-Man has yet to acknowledge his existence. In order for these worlds to feel the same, then these characters have to know that each other exists. Joker works because it's an origin story before Batman came to life. For the most part, the MCU feels like a perfect symphony because everything feels connected.
With the right filmmaker on board, a Madame Web feature could be truly great. However, Sony needs to do a better job of connecting the universe. Spider-Man doesn't need to be in the solo feature, but if this is during a time when Peter Parker exists then his character should be acknowledged in some way. Madame Web is a great idea, but the concern lies on whether Sony is making out this world properly.