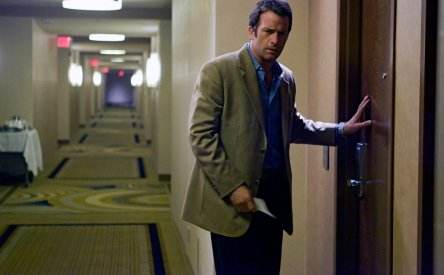 I love symbolism as a season ender. Nurse Jackie's first season ended so well with the rat in the ceiling light, and Hung also managed to use an animal to end a season on a mysterious note, though with flies instead of rats.
The episode also starts with the flies, as Tanya, while reading a book, notices that she has an unusual amount of flies in her living room. Startled, she runs to Ray, confessing to him that she thinks it symbolizes that she is "dead meat." Desperate, she pleads with Ray to reassure her that she's still his pimp, and he tells her she is.
That's not exactly the case, however. Behind Tanya's back, Ray is having dinner with Lenore, who is trying to convince him to leave Tanya and let Lenore become his pimp. Lenore shows a great deal of knowledge regarding women and their needs, but Ray refuses to leave Tanya, and proposes that the three of them form a partnership. Lenore will have none of that, however. Ray refuses to budge, and goes home.
While preparing his house to have electricity installed, he finds beehives dripping with honey between his walls (makes me wonder, is this why flies are in Tanya's house? They certainly seemed attracted to the walls). Frustrated, Ray realizes that this is a major setback in his home renovation plans.
Later, at school, Ray talks to his co-worker Mike, who is worried that he is on the list to get fired. Ray offers to talk to the principal, Rhonda, in order to reassure Mike. Mike is grateful, and quickly leaves.
Meanwhile, Lenore and Jessica get massages. Jessica shares with Lenore the fact that she is insecure, and Lenore's diagnosis for that is that Jessica needs to have sex, especially she isn't having regular sex with Ronnie. Lenore recommends seeing a "sex therapist," though she doesn't tell Jessica that it's Ray.
Ronnie is seeing a former classmate as a patient. The two are flirting, and they realize how much they have in common — they're even both doctors. Ronnie finds himself drawn to the woman, especially after she asks him to look at a mole in a very intimate place. In a humorous moment, she asks him if he has a Facebook, because she would "friend him."
At school, Ray goes to talk to Rhonda, who reveals to him that she is forced to lay off 70% of the school's staff at least temporarily, including Ray and Mike. Ray is shocked. That night, he takes Damon and Darby (and their respective love interests) to the movies to watch A Nightmare on Elm Street. He gets up for a moment, leaving the two couples alone. Damon's boyfriend kisses Damon on the cheek. Damon is obviously uncomfortable, prompting his boyfriend to angrily leave, effectively breaking up with Damon. Darby comforts Damon, and the two hug.
Meanwhile, Ray talks to lenore, and tells her that since he is the one that will be providing the services, he's going to have it his way, and that the three of them will have a joint partnership. Lenore reluctantly agrees, taking Tanya to the park to discuss it there the next morning. Tanya vehemently disagrees to Lenore's proposed partnership, and angrily storms off, especially after Lenore proposes changing the name from Happiness Consultants. Lenore tells Tanya that she'll either share Ray or have no Ray, but Tanya leaves anyway.
Meanwhile, while cleaning the hives out of the walls, Ray is visited by his neighbor's wife, who wants some honey. She quickly and easily seduces him, but Tanya shows up while the two of them are in the middle of things, interrupting them. Believing Ray's neighbor to be a client of Lenore's, she throws an absolute fit, kicking cars and finally breaking down. Ray takes her to a restaurant, where he convinces her to accept Lenore. He just needs a living, he insists.
Lenore then secures Ray his first client. He is to meet her at a hotel. While loitering around the lobby, he realizes that his client is Jessica, his ex-wife. This has been a long time coming, but it was still great to see it finally – almost – realized.
Ray calls Jessica, telling her it's just to say hello, while he takes the stairs to the second floor, where their proposed rendezvous will be. He tells her that she's a good mom, and he's a good dad. She asks why he's telling her this as she enters the hotel room as he watches from afar, and he tells her it's good not to hide these things. She tells him she's got to go, and hangs up.
Ray waits outside the hotel room door for a tantalizingly and torturously long amount of time, debating on whether or not to go in, before disappointingly deciding not to, and leaving, slowly walking down the hall. He returns home, where he sits on the lakeside, narrating to the audience that he has a dick and a dream, and if that's not the American Dream, he doesn't know what is.
Tanya, meanwhile, is once again sitting at home, reading. A fly lands on her table, and she swats it, staring at it thoughtfully afterward. Is she dead meat? Will she be usurped by Lenore? As she wonders, the episode ends, closing the series until it returns for a second season next summer.