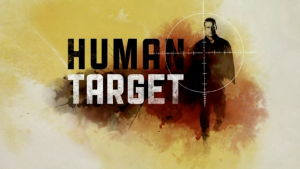 Tonight's episode of Human Target felt more like a season finale than any other recent one I've seen. It wasn't necessarily because of the episode's plot (though it was good). No, the episode had a feeling of greatness in it from the very first second, when the usually pensive opening music burst in with blaring brass. Hoo boy, I thought. I am in for a treat.
And I was. The opening credits (some of my favorite of all time) were redone with louder and more dramatic music, and the episode was done that way too. It was also the most unique episode of Target I have ever seen, because it took place mostly in flashback. In fact, it served as mostly exposition; we got to know how Chance, Winston, and Guerrero began working together. Overall, it was a very satisfying episode with a cool cliffhanger that makes me definitely want the series to get a renewal for a second season.
The episode was unusually plot driven, and it worked really well as part one of at least a two-parter. After all, it introduced a lot of new characters. Most surprisingly, though, the main antagonist of the episode was not Chance's former boss (he actually turned out to be more of an ally to Chance), but a former client of his, who was looking for a very important book that was lost during a fight between Chance and Baptiste (the assassin who first popped up in the episode "Baptiste"). At the end of that said fight, Baptiste blew up a boat that contained Katherine, and also killed Chance's namesake, the bodyguard Christopher Chance (who, like our hero, took the name from bodyguards before him).
The best part of the episode was the fight between Guerrero and Chance, no question. In the flashback, Guerrero, still working for Chance's boss, tried to convince Chance to go through with his assignment (to kill Katherine), which Chance refused to do. So, they fought for a while, until Chance bested Guerrero and pistol-whipped him. Ironically, Guerrero later came to work with Chance. How this happened is still unknown, but it was still lots of fun to see the two of them duke it out.
The episode's one weakness, in my opinion, was the fact that we don't know that Katherine actually died. Sure, the boat blew up. But there was a huge gap between when Baptiste presumably planted the bomb and when he detonated. And how would Katherine not have noticed Baptiste planting the bomb? I think Katherine's survival will be a major plot twist of the next season (if there is one). It's only disappointing that they didn't reveal it sooner — any intrepid television watcher knows that if you don't show the person in the location of the explosion right before the explosion, it's obvious that they're not dead. Simple as that.
However, the episode ended on a great cliffhanger (the kidnapping of Winston), and it definitely made me hope that FOX will pick the show up for a second season — and hopefully it'll start airing in the fall with a longer season. Until we get confirmation (or otherwise) about season two, I'll give the episode an A-.