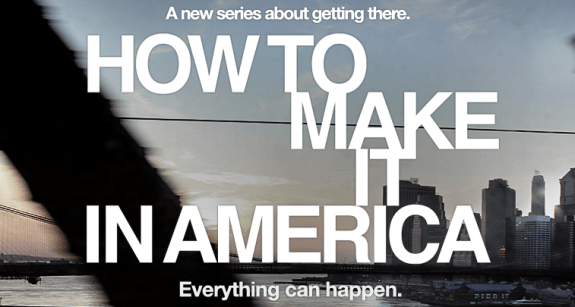 It wasn't as good as last week's pilot episode, but this week's episode of How to Make It in America was still very solid. In this episode, Ben and Cam tried to find a denim manufacturer, despite the fact that they didn't even have a business plan, or even samples. I mean, I don't know anything about making clothes, but if you go to a high-ranking fashion executive without a sample or a business plan, you're stupid. But, I guess that's what the show is about — the stupid trying to make it big.
I won't say that Ben and Cam are completely idiotic. Cam proved himself once again resourceful by imposing himself on a fashion executive to schedule a meeting with them, though his overzealousness led to the awkward meeting with the head of denim at a fashion company, who kindly told Ben and Cam that they had no chance in the fashion industry, and that they should give up. Perhaps unfortunately, the two paid the man with ten years of industry experience no heed, and continued on their path to trying to make denim.
That path is being made all the more difficult by Cam's cousin Rene, played once again by Luis Guzman. Rene, in addition to being the loan shark who Ben and Cam owe, is also trying to launch an enery drink line — Rasta Monsta — and is doing signficantly better than they are, it appears. Not only did he get a graffiti legend to paint up a Monsta-themed truck, he started hocking his product as a sponsor for bingo night at a church. He's also caring for his grandmother, who you can tell he loves dearly.
A subplot of the episode involved Ben having a meeting with his ex-girlfriend Rachel about his drunken tirade outside her apartment from the last episode. The dinner doesn't end well, and Ben leaves before he even orders his meal. Let's hope this relationship doesn't grow too cliche, too quickly. It's already starting to go a little stale, because we've seen it all before.
All in all, the shortcomings of the episode were made up for by character development, which seemed to develop with the two, perhaps a result of getting to know the two of them. Now all they need to do is be less stupid. B-
Please retweet or Digg this review.