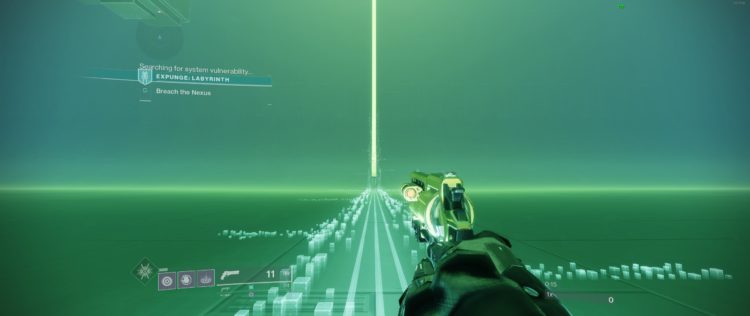 The latest weekly reset in Destiny 2 brought about the first reset for the newest version of the Vault of Glass raid, so be sure to complete it again for a few more chances at the Vex Mythoclast! It also brought a brand new weekly "Pinnacle" mission called Expunge: Labyrinth. This is a new mission that involves some parkour, puzzle solving, and not very Pinnacle rewards. Yeah, even though the Season of the Splicer roadmap had listed this mission as a Pinnacle mission, apparently it will only reward high-stat armor for the first completion every week, for the first 4 weeks, and then it will start becoming a weekly Pinnacle source. I don't know, it's really weird how Bungie is going about this whole Expunge thing. Anyway, Expunge: Labyrinth is currently set on the Tangled Shore, though with a few more iterations of the mission coming soon, it will likely have varying destinations with different objectives. So, how can you go about completing the new "Pinnacle" mission called Expunge: Labyrinth in Destiny 2?
Spawning
When you spawn into the Expunge: Labyrinth mission, you'll essentially be thrown into what looks like a vast nothingness in a green sea of Vex….stuff? I'm not really sure what to call it, but you'll need to just head forward from the direction you spawn in. You'll reach a wall that you need to interact with (it'll say "Hack") and then the wall will open up.
Maze
This is a bit of a tricky part, because after you jump down a big hole in the ground, you'll need to follow a path to continue down into the Vex network, but the only problem is that there are a few obstacles in your way like disappearing walls which make it pretty difficult to successfully navigate throughout the network easily. After you find your way down to a certain point, you'll land in a room that is almost entirely white. The door that you want to go through is the second one on the left, which will take you to yet another white room. Head forward through that room until you hit a ramp going up, go up the ramp and turn around to the left side. If you go back through the right side, it will take you in a circle back to the white room. Going through the left side of the room will take you to the next place you need to be.
Laser Walls
You'll trigger a voice line from Mithrax stating that the Vex know you're inside their network and you need to hurry. Wait for a laser wall to pass by before you continue to make your way through the network. Once that laser wall passes, you can follow it and jump down until you hit a platform at the bottom. This is where the parkour comes into play as you'll need to channel your inner Whisper of the Worm mission skills and avoid certain platforms while making sure to land on others. It'll take some trial and error, especially since you'll have to do all of this while avoiding more of those laser walls that keep trying to take you out. Think of it basically like Zero Hour meets the Whisper mission and you'll have it down pretty quickly. Once you reach the end, you'll see a Vex portal that you need to jump through. Jump through the portal – still making sure not to get slammed by the wall in front of it – and then you're onto the next part.
Jumping Puzzle
The penultimate portion of Expunge: Labyrinth is a jumping puzzle of sorts; it's a fairly easy path, so just follow the lit-up platforms and enemies until you make it to the next section. Along the way, there will be some Vex crystals that you'll need to shoot that will open up access to certain platforms, so be careful not to miss those. When you get to an area with 3 different circles to go through – go through the middle one. You will also have to deposit some Data Spikes along the way, so be careful about the Vex surrounding those – they explode, and make sure you avoid the Vex that spawn from those big red boxes, because if you get hit by one of them, you'll be detained and someone will have to shoot you out of it.
Fantis, Oppressive Mind
This is an incredibly easy boss fight and can easily be completed by a one-person fireteam. All you need to do is hit the boss (Fantis) with a couple of shots to do some initial damage, it will go immune, then you'll need to take out 2 Harpies who will each drop a Data Spike and then you'll need to deposit those Data Spikes into a highlighted spot. After the second Data Spike is deposited, you can start damaging the boss again until it's dead. It took me 3 Deathbringer shots and a couple of secondary Grenade Launcher shots to bring Fantis down entirely, so you don't even need that much ammo. Honestly, you could probably damage it entirely with primary ammo and it would still be relatively easy.
There's how you complete Expunge: Labyrinth, Guardians! Hopefully next week is a brand new puzzle to solve and a brand new boss to fight!