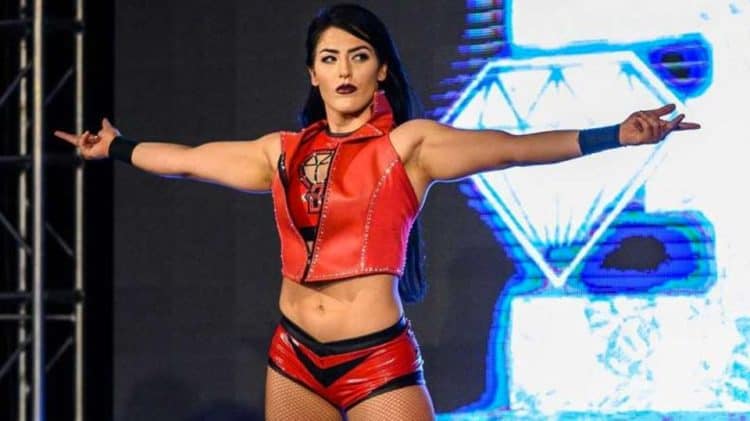 Tessa Blanchard. A second-generation star who broke barriers for women's wrestling during her time in Impact Wrestling. Not only is she a former Impact Knockout's Champion, but she's the only female to hold the Impact World title. Following a rocky exit from the company in 2020, the second-generation star has seemingly been missing from the spotlight. This is odd because Blanchard was once considered the hottest free agent at one point of her career, and the fact that neither WWE nor All Elite Wrestling has not scooped up the former Impact World Champion is shocking. Now, this could be a case of Blanchard simply not choosing to go to either promotion. She hasn't stated the word retirement so she's still in the business but given the fact that the biggest and best places for women's wrestling are WWE, Impact, and AEW, the likelihood of opting to not go to WWE and AEW are slim because there are slim pickings on both ends. The second-generation star is a featured action in Women of Wrestling; however, this article will examine why Tessa Blanchard likely killed her chances at ever being picked up by WWE and AEW.
Blanchard made her debut down in NXT in 2016 and it appeared that the second-generation star was the latest recruit in the company. Blanchard was even apart of the first-ever Mae Young Classic, and though she was eliminated in the first round by Kairi Sane, her future with WWE still seemed bright. However, Blanchard would never be heard from again in WWE. There's no official word on why officials opted to not hire her, but word from Dave Meltzer of the Wrestling Observer is that its due to attitude issues. An exact moment was never pointed out but considering the fact that Blanchard has yet to be given any sort of look from the company following her Impact Wrestling departure, it's clear that something happened behind the scenes. Though we don't particularly know exactly what Blanchard did in WWE, the handling of her Impact Wrestling departure was terribly done. Despite the rumors regarding her behavioral problems, Impact Wrestling decided to take a risk on the second-generation star. Given how well Blanchard was pushed within the company, it appears that she was in the good graces of official's backstage. Impact Wrestling gave her a platform to showcase why she's one of the best wrestlers in the world by making her the first woman to ever hold the Impact World title.
The company trusted Blanchard by making her a star. The former Impact talent spit in their faces by refusing to defend her belt in order to drop it. This type of behavior likely showcased to WWE and AEW that Blanchard hasn't changed behind-the-scenes. It was a case of entitlement, greed, and selflessness, which seemingly backfired in the end. Again, I don't know Blanchard personally nor was I backstage so all I can do is feed off of speculation, but the very public issues in regard to her Impact Wrestling exit likely sealed her fate. However, if that was just the main problems then it's a possibility that Blanchard would've still been hired by one of the two big companies. During the week of January 12, 2020, a firestorm of accusations were hurled towards Tessa after she sent a misguided tweet. Former Impact star Sienna revealed that Blanchard spit in La Black Rose's face and called her the N-Word. This was also confirmed by Black Rose herself. Tessa denied the allegations altogether, but that was a dark day for her career as a whole. Allegations about her behavior weren't just from one talent, it came from a slew of female wrestlers who have worked with the former Impact star in the past. That's not a mere coincidence. Instead of showing growth and how much she's evolved as a person, Tessa continued to actively deny these claims instead of making a public apology.
The rumors about Blanchard's behavior backstage were just gossip until that very incident. Granted, we don't have actual footage from any incident involving her, but it's still evident when talents from different companies are speaking out against the former Impact star. If not WWE, then Tessa should've been a shoe-in for AEW because he father Tully works there. Plus, she actually worked the first All In event back in 2018. There's no denying the sheer talent of Tessa Blanchard; however, no matter how gifted you are, nobody is going to work with somebody who's a pain to deal with. Tessa Blanchard's career will likely remain small unless her reputation gets better. Until then, the third generation star's Impact run is the most high profile she'll ever get.
Tell us what's wrong with this post? How could we improve it? :)
Let us improve this post!