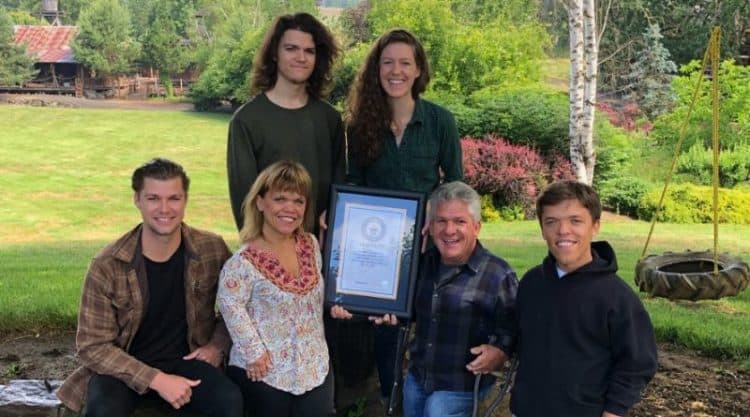 As it's been said in a piece written by Ashley Boucher from The Wrap, "the show must go on". Of course Ashley was referencing the departure of Jeremy and Audrey Roloff from the show Little People Big World, a show that's lasted 14 seasons at this point and still looks to have enough material to keep going. The only roadblock in the way however would be that the rumor about the Roloff Farm being sold could possibly end the show and create a great deal of friction among fans. The rumor seems to be more than just idle gossip as it's been reported by Kayla Keegan of GH and several others that the Roloff Farms, famous in northern Oregon for many reasons, not the least of which is their well-known pumpkin patch that opens in the fall, that the farm could be liquidated at some point. Matt has gone into detail about how he thinks the farm is a burden while also stating that he couldn't be away from his grandchildren for that long, but with the rest of the family trying to move on at this point and experience new things it almost seems as though the farm might be a part of their past and present that might not make it into the future.
The trials and tribulations that the family has gone through since acquiring the farm back in 1990 have been many since for one the Roloff's. For one, the process of owning and operating a farm isn't a simple matter no matter how big or small it really is. There are duties aplenty that have to be taken care of, responsibilities that keep a person grounded and unable to simply step away at times, and despite the fact that they have plenty of help it does take a toll on a person after a while. At this point it almost seems as though the sale of the farm would bring the family a peace of mind that would enable them all to move forward in their own way. Things haven't been easy at all in the past two, almost three, decades but Amy and Matt's divorce, which as Katie Isic reminds us took place in 2015, only made things harder as it split the family just a bit and forced them to walk down a different path that none of them had ever intended. That being said the family still hasn't given up yet and that could be one reason why people are still so enamored of this show.
There's also the hometown pride that comes with many people in the Pacific Northwest understanding that the Roloff's are a homegrown bunch of celebrities and have been tied to this place for a long time. That alone is worth the effort of going out to the farm to see what's going on and enjoying what they have to offer since it keeps a lot of people interested and even invested in something that's close to home and therefore a part of the community that people want to preserve. But with the coming idea that the farm might be for sale it's kind of hard to think of anyone else continuing the traditions that we've become used to for so long. So far the show has gotten by on showing the lives of the Roloff family and what it takes for them to live in a world that isn't always made for smaller folks as well as how they get by and get along with those around them that don't bother to see their height as an impediment and just treat them like they'd treat anyone else. Perhaps that's a big part of why the show has lasted so long, it's shown the Roloff's, who are a mix of tall and shorter folks, as just regular down-home people that aren't always prone to the kind of drama that tends to encapsulate so many reality shows.
People do understand what goes into a reality show at this point, though many still stay blind to the fact since they want a good drama or comedy and don't want to worry about the lives of those that are being filmed in order to bring them said entertainment. But for those of us that live in the PNW the Roloff's are very real and they're easy enough to locate in order to see for ourselves that they are honest, hardworking people that deserve a great deal of respect as they go about their average day. That's another big part of why the show has lasted as long as it has, they don't buy into the whole idea of drama and conflict that so many networks want from their reality stars. This is their life, their world, and their family, and if a person doesn't like it then they don't have to watch. Obviously though enough people are entertained by a family that doesn't enjoy the drama that it's been a welcome relief from the norm.