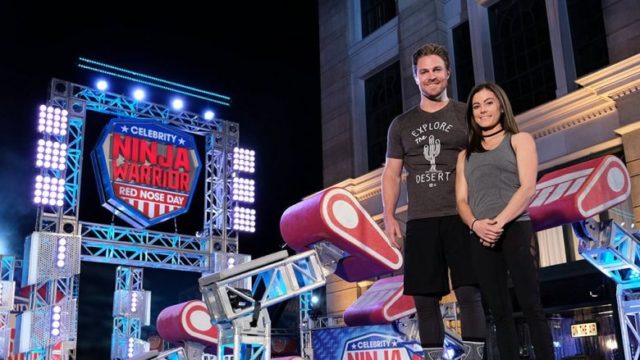 The popular NBC reality competition, American Ninja Warrior is bringing in nine celebrity contestants to taken on the challenges of their grueling courses. The 2017 line up includes Stephen Amell of Arrow (who already killed it), Mena Suvari of American Beauty and American Pie, Derek Hough from Dancing with the Stars, Nick Swisher, former Yankees player and comedian Nikki Glaser to find out if the competition is really all that funny. We'll also see Ashton Eaton, Olympic gold Medalist and comedian Jeff Dye. But who is it that fans really want to see?
Here are five celebrity names that we really want to see on Celebrity Ninja Warrior.
Chris Pratt
Chris, a native of Washington State is a star that exibits a profound fitness and strength as he showed in Jurassic World. He impressed us when he ran with the dinosaurs so to speak, but what could he do when coming up against the ultimate challenge? The course puts your strength, stamina, fitness and fast thinking skills to the test. There are lots of fans who would love to find out if Chris is up to the challenge.
Tyler Hoechlin
The 29 year old actor looks older than he really is. He first appeared in "Road to Perdition" with Tom Hanks and continued to build his impressive resume as an actor. MTVs "Teen Wolf" and his recent role as Superman on the show Supergirl makes us wonder how similar he really is to the man of steel. He's another top pick that fans would love to see in the American Ninja Warriors Celebrity competitions.
Taylor Lautner
Taylor Lautner impressed us in his role as a werewolf on the "Twilight" saga. This makes us wonder what the 25 year old actor could do on the challenging American Ninja Warrior course. He's no doubt one of the ladies' favorite choices and he scored in as one of the top runners in the sexiest men polls taken. This isn't what makes him a favorite choice for the competition though. Yes, he's a model, but he is also a martial arts enthusiast. This alone is the factor that could give Taylor an edge in having the strength, focus and discipline required to complete the challenges of the rugged course.
Johnny Weston
Johnny is an American actor who has appeared in The Divergent Series. He has the build and from what we've seen on screen, the endurance to do well in American Ninja Warrior. It would be interesting for his fans to find out if he has what it takes to endure the rigorous workout that the course requires. If his acting skills translate into his personal abilities, we think he would have the mental endurance and stamina to do a decent job on the course.
Alexander Ludwig
Alexander, known for his role as Cato on "The Hunger Games" in 2012 would also be a good choice for the celebrity version of American Ninja Warrior. He currently stars in "Vikings," the hit series on the History Channel. He's going to be in it for 20 episodes and let's face it, the real proof of his warrior prowess would be to conquer the challenge of the courses on American Ninja Celebrity Edition.