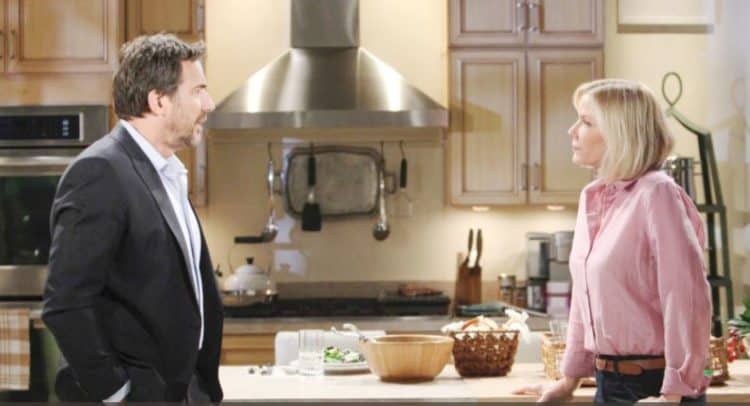 The Bold and the Beautiful fans officially know that Hope is pregnant at this point, and it's been confirmed after her appointment. She might seem shocked and unhappy about the entire situation, but we have a feeling she's feeling a lot happier about this than she cares to admit. She's getting all she's ever wanted, and it's working out really well for her. She lost her almost-husband to the woman he divorced for her, but now she's pregnant and in the same situation as Steffy was. The fact that Steffy hasn't told Liam that she can't marry him because Bill will put her mother in jail and she's only leading him to believe she doesn't really want to marry him might play well in Hope's favor. She might end up with all she wanted as a result, but we also saw a few other things that might make us change our mind about that.
For one, she's been threatened. And someone is not happy with her. She's got a note that's threatening her, and Thorne and Liam found it. They are both on her side, so this might be one of those things. They probably suspect that it's Sally who left this note, but right now Hope is a bit distracted and unable to put forth the effort to care as much as she might want to otherwise. Her discovery of her pregnancy is going to change it all, and she knows this is going to be a very true statement. She cannot make this go away, but it's also one of those things she's going to use to her advantage. What makes her different than Steffy at this point? She's pregnant, they will have a family, and this will be a very awkward family reunion come the holidays, right?
What's Happening on the Bold and the Beautiful
Nice scene for Annika Noelle as Hope goes from thinking about how she had WANTED this to play out to the reality of how it IS playing out. #boldandbeautiful

— cbs soapsindepth (@soapsindepthcbs) July 2, 2018
Now that it's been confirmed and we are all certain that there is a pregnancy in the works for Hope, we have to ask ourselves how we feel about this. We really did hope that Steffy and Liam were finally going to have a bright future ahead of themselves, but we think that's not going to happen. There is so much we don't know about this, but there is also a lot we do know. We know fans are torn, but it seems like they are all a little bit happy for her for finally getting her one wish.
What's Next on the Bold and the Beautiful
TODAY: Liam and Steffy wonder about the kind of person their daughter will wind up being. #BoldandBeautiful pic.twitter.com/ul8bJdeYWr

— Bold & The Beautiful (@BandB_CBS) July 2, 2018
There's so much going on. We can't even handle it. Right now we get to see some serious fireworks, and we are not talking about the Fourth of July. Rather, we are talking about a few other things that might just make the world turn in a different area. For one, we are going to see that Liam, Ridge, and Thorne will work together to find out what is going on with this note that's come to Hope. We know that Hope and Ridge aren't exactly getting along at this point, but he's not going to let someone threaten his wife's daughter — and he's going to do all he can to find a list of suspects. They will work on this as the holiday approaches, and it might be a good situation to visit.
And then there is the fact that Bill is going to show up on Steffy's doorstep — again. He doesn't know how to let things go and how to make them work, and that's not good news, either. He's got to get a situation to work for him, and he will do this by working very hard to make things work. He will leave her feeling very thankful, but probably not for the reason she wants. Will he tell her that it's all right for her to marry Liam and he will not allow things to turn around in his favor? Will he allow her to feel free to live her life without the bad news that she's going to lose her mother to this situation?
Stay tuned for more The Bold and the Beautiful and be sure to check out TVOvermind daily for the latest The Bold and the Beautiful spoilers, news, and updates.