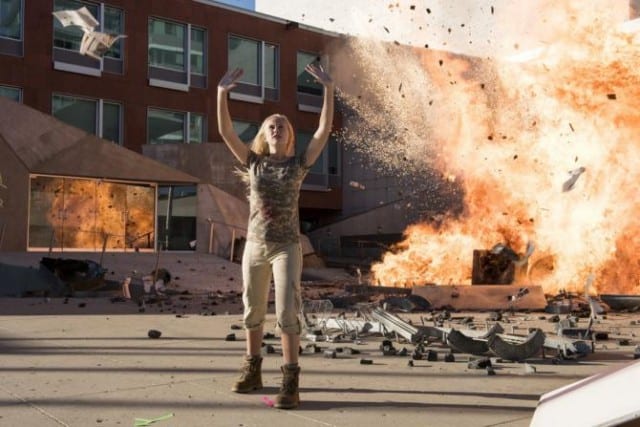 Well friends, Heroes Reborn has now come and gone, and it's been interesting to say the least. While there were lots of scattered plot threads at the beginning, they all came together in a compelling way to end what was probably the last anyone will see of Heroes on their television sets.
This week on the finale of Heroes Reborn: Emily and Ren work to free Tommy from his video game prison. Luke makes a sacrifice to get Quentin and Malina to safety. To save Malina, Quentin must confront Phoebe. Tommy recovers his memories of the past to unlock the proper tools to save the world, and with the help of his sister and grandfather, does exactly that.
First of all, I have to say, bravo on bridging the worlds between Heroes and Heroes Reborn, and then merging them seamlessly. I know NBC said that they did not plan to continue this series, but if they did, it would be a total reset. The reset and everything combining the old and new characters felt completely organic. For awhile, this season did not make much sense but by the end, it was an excellent standalone effort. I'm actually quite pleased with how everything turned out.
Sometimes it takes until the finale of a series before you discover what it's truly about. This story was about humanity, and told lots of miniature stories along the way. However, the finale turned out to be about heroism. You'd think since the show was called Heroes, that what I just said is an obvious statement. But it's not what you think. Sure, the people with extraordinary powers did some pretty cool things in the show, but the "heroes" turned out to be the every day people who had no powers.
Yes, I said that right. Think about it. Tommy and Malina saved the world, and Luke paid the ultimate sacrifice. But this story has still mostly been about non-evos doing the right thing. Quentin, for instance, was faced with an impossible choice. He knew that Malina had the power to save the world, and he killed his own sister to do his part. Ren is just a gamer with some serious courage. He and Emily both stepped up in the future, and then Ren fearlessly entered the video game to rescue Tommy. Carlos was supposed to be our hint. He never had powers and fought crime anyway, and turned out to be considered a hero. Then of course, Noah Bennet's story comes full circle. He disappeared from Luke and Malina's side because of Tommy, and he acted as a catalyst for their powers in order to save the world. All of the normal characters turned out to be the real heroes.
I've got to admit that during the run of Heroes Reborn I had mixed feelings. I wasn't sure where it was going at times, and some of the threads were a little silly. I can't compliment NBC on the hiatus in between episodes 10 and 11. That was silly. But I think that people will remember this installment of the Heroes saga fondly. I believe it will work better as a binge, and people will come to appreciate it better that way. It was a well acted, ultimately well told story.
All told, I'm very impressed with probably the best episode Heroes Reborn had. I may have to go back and watch the original series now.
What did you guys think? Did you enjoy the finale? Let us know!
Tell us what's wrong with this post? How could we improve it? :)
Let us improve this post!