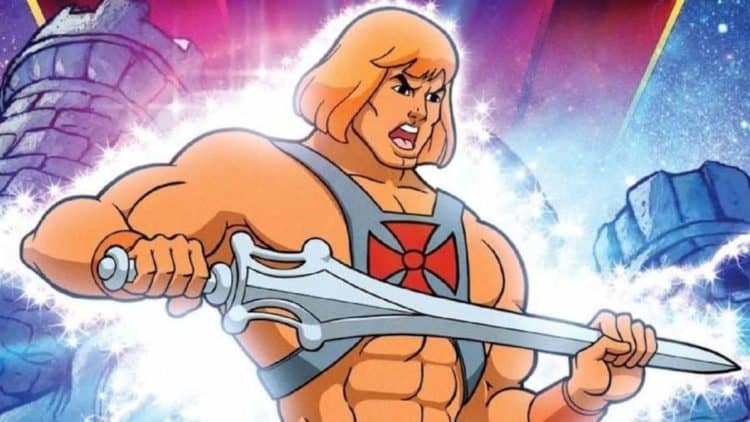 If you're an '80s kid, you probably grew up watching the He-Man and the Masters of the Universe cartoon. I'm actually a '90s kid, so I didn't really get to watch it. However, I did manage to check some of it out when it was on Netflix a few years ago. I can see why so many people were turned on by it during the old days, because it was all kinds of fun. Corny? Yes, but that's '80s cartoons for you. What else would you expect from an '80s cartoon with all the craziest fantasy elements you can possibly throw into one world? The answer is the land of Eternia, a planet of magic, myth, and advanced technology. The rulers of Eternia are King Randor and Queen Marlena, along with their young son, Prince Adam. Now Prince Adam is a scrawny kid who seemingly poses no threat. However, give him the magical Sword of Power and hear him yell, "By the power of Grayskull!" and he'll transform into the beefy warrior called He-Man. I must say, I understand why this character made for a good action figure for an '80s kid. A tall, very muscular blonde man, who doesn't exactly wear much clothing, but likes showing off his bulging muscles. If you were a kid growing up in the '80s, you know you wanted to look as big as He-Man. Nothing wrong with wanting to be big and strong.
If you ask me, I was more interested in the villains who constantly plotted in Snake Mountain. The highlight of the old cartoon was Skeletor, voiced by Alan Oppenheimer, an absolute icon in the voice acting industry. This was a villain who I thought was too scary for a children's cartoon. If you thought he was scary in the cartoon, just look at some art for him from legendary comic book artist, Alex Ross. Just on a side note, but I think his art is among the best of comic book art ever. Back to Skeletor, he was never much of a physical match for the hulking He-Man, but his strength was in dark magic and sorcery. His many minions included Evil-Lyn, Beast Man, Mer-Man, Trap Jaw, and Stinkor. And of course, who can forget about his deadly pet, Panthor? All of these enemies gave He-Man and his allies trouble over the years, all for the purpose of taking over Castle Grayskull. This made for many stories in the old cartoon, and at the end of every episode, one character would take a minute to teach the kids watching a valuable lesson. Whoever said you couldn't learn any moral values from a cartoon is lying. Just go ask He-Man and his friends.
Speaking of He-Man, does anyone else remember that a live-action He-Man and the Masters of the Universe movie was supposed to happen? Well, it still is, even though the original actor that was attached to play the titular hero left the role. Noah Centineo, who departed from the film about a year ago, has now officially been replaced by Kyle Allen. This is one young actor I am not familiar with, but if I'm being honest, I actually didn't think this movie would move forward. Now that it has found a replacement for its live-action He-Man, it seems like it has some momentum going for it. I really don't know how to feel about this remake, because we already got a live-action He-Man movie with Dolph Lundgren. Of course, this was about as corny as it could get, but that was to be expected. Big Dolph was a good choice to play the titular hero, given his appearance, but Frank Langella was pretty awesome as Skeletor. Okay, so for what it was, it really wasn't bad. It managed to cultivate a devoted cult following over the years, but for this next movie to work, it has to avoid the same mistakes the last one made. And what are those exactly? Well, it has a lot to do with the fact that it took place on Earth for most of the movie. That was kind of a weird move, but at least it gave us a lot of action.
You know what else did that though? Kevin Smith's animated Masters of the Universe series on Netflix. Sure, it was entertaining, but boy, did it tick off many fans. Why would you kill off Orko?! I don't know, but it's the questionable moves like that we don't want to see in the live-action remake. As for Kyle Allen, I think he's got the look for Prince Adam, but if he's going to sell as He-Man, he'll need to put on some muscle. I reckon he'll have a grueling workout plan to get to, but I am curious to see how the movie will show those differences in his appearance. And yes, that goes for all the characters, including Cringer transforming into Battle Cat. That's only the beginning. Who doesn't want to see Skeletor in modern day live-action form? I'm honestly looking forward to seeing him above He-Man. Now that Kyle Allen landed the role, I bet we'll hear about more casting news soon. I'm guessing the movie will choose to show the most popular characters, such as Teela, Man-At-Arms, Orko, and many others. Or maybe they'll decide to throw in the more campier characters, such as Clamp Champ or Ram Man? The way I see it, the old Masters of the Universe cartoon worked because it embraced that old-school campiness. This new movie will probably try to modernize it and that's fine, but it shouldn't forget the roots. If it does that, then we'll be in for a big disappointment.
I hope Kyle Allen proves to be a suitable replacement for Noah Centineo, but the latter is already going to fight Dwayne Johnson in Black Adam. I think he found something better, but we'll have to see in time. He-Man is all about confidence, so let's be confident. If you're an '80s kid, you might be more interested, but I'll probably check this out. Again, I can't pass up seeing live-action Skeletor.