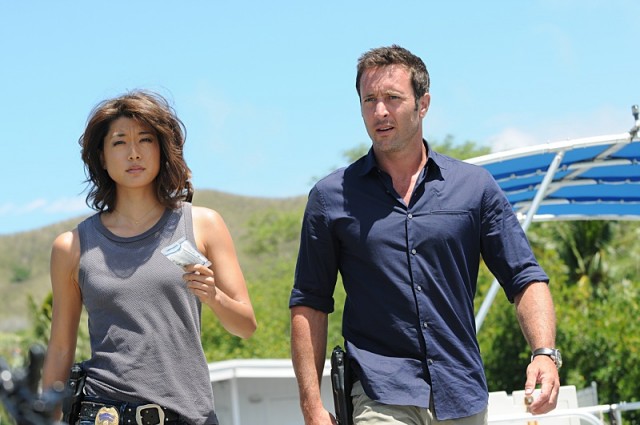 A few familiar faces pop into this week's Hawaii Five-0, before the show says a heavy goodbye to a major character.
The episode picks up the morning after Kono finds the two dead Yakuza members outside her house. Kono and Chin work together to prove to the Yakuza that Gabriel is responsible for everything that has happened and that he stole the Yakuza's money. It buys them some time, but only a week. That is the deadline the Yakuza have set for finding Gabriel and handing him over in exchange for Adam and Kono's freedom.
This week the team works to solve a double homicide in the ocean. The two bodies died six weeks apart from each other in the ocean, with no connection to each other except for the gun that killed them both. There's no mystery about how the second victim died; the weapon accidentally discharged and killed him. The first victim is a little bit of a mystery man. Five-0 is aided in the investigation by Danny's nephew Eric, who is now working in the crime lab. Eric, who is a little overexcited to prove himself (seriously, he's bouncing off of the walls like a toddler who just ate all the Halloween candy), leads them to the gun's owner. This man in turn gives Five-0 the name of their first victim, Miko Moseley. Moseley has been living large using counterfeit money he is printing himself. It turns out someone he gave money to in exchange for drugs didn't like being cheated, so Moseley was killed for his unfortunate career choice.
Who ordered the hit, though? None other than Gabriel; he's just the gift that keeps on giving. The only silver lining to any of this is that the second victim recovered a camera in the water before he died, one which recorded the last surf of a friend of Kono's who lost his life in the water. The only peace Kono has this week is returning this footage to her friend's widow.
Jerry is officially a member of Five-0 with a Special Consultant business card and everything! He's just a little bit disappointed in his concrete basement office. Not to worry Jerry, it seems like that will mostly be the space for your case files while you're up and about doing your thing.
The years, and years, and years of waiting for the big Catherine and Steve proposal have finally paid off, but not in the way everyone had hoped. The blissful lovebirds are practically a 'Save the Date' photo invitation picture. Steve is excited to propose to Catherine, and pretty much tells his buddy Nahele he is the happiest he's ever been. Steve becomes a little worried though when he hears Catherine talking on the phone with someone from Afghanistan. Protective of his friend, Danny privately asks Catherine not to leave Steve again. It seems that Catherine agrees until Steve comes home at the end of the day to find his girlfriend sitting on the porch with her bags packed. It would seem that Catherine's love for Steve can't outweigh her sense of purpose to be doing something greater with her life. Catherine intends to go to Nepal to help with aid after the earthquake, but can't seem to look Steve in the eye and definitively tell him when she'll come back. Steve handles this for her, knowing that if she leaves this time he can't wait for her. This story may not have a fairy-tale ending, but it does have a twist. In the last minute of the hour, the audience learns that Catherine has actually returned to the military in a Lieutenant capacity and is on her way to a covert operation.
We bid farewell to Steve's other half, knowing that his other other half will be there to pick up the pieces.
[Photo credit: Norman Shapiro/CBS]