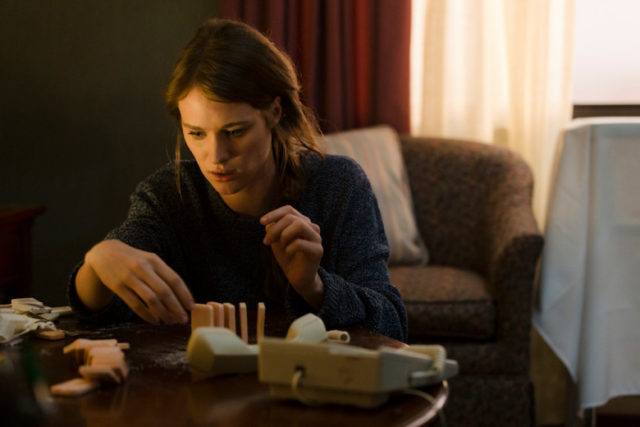 Halt and Catch Fire is one of those shows that you might not have been watching simply because it has a rather odd title. In fact, your average viewer has absolutely no idea what it means. Indeed, I actually didn't either and tuned in at the start of the first season purely by accident while channel surfing. But, alas I was hooked like so many others right from the start. Now, the fourth and final season of the show premiered on August 19, 2017, on AMC and I'm hooked more than ever.
So, what does Halt and Catch Fire (HCF) actually mean? Well, in the computer engineering world, it's an idiom that refers to a machine code instruction that prompts a computer's central processing unit (CPU) to halt all meaningful operation. This generally means restarting the computer. In the opening of the show, however, it is explained more as an outdated command that effectively dismantled computers by making them run so fast that they were figuratively catching fire but, of course, not literally.
And, it's the perfect title for the show, although its creators initially received a great deal of grief related to the title. In fact, the characters and their respective companies, as well as their personal relationships, seem to be doing just that during every season and it makes for some pretty exciting drama. So, what's HCF all about and what might Season #4 hold for all of us eager viewers you may ask? Here is a little background (bg) info and some predictions:
The 1980's
OK, so flash back to the early 80's during the early days of personal computing. Computer engineer, Gordon Clark (played by the lovable Scoot McNairy), and ex-IBM employee and true visionary, Joe MacMillan (played by the super-sexy and brooding Lee Pace), set about reverse engineering an IBM computer in order to break into the personal computing world. At the time, they're working for a small company called Cardiff Electric, which is operated by John Bosworth (played by the always charming Toby Huss). Joe brings Cameron Howe, (played by the sweet doe-eyed Mackenzie Davis), into the company to help with the coding. From there on, they become a force to be reckoned with throughout the computer world with a little help from some folks along the way, including Gordon's long-suffering wife, Donna, who later following their divorce, becomes the trio's main competitor and the villain of the show in season #4. The part of Donna is played with beauty and wit by the lovely Kerry Bishé. Other amazing cast members include Annabeth Gish, Anna Chlumsky, Manish Dayal, and Aleksa Palladino.
Through the Years
Flash forward through the years and it's amazing to learn a bit about all of the little things that personal computers and the web have to offer that we take for granted now. Gordon and Donna fall out of love, or do they? Joe and Cameron definitely fall in and out of love, she gets married, he takes a brief foray into the LGBTQ world, and we're all happy to see them finally get back together after Cameron splits with hubby and Joe realizes again that he's crazy about her during a marathon reunion over the phone that lasts a day and two nights. During that time, the "awesome threesome" as I call them develop some major computer code, new computer games, awesome programs, and eventually this season, search engines. Unfortunately, Gordon has a moment of bad judgment and discusses the concept with his ex-wife, Donna, over dinner and, of course, she steals the idea. At this point, the Internet browser wars are on and in a big way.
The Rest of Season #4
So, what does the future hold? I predict that Cameron and Joe will fall in and out of love once more but will end up together again, probably in the season finale. I would love to see it end like one of my favorites, "Castle", and show the pair in the future with a houseful of kids since this is something that they discussed in-depth on their telecon. I also foresee Donna and Gordon eventually getting back together and their lovely and talented daughters becoming a force to be reckoned with in their own right in the computing world. In addition, Gordon's disease, which seemed quite debilitating in earlier seasons but this season, not so much, being cured miraculously by some newly developed drug so their family can live happily ever after. And, as for the future of personal computing and the Internet, well, we all know what direction that took.