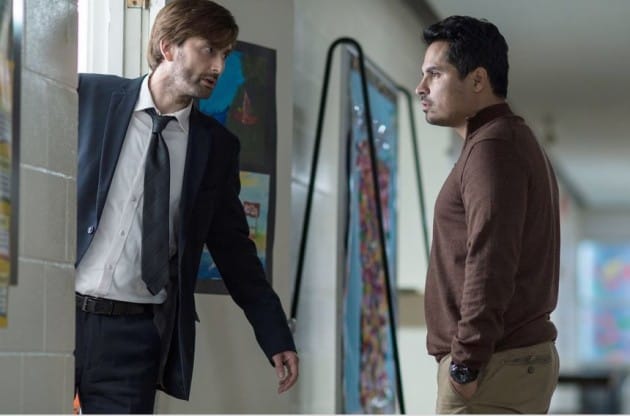 Well. Gracepoint sure does have me confused. I'm assuming that is the goal. Broadchurch fans no longer have room to be arrogant, either, since episode 8 was as far as that series went. Some really interesting things happened in tonight's episode.
For one, Mark Solano and Detective Carver agreed on being suspicious of Paul (the minister). This was probably the worst misdirect yet. Paul doesn't have an alibi, and his insomnia is considered "suspicious behavior". I think that normally he should be a suspect, but here's why I don't think he is: He's in love with Beth. He knows that he would cause Beth so much grief and pain by killing Danny, that Rev. Coates is cleared in my mind. Of course, I'm just speculating here, and there could be plenty more surprises in the back two episodes, but right now I don't see him being the killer. Oh, he "found Tom first" too. But if you're watching the same show I'm watching, it was a coincidence used as a plot device to misdirect us for one more episode. I think this was a cheap misdirect for sure, but Kevin Rankin is definitely one of the better actors on the show.
I really thought the suspicion surrounding Detective Carver himself was actually pretty interesting. It's much more suspicious than many of the other "suspects" in the case. It does seem suspicious that he showed up in town and another thing happened. But I guess the same could be said for that reporter lady.
More than anything (except for who the killer is) I want to know why Tom destroyed his computer. I mean, I know that there are files he doesn't want found, but what are they? What could he and Danny possibly have been into that got Danny killed, and implicated Tom so badly? I genuinely want to know, to the point that it's distracting. Seriously.
David Tennant was good in this episode, but Anna Gunn was great. Carver is a loner and Tennant plays that well, but Ellie has a much broader range of emotions, that she conveys in every single episode. I was never the biggest Skyler White fan, but I have always known that Anna Gunn has chops. She's proving it every week. If nothing else, Gracepoint has been a way for all of these actors to keep their skills sharp. I love watching strong acting at work!
I'm really glad that the police are finally paying attention to Susan. She's creepy as crap, guys. Seriously. I want to know what her deal is very, VERY badly. I'm not sure she is the killer because we're still two episodes from the end, and it HAS to be more surprising than that. I will be pretty upset if it is her, actually, because I figured it out so quickly.
Gracepoint is a good show. The mystery is interesting, the characters (and actors) are strong, and the dramatic elements created from the mystery plot are perhaps the shows greatest strength. What do you guys think? Are you still enjoying Gracepoint? Who is your top suspect? Let us know!
Photo via Fox