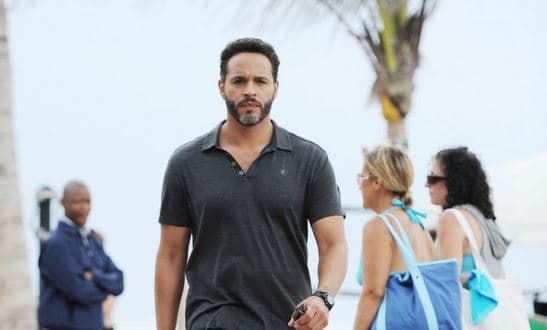 With this week's episode, "Piñon Tree," Graceland transitions out of Frank Miller territory and back to its bright wide shots of the beach. However, the installment finds the agents jaded and divided once again.
Even though Briggs manages to convince Ari that he played no part in his set up, when he goes back to Graceland, the welcoming party is less than warm. It actually goes along the lines of "Thank God you are alive, but you messed up, and we are all out." Although the agents are right to be upset, I personally felt that they should have been more understanding of the situation and take their failed plan as a team loss. Only Paige acted like a team player and expressed to be on board with Briggs' crusade. Sure, she felt responsible for Colby's demise for burning the wrong fingers, but at least she acted accordingly. I still don't forgive her for what she did to Mike, but I'm hopeful.
Speaking of Mike, he keeps going down the addiction road, while he tries to decipher what he saw when he was technically dead. Through browsing the Internet, popping pills, and applying mad-scientist logic, he believes to have cracked what the symbols he remembers mean. Unsurprisingly, the Gracelanders believe he has lost it. They can't be blamed for that. As endearing as Mike's defense of his theory is, it sounds deranged.
Even with a questionable theory, Mike follows his gut and ends up meeting an immigrant named Vin, who he basically charms. The two bond over stealing gold teeth from a dirty dentist by penetrating the man's garage/illegal dental clinic and blowing the safe with nitroglycerin. However, Mike realizes that Vin is a small time crook, and is ready to quit pursuing the leads he got from beyond. For some reason, though, on his way out, he is compelled to open the boy's car trunk, where he finds Sarin Gas.
Meanwhile, Johnny, who had pressed Paul over helping him to take Carlito down and rescue Lucia, gets a bittersweet victory. Briggs uses the Caza Cartel to get Solano Jr. and rescue the girl, which works seamlessly and results in Johnny being able to arrest Carlito. On the romance front, however, he is not so lucky. Lucia says out loud what everyone has long known: they would never work. And just like that, it's over.
At the end of the episode, everyone celebrates that Johnny made an arrest, yet Paige and Briggs conspire to bring Ari down. Additionally, Mike makes Briggs privy as to what he stumbled upon by following birds, numbers, and clocks.
I abhor to be writing this, because Graceland is a series that I thoroughly enjoy and champion, but this week's episode was underwhelming. Seeing the agents we love whining over the plan that didn't pan out was irritating to say the least. Moreover, Charlie and Jakes continue to be on the sidelines. I know big things are coming for them, but we are five episodes into the season and they, especially Jakes, haven't had major developments. To close, Sarin Gas!??? I'm in, and I trust the writers, but there is no way Mike wouldn't report and take possession of the gas. It's too dangerous to just let sit there in the hands of a child whose favorite movie is a Vin Diesel one.
On a different note, I want to highlight that Carlito's demise and Lucia's freedom were both beautifully done. No lie, though, I'll miss the Solanos. Both Erik Valdez and Jamie Gray Hyder were both memorable additions to the show.
[Photo via USA Network]