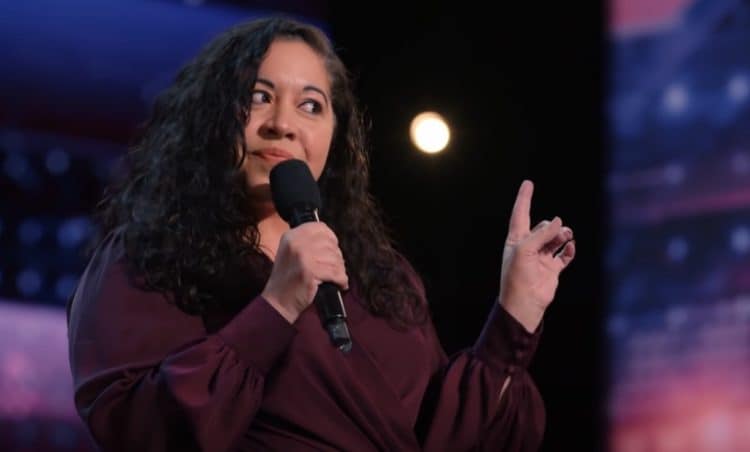 For well over a decade, America's Got Talent has helped countless people make their dreams come true. As one of the only talent shows that welcomes all different kinds of performers, the AGT stage is one that lots of people aspire to be on. Comedian Gina Brillon has officially gotten her chance, and so far she hasn't disappointed. The very talented stand-up comedian is no stranger to making people laugh, and viewers are loving what she has to offer. Not only is her content on point, but her natural comedic timing is something that you don't see very often. We'll all have to wait and see if she wins the show, but even if she doesn't, she's already gained a lot of new fans. Keep reading to learn 10 things you didn't know about Gina Brillon.
1. She Started Doing Comedy As A Teen
America's Got Talent may be the first time that some people are seeing Gina, but she's definitely not new to the industry. She has always loved making people laugh and by the time she was a teenager, she knew that it was what she was meant to do. She started doing stand-up when she was 17 and she hasn't looked back.
2. She's Done Some Acting
Comedy has always been Gina's main focus, but she's also dipped her toes into other areas of the entertainment industry. According to her IMDB profile, she has done a little bit of acting in recent years. Most notably, she was in two episodes of The Conners in 2018 as a character named Maria.
3. She Comes From A Supportive Family
There are a lot of parents out there who would be mortified if their child wanted to pursue a career in comedy. Fortunately, that's not how Gina's parents felt. They always thought Gina was funny and were supportive of her decision to get into comedy. In fact, they always knew she'd end up in the entertainment industry.
4. She's A Big George Carlin Fan
Before Gina started her journey as a comedian, she was a fan and George Carlin was one of her favorites. While talking to Latino Connection Magazine, she said, " I fell in love with George Carlin and became a huge fan. He went through so many changes throughout his career. He went from a hippie comic to a social commentator. It was really interesting to watch his artistic evolution. From there, I basically became a comedy nerd."
5. She's A Mom
Throughout her career, Gina has never really been the type to put her personal life on display for the world. However, one thing she's open about is the fact that she is a proud mother. As far as we know, she has one young son. In her Interview with Latino Connection Magazine, she noted that she is a single parent.
6. She Hopes To See More People Of Color In The Industry
The entertainment history has a long history of providing more barriers to entry and fewer opportunities for people of color. This is something Gina desperately wants to see change. While talking to Gina told Authority Magazine, "In the future I hope to see more BIPOC voices and stories in the industry. We are making strides, but we aren't there yet. We have more work to do."
7. She Has A Twin Sister
If you thought you saw Gina on the street, it may not have been her after all. Gina has an identical twin sister named Deborah Lynn. As far as we can tell, Deborah does not work in the entertainment industry. As you can probably guess, Gina has incorporated the fact that she's a twin into some of her comedy routines.
8. She Had A Comedy Special
Even though Gina is on America's Got Talent, it's not because she hasn't already achieved a lot of success in her career. In 2020, she had a comedy special on Amazon Prime called The Floor is Lava. If you're a comedy fan, you know that getting your own special is one of the biggest things you can accomplish.
9. She Hosts A Podcast
Watching Gina do her thing on stage isn't the only way you can show your support for her. She is also the co-host of a podcast called Mess In Progress: A Homegirls Guide To Self-Help. The show provides the perfect combination of self-help and comedy and also features special guests.
10. She Wants To Inspire Others
Gina is obviously all about making people laugh, but she hopes that her comedy can do something more for people. Gina told The Laugh Button, "I hope that there's a little girl or little future comedian sitting at home watching and going "This is what I want to do for the rest of my life."
Tell us what's wrong with this post? How could we improve it? :)
Let us improve this post!