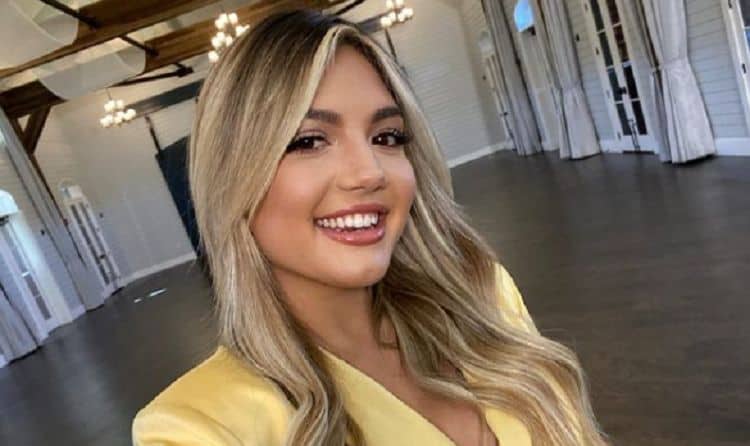 "Love is Blind," is a show all about finding love with someone based on the interactions you have with them without ever seeing them. After all, they say that love is blind and that you can be the most attractive person in the world, but if your personality isn't up to par, you aren't that attractive. When people on this show meet, they get to chat from pods – but they never see the other person's face. They fall for personalities, and then they have the chance to either move on or get engaged. Giannina Gibelli is a woman who met a man, fell in love, and got engaged on the show, and many of her fans are wondering what she's really like in real life.
1. She is a Soulpreneur
However, if you want to know what that means, you won't get the answer from us. We have no idea. It's what she calls herself, but she never really explains what it means. We've done some digging, and it turns out she's a social media consultant, and she also credits herself as being a small business owner – but she also doesn't discuss that.
2. She is a College Grad
She attended college to study advertising as well as public relations. She went to school in Florida. More specifically, she attended school in Orlando at the University of Central Florida. She uses her degree to this day to do the work she's doing, and she's used it in an array of different jobs over the years.
3. She Got Engaged
On the show, she fell in love and got engaged to a man by the name of Damian Powers. They were happy together, they were in a good place, and they actually seemed quite happy with one another. They seemed to have their ups and downs, but they did seem happy to commit to a future together.
4. She's in Her 20s
She's not nearly as young as some of the women who go into reality television to find love. She is, however, 28 as of August 2021. We don't know when she celebrates her birthday, but we do know that she is not quite 30.
5. She is Single
After months of speculation regarding her relationship with her on-air fiancé, she's finally opened up to her fans and to the world and announced that she is no longer engaged to Powers. She's single, on the market, and she's still looking for love. Reality television did not bring her the man of her dreams, so she's going to have to go about finding him some other way.
6. She is From Venezuela
She is a woman who attended college in Florida, but did you know she did not grow up in the same area? She was born and raised in Venezuela in South America. However, she's spent some serious time in the states, and she's moved around a few times in her adult life.
7. She Was Left at the Altar
She got her wedding dress on. She invited her friends and family to see her get married. She allowed a television crew to film her wedding. And, then, her fiancé did not say 'I do,' yet he did stand at the altar with her while she relayed her own vows. He told her he cannot marry her, she's too emotional, and he cannot do it. And, she still continued to date the man.
8. She Self-Sabotages
According to her ex-fiance, when things don't go her way or there is any indication of any type of conflict in her life, she makes a mess of things. She blows up. She seems to have a bit of a temper in that manner, but it's not uncommon for some people to simply need a moment before they can handle confrontation or a discussion in the heat of the moment.
9. She's Private
She might be a reality star who discusses her entire life online and on television, but she ultimately does a good job of keeping her private life to herself. She's not sharing anything too intimate or detailed about her life right now. She's managed to keep her situation under wraps for some time, and she's only letting information out as she feels it is necessary.
10. She is Happy
Where there are many who might assume that her relationship ending has been a negative for her, she's actually found that she is happier and in a good place since it ended. She's having a good time, she's focused on herself, and she is learning to be a better version of herself.