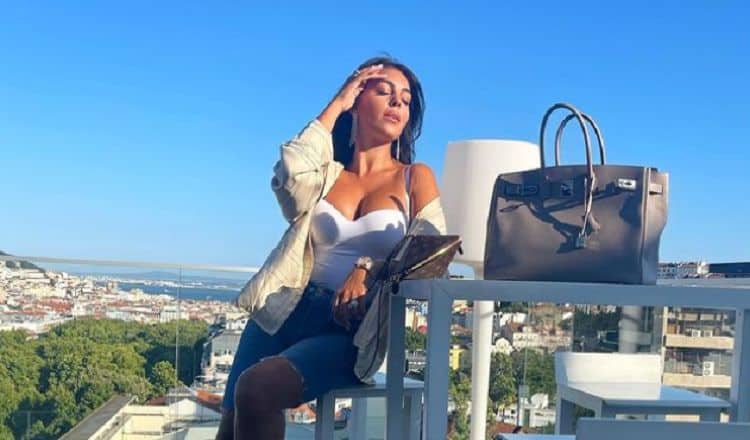 It's not hard to recognize the name of Georgina Rodriguez. She's only the mother of Alana, the little girl she welcomed with boyfriend Cristiano Ronaldo. He is one of the most famous athletes in the world, and his girlfriend became a household name when they began dating. Though, she did have a career and a relatively recognizable name prior to the beginning of their widely publicized relationship. She's a model, and a mom, and she's someone worth getting to know.
1. She is From Spain
She grew up in Spain. She's from a little place called Jaca. It's located in Huesca. While she is Spanish on her mother's side, it just so happens that her father is actually from Argentina. This makes her Spanish-Argentine.
2. She's Talented
In addition to being a model, she's also a dancer. When she wasn't dancing or modeling, she was in school studying English. While we don't know where she went to college, we do know she went to college in England, and she has spent a fair amount of time all over the world.
3. Her Father Made Poor Choices
Her father is much older. He welcomed his daughter when he was well into his 40s. He's currently around 71, and he spent ten years of his daughter's life in prison because he was convicted of being involved in the drug business. He was a cocaine trafficker.
4. She is All For Love at First Sight
She's said from day one that the day she met the man of her dreams, she fell instantly in love. She's all about love at first sight, and she doesn't deny that this is how she felt about him. Did Ronaldo fall in love with her at first sight, too? We aren't sure, but they do seem happy together nearly five years into their relationship.
5. She Met Him at Gucci
She was modeling and dancing, and she was working as a sales assistant at Gucci trying to make a living. That's where she met the superstar athlete. She fell hard right away, but they didn't meet again for a few days. They were at a brand event when they met again. They had a conversation, and she said that at the time, it was love at first sight for both of them.
6. They Had a Baby Quickly
The pair made their new relationship public back in November of 2016 while out and about in Disneyland in Paris. They welcomed their daughter one year later in November of 2017. Her name is Alana, and she is his fourth child and her first.
7. She is Very Involved with All of His Children
The world does not know the identity of his oldest son's mother. He has custody of his son, and Ronaldo's own mother helps to raise him. He's never publicly shared the identity of the child's mother. His twins were born in 2017 just as his girlfriend Georgina was in the middle of her own pregnancy with his fourth child. Their daughter was born only months after his twins, and Georgina is the only woman the twins have ever known in their life. She is very close to them all.
8. She's a 90s Girl
Georgina was born in the 90s, and she spent the first five years of her life living in the last great decade. She was born on January 27, 1995. She grew up alongside her mother in Spain, and she did live a regular childhood considering the fact that her father was heavily involved in the drug trade.
9. She's Private
She might share all her photos and her life with the world, but she is very good about keeping her private life to herself. She does not discuss her family too much, and she keeps her boyfriend's life as private as possible for him. It's how she likes to keep her life on the right track. By keeping the things that are important to her to herself, she's able to keep her family happy and out of the public eye as often as possible.
10. She Loves to Work Out
She has a lot of love in her life, such as her family and children, but she also enjoys working out. She and Ronaldo are regularly spotted out and about working out and living their best lives with one another. The couple who works out together, after all, stays together. Or at least stays healthy together, though these two make it very obvious to the world they are happy.
Tell us what's wrong with this post? How could we improve it? :)
Let us improve this post!