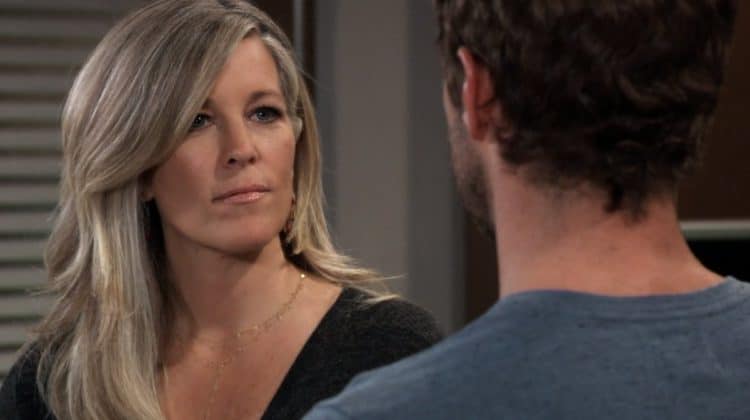 General Hospital fans are starting to worry. The show has been airing new episodes all month that we've been in our lockdown state, but we also know that there is so much that might change between now and the beginning of May when we are allegedly going to see the world begin to open up. We don't see that happening, to be quite honest, but that's just our opinion. Some places in the country are not expected to see their peak COVID-19 situation even occur until the beginning of May, so it seems impossible the world will open back up before then. But, I digress. We are talking General Hospital.
Fans are worried. There are enough new episodes to watch the show for six weeks without pre-empting and not seeing anything new. The actors and the crew are unable to go back to work as they are all obeying social distancing rules, and that's a situation we are aware of and familiar with on our own terms. However, we also know that we are going to see some changes. One of the big changes right now is what we are calling Flashback Friday. In an attempt to drag out the new episodes a bit longer — at least we think that's the primary goal of this — the show is going to air a Flashback Friday episode each week that allows us to take a look back at the past.
These shows won't come with spoilers since we often don't know what they are going to air at all until it shows up on our screens. However, we cannot wait to see what happens as the weeks go on. We also thought we might ask you if there are any you'd like to see, and perhaps bring you a series beginning next weekend on "Flashback Friday Hopes," that will allow us to put out there what we'd love to see them show again. that might be nice. For now, though, we will just wait with excitement while this happens.
The exciting thing about this situation is that we will see an introduction from each new episode, and each introduction will be from a new cast member. The first came from Carly, or Laura Wright as she goes by outside of Port Charles. She was so elegant and fun with her introduction, and it showed us an episode from season 56.
What this means for fans is that we can see a new episode each week — four times a week — until May 22. We are excited about this, because that does give us some hope. If, and we are going with a big IF here, we can go back to seeing the world become a little normal again in May, this means we don't have to miss out for far too long. Maybe a few weeks, but not too much longer than that. It's gong to be a telling time, though, as we move through the rest of April and through the Easter holiday. While it appears that there might be some light at the end of the tunnel, we have a long tunnel to go through. Even when life goes back to 'normal' it's going to be a little at a time, and it's never going to be what it was before.
Which also brings us to our final message. It's Easter, and that's a special day for many people. We hope that you are having as happy an Easter as you can. Today is an important day for Christians, and it's one that brings us profound sadness not to spend with our loved ones. Not to dress up in our fancy new Easter outfits and go to church. Not to get to hunt eggs with our friend's and family's kids. Not to share a beautiful dinner with our parents and our grandparents as we so often do on this special day. Use this time to enjoy with your kids or your spouse or whomever it is you live with. Enjoy them, make dinner, hunt eggs, eat a chocolate bunny (the hollow ones are the only good ones, you guys) and celebrate the real reason for this season. It's not easy, but it's important not to lose focus.
ABC
Tell us what's wrong with this post? How could we improve it? :)
Let us improve this post!