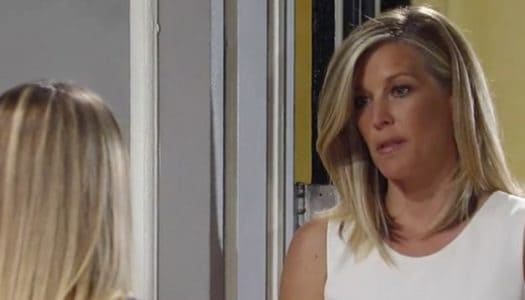 General Hospital spoilers know that Carly is upset right now. She's not sure what is happening with everyone in her life, and she's sure she can see that people are lying to her. Sonny, Joss, Michael; everyone she loves is keeping stuff from her in an effort to be sure they all get what they want from her. She's not sure she can handle the pain they're causing her, but she has no choice. She has to get her life in order, and she's not certain she can do that without someone doing her wrong.
Her family is lying to her and she's not sure she has anything or anyone to turn to at this point. She's not happy with her current situation, but she's got more than she can handle to deal with right now. She's not going to find a way to get past all that's hurting her, and she's not sure she's able to think clearly. Can she spend a little time focusing on what's important, or does she have to focus on what she can in the moment?
She's got decisions to make, and we aren't entirely certain she can make them without regretting what happens in her life. Will she be able to do what is right in her life, or will she make too many sacrifices to keep her family together? We don't know what she will do, but we know it won't be easy. She's got a lot of issues to deal with in-house.
Tell us what's wrong with this post? How could we improve it? :)
Let us improve this post!