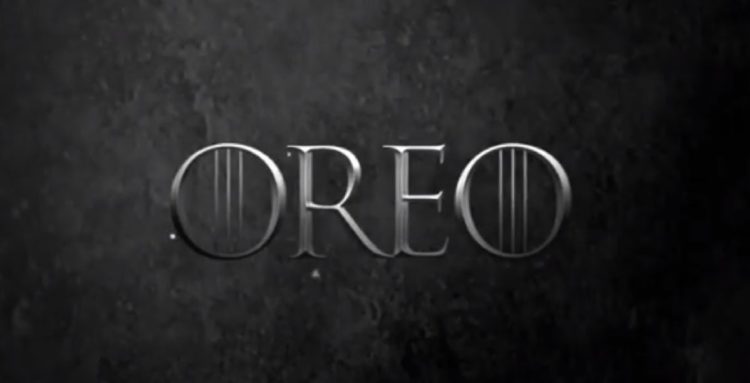 Considering its success, it should come as no surprise to learn that Game of Thrones gets a lot of collaborations. Sometimes, these collaborations result in the kind of products that one would expect from them. Other times, well, suffice to say that these collaborations can be rather unusual though still interesting. For proof, look no further than the fact that there will be Game of Thrones Oreos.
What Do We Know About the Game of Thrones Oreos?
So far, not a lot of information has been released about the Game of Thrones Oreos. However, what has been revealed should encourage interested individuals to keep their enthusiasm at a reasonable level. In short, the Oreos are expected to be nothing but standard Oreos in Game of Thrones packaging. Furthermore, the Game of Thrones Oreos are expected to be made available to interested individuals through a wide range of retailers, which should come as welcome news because they won't be forced to choose from a very limited selection of retailers. Having said this, it is important to note that the information about the Game of Thrones Oreos comes from an Instagram account that specializes in posting the latest news about upcoming snacks, meaning that there is a very low chance that there might be something more to these cookies.
What Can We Expect From the Final Season of Game of Thrones?
For those who could use a reminder, the final season of Game of Thrones is expected to start out on April 14 of 2019. As such, it is no wonder that the Game of Thrones Oreos are expected to be released in the same month, meaning that they will be ready for people who want to watch the show with plenty of snacks on hand. On top of this, it is amusing to note that the state of New York's Brewery Ommegang will be releasing one more Game of Thrones beer called For the Throne, which is one more thing that interested individuals might want to check out.
As for the show, well, suffice to say this has been a long time coming. For those who became familiar with the franchise through the show, it will have been eight years since it started up in 2011. Meanwhile, for those who became familiar with the franchise through the books, well, it should be noted that the first book came out in 1991. Due to this, while the show and the books have seen significant divergences, there is a good chance that there are a fair number of book enthusiasts who will be tuning in as well. After all, while George R. R. Martin is still writing the next volume in the series called The Winds of Winter, the sheer length of time between each release means that there is a huge contingent of fans who are afraid that the books will never receive their conclusion. In the opinion of said individuals, the final season of the how could be the closest that they will ever come to seeing the conclusion of the books.
Story-wise, no member of the public can say what will happen. In part, this is because the show-runners seem to have an overpowering love of shock, meaning that it wouldn't be unexpected for them to make storytelling choices that will maximize shocked reactions on the part of their audience without alienating them too much in the process. However, it should also be noted that the show has never been what one might call a particularly happy show, meaning that some suffering is more or less expected from its final season.
Whatever the case, now is the time for interested individuals to start thinking about how they want to approach the final season of Game of Thrones. Its popularity ensures that the final season will be much talked-about by the people around them, meaning that they might want to make plans to participate in what promises to be a cultural phenomenon. Naturally, if interested individuals enjoy having something to eat and drink while they are watching the TV, that is what the Game of Thrones Oreos as well as the Game of Thrones beer are for.