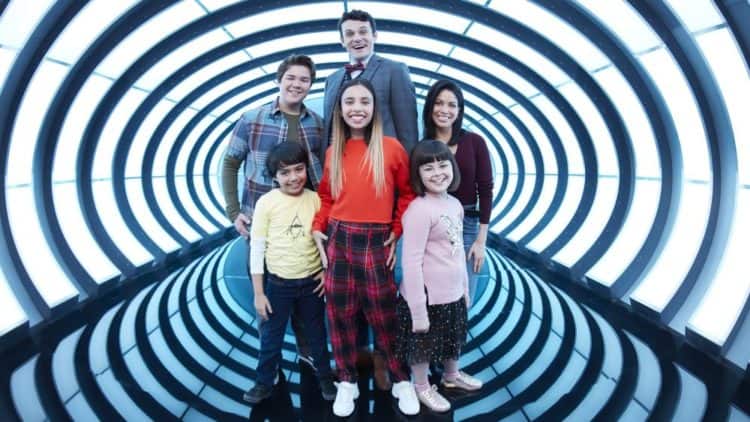 For good, all-round family entertainment, the Disney Channel is hard to beat. This Fall, Disney is treating us to an all-new series in the shape of Gabby Duran and the Unsittables, a classic coming-of-age story about a young girl, her overachieving sister, her career orientated mum, and (in a slight departure to the norm) her gang of extra-terrestrial babysitting charges. Disney is clearly so confident in the show's appeal they've already commissioned a second series… discover why with these ten fast facts about the brand new sitcom.
1. It's based on the novel of the same name
Disney's new TV show isn't an original concept; it's actually based on Elise Allen and Daryle Conner's hugely successful novel series of the same name. Gabby Duran and the Unsittables was first published by Disney-Hyperion on May 12th, 2015. Elise Allen already has a long and successful history of writing for TV, with previous credits including The Lion Guard, Dinosaur Train, Sid the Science Kid, Barbie in a Christmas Carol, Barbie Thumbelina Barbie: A Fashion Fairytale, Barbie: Princess Charm School, Barbie in A Mermaid Tale 2, Rainbow Rangers, and Abby Hatcher.
2. It revolves around Gabby Duran
The series centers on the adventures of Gabby Duran, an unassuming young girl who gets the chance to shine when she's asked to babysit a group of wayward kids. The opportunity gives Gaby the chance to prove she's the best babysitter in the galaxy; no easy feat when the kids in question are actually a group of unruly extraterrestrials living secretly on earth under the guise of human kids.
3. It's got Disney Execs in a lather of excitement
Disney executives are clearly pinning big hopes on Gabby Duran and the Unsittables. "We can't wait to introduce Disney Channel viewers to Kylie Cantrall who brings our courageous hero Gabby Duran to life," Dina Hillier, VP of Original Programming for Disney Channels Worldwide, told Cinemaholic. "Following Gabby will show kids that anyone can achieve greatness. Gabe and Mike (the show's creators) have written a truly unique character and together with Nzingha and Joe (the executive producers) have created an exciting new universe for our audience."
4. The first season will consist of 20 episodes
Further to its premiere on October 11, the first season of Gabby Duran and the Unsittables is scheduled to run for a total of 20 episodes. The episodes will air on a weekly basis at the regular time of 9 pm on Fridays.
5. A 2nd season has already been greenlit
The premiere may have only just aired, but so confident are Disney in the success of Gabby Duran and the Unsittables, they've already greenlit a second series of the interstellar family comedy. The show was renewed ahead of the first episode on 7th October 2019. Production is scheduled to start in Vancouver in February 2020, and while no air date has yet been announced, it's expected to hit our screens in Fall 2020.
6. Kylie Cantrall will star as Gabby
Taking on the lead role of Gabby is 14-year-old actress, Kylie Cantrall. Cantrall first made her name on YouTube, becoming an overnight star thanks to her witty interview series, "Hello Kylie". After establishing her star credentials online, Cantrall made the transition to TV, and has since appeared on the likes of Bizaardvark" and "Raven's Home. In addition to her acting talents, Cantrall is a budding musician, having released several singles, including the popular That's What I'm Talkin' Bout," and "Feeling Some Kinda Way".
7. It's got a great ensemble cast
Kylie Cantrall as Gabby Duran is unquestionably the star of the show, but she's joined by a stellar ensemble cast that includes Coco Christo (a nine-year-old actress who wowed as Charlie in "Willy Wonka" when she was only six years old and has since appeared in We Take The Low Road) as Gabby's annoyingly overachieving little sister, Olivia; Valery Ortiz (best known as the host of "American Latino TV" and for shows such as "Date Movie," "South of Nowhere," "Hit the Floor," "Switched at Birth," "NCIS," and "Marvel's Agents of S.H.I.E.L.D.,") as Gabby's uber-successful mom, Dina; Maxwell Acee Donovan (a 14 year old actor best known for his performances in "Good Kids," "An American Girl Story: Maryellen 1955 — Extraordinary Christmas" and Nickelodeon's "The Thundermans) as Gabby's best friend for life and full-blown conspiracy theorist, Wesley; Nathan Lovejoy (star of "The Good Place" and "The Pacific) as the off-the-wall Principal Swift; and Callan Farris (the 12 year old star of Kings) as Jeremy, Gabby's first extra-terrestrial babysitting charge.
8. Its creative team is led by Mike Alber and Gabe Snyder
Leading Gabby Duran and the Unsittables's creative team are showrunners Mike Alber and Gabe Snyder, who will be joined by Joe Nussbaum in an executive producer capacity. Alber and Snyder have previously joined forces on Kirby Buckets, a series that managed to combine live-action comedy with animated cartoon sequences to huge success. Nussbaum, meanwhile, is the acclaimed film director and screenwriter of films such as American Pie Presents: The Naked Mile (2006), Sydney White (2007), and The Late Bloomer (2016), and TV series such as MTV's Awkward and Zach Stone Is Gonna Be Famous, ABC's Back in the Game and Super Fun Night, FOX's Surviving Jack and Amazon's Just Add Magic.
9. It's shot in single camera
The whole of the first season of Gabby Duran & the Unsittables has been shot in single camera. The choice was an obvious one for executive producer Joe Nussbaum, who explained to Variety how shooting the series using the format "allows you to do another level of special effects, which kids I think have come to expect."
10. It's a classic coming-of-age tale… with a twist
It may have a huge supernatural element to it, but in essence, Gabby Duran and the Unsittables is a classic coming-of-age tale about a young girl shaking off the shadows cast by her overachieving family and coming into her own. "We like to do comedy with a high-concept hook to it," showrunner Alber has commented. "It's fun to explore these classic coming of age stories but different than you've seen before, so we can put a twist on it."