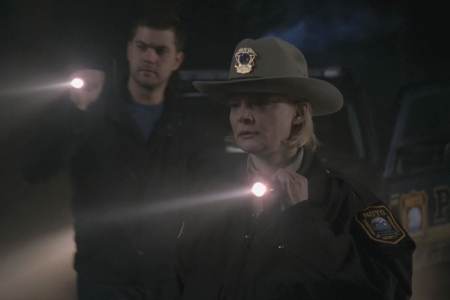 After last night's video review of Fringe's episode "Northwest Passage," I've let the episode stew in my brain a bit. I have to say, not much new about the episode has popped up to me. I still feel the same way about Peter's dynamic with the sheriff, who was absolutely the best one-off guest star the series has had thus far. Martha Plimpton really nailed it. Christine Chatelain, who played the ill-fated waitress Krista, was equally endearing, though her death seemed an inevitability after the first minute of the episode.
The disjointed nature of the episode still gets to me, though. Don't get me wrong, Peter's solo case was a great move for the show to keep the procedural element present but fresh, but it would have helped if the procedural actually made sense. Instead, we got absolutely no connection between Newton and the guy who claimed to be the killer at the end of the episode. Why did he claim to be the killer, or if he was, why were the killings so specific to what Newton did? We know the guy wasn't a shapeshifter, since he correctly answered the question that Sheriff Mathis asked, and that makes it make even less sense.
However, the rest of the episode was really good. Peter's flight from Walter wasn't really as angst-ridden as I expected – instead, it seemed like Peter was just taking a sabbatical to clear his head, perhaps to lose the identity he once gained. He wasn't exactly running away from Walter, he was running away from the entire life he had known was a lie. The fact that Peter's character seems to hold no maliciousness toward Walter seems to bode well for the character, except for the fact that Walternate has returned to collect his son.
Walternate is obviously not insane, as he holds some unknown position of power (thus the Mister Secretary moniker). But as we saw when Walter was reconnected with his old brain in "Grey Matters," non-lobotomized Walter was sort of a jerk. Assuming that Walternate has not been lobotomized (and that's certainly how it seems), then will Peter start noticing how much better Walter is than Walternate? Could he leave his real father's side and return to the side of his foster father? It seems an inevitability, but the factors playing into it make it seem a certainty that it'll be Peter's own choice to leave.
Finally, I have to say that the final scene was incredibly well done. Peter's headphones from the late Krista's mixtape drowned out the scene in a blissful rendition of "Are There Ghosts?" by Band of Horses. Of course, if you were listening to the lyrics, you'd see how they mirrored the scene around Peter — he begins to sleep, and then wakes up to find the "ghost" in his room — Newton. Newton certainly did possess some ghostlike qualities in the episode, most notably his ability to appear and disappear without a trace. Is that just part of the supersoldier mechanism, or was Peter actually hallucinating seeing Newton? There's plenty of interpretation left to this episode, though nothing I can think of quite makes it all fit together. So while I gave the episode an A- on the video review, I've decided to demote the episode down to a B-. Though it definitely tries to work, it only partially succeeds, and doesn't quite stick together as well as episodes like "White Tulip" did.
I'll see you guys again next week (or rather, you'll see me again) for my review of the first part of the season finale, "Over There, Part 1."