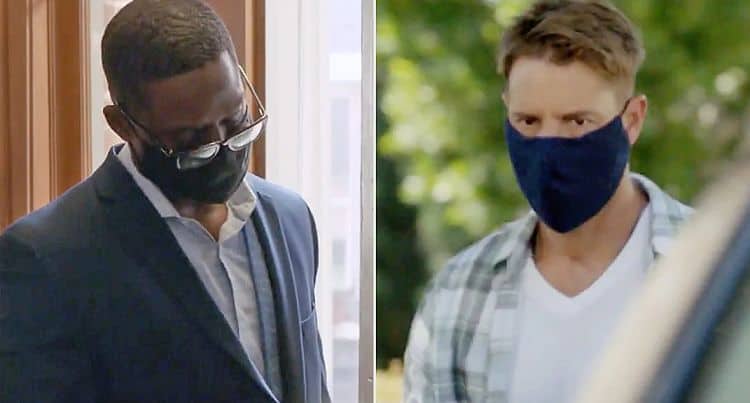 The entertainment industry has been hit hard by the pandemic and has had to adjust in a lot of ways to what many were trying to fight against for the first month or so before finally realizing that they were going to have to either go along to get along or admit that the virus is real and start to adjust their way of living since everyone else was going along with it. TV shows have gone a long way towards adjusting as well by incorporating social distancing as much as possible, masks, and other safety protocols while shooting and within the programming as well. A lot of them have taken this seriously since there's no other way to go and trying to simply push forward has been a monumental task for everyone since the changes that need to be made so continuously are definitely tough and not a normal way of life. But we make do, and the favorite shows of the people are doing their best to show a positive example since not only does it help to mirror reality in this way, but it also helps to make people feel a little better to see their favorite TV stars are showing their support of the many efforts being made during the pandemic.
Here are just a few shows that have incorporated COVID-19.
5. Bull
The mandate to wear a mask would definitely make Bull's job a lot harder since reading people based on just their eyes would be tough, if not for their body language as well. This type of show is something that you might figure would be entirely hampered by the pandemic since a lot of courthouses have shut down at various times in order to stop the spread of the virus. But seeing as this show is going on it's obvious that measures can and have been taken in order to keep people safe. But if anyone is being honest it's easy to think that you can read someone by their eyes, and body language is something that speaks volumes if one knows how to pay attention.
4. South Park
Anyone that's a South Park fan should have known that Trey Parker and Matt Stone were going to take a poke at China over this and the idea of someone having sex with a pangolin while Mickey Mouse served as a cheering section was kind of expected. But after that, it was just a matter of which way they were going to go with the whole pandemic idea since as you can guess they decided to go all out with it. There's more to come obviously since the guys aren't going to give it up when there's so much material to work with and the opportunity to get people to laugh. After all, it's needed at this time.
3. The Good Doctor
Any medical show is going to be able to showcase the current pandemic from the point of view of the healthcare workers better than anyone since there are people working steadily in the hospitals around the country and many of us are grateful for them. But the chaos that's been going on in the hospitals as we've been told is absolutely horrid. Not everyone is affected in the same manner, but the general feeling is that this show and many others have been doing what they can to show that the virus is quite devastating when it comes to how it affects those that are trying to cure others or at least keep them comfortable.
2. This Is Us
The pandemic has been rough on everyone obviously and social distancing, which is practiced quite readily in this show, has become a big thing. But it's also gone hard on small businesses that are struggling to stay open, and those that were trying to open this year but didn't have the chance or the capital to hang on for that long. One could say it's not fair and that this is being represented in this show, but the unfortunate truth is that nothing is fair at this time for anyone and it's being proven with each passing day since people are losing their jobs, their businesses, and unfortunately, their lives.
1. Superstore
Grocery stores have been hit in a very strange way since at the beginning of the outbreak and even now, the toilet paper, paper towels, napkins, and any other paper products started flying off the shelves. That's odd enough, but people acting like out and out jerks at the grocery store over wearing a mask, over social distancing, and just because is something that the show has depicted, and as a result has managed to get right since unfortunately, the barrier between reality and fantasy is thinning out just a bit and things are becoming very similar.
It's nice that our shows can sympathize with us at least.