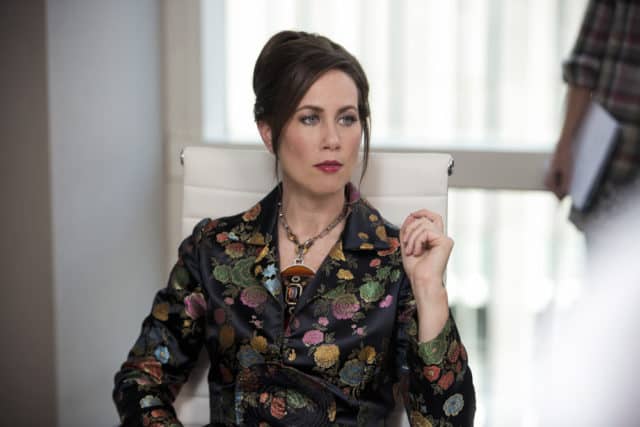 Well there has been a lot of talk about TV Land's original television show Younger, most of the attention focuses on the fact that the show is just starting its fourth season or on the stars of the show, Sutton Foster and Hilary Duff. It is actually relatively rare that there is much focus placed on some of the other characters that are essential to the show. One such character is Miriam Shor, who plays the stuffy boss Diana. Shor's real life is extremely interesting and you might be interested to know the following five things about her.
1. She's also active on stage
Shor admits that while she has stage experience, she hadn't been involved with a play in any capacity for many years, largely due to the birth of her two children. However, she recently starred as a factory worker who was also an alcoholic named Jessie in a play called "Sweat." This is a work that she is extremely proud of because it represents many of the struggles that middle-class people go through on a daily basis with regards to their wages, fair treatment in the workplace, and the diminishing possibilities of being able to work because so many of those types of jobs are going away. These are all things that openly talks about when asked about the role.
2. Her father worked in a factory for a time
Although he eventually became a professor, he was, in his younger days, a factory worker. He was also from Pennsylvania. Therefore, Shor has stated in past interviews that she can identify with people that come from that walk of life because even though she has never actually worked in a factory herself, she has experienced that culture firsthand.
3. She loves to travel
Shor has trotted the globe and she has even lived in some interesting places overseas. She admits that this has changed her own perspective about the world and the people in it. By all accounts, she claims that it has made her a more open individual who cannot simply turn a blind eye to those around her going through personal struggles, often through no fault of their own. She ties all of these things back to her character she plays in "Sweat."
4. Her parents divorced when she was young
She was only seven years old when her parents chose to get a divorce. She then basically divided her time between living with her mother and her father.
5. She grew up in Italy
Since her parents were divorced, she spent part of her time in Turin, Italy and the other part of her time in a suburb of Detroit. Eventually, she made the decision to stop going to Italy because she was more interested in completing her education and it made it extremely difficult to do so since she was gone at least half the time. With that being said, she is very open about the fact that she enjoyed having the opportunity to travel and see different cultures, especially with regard to how they interact with each other.