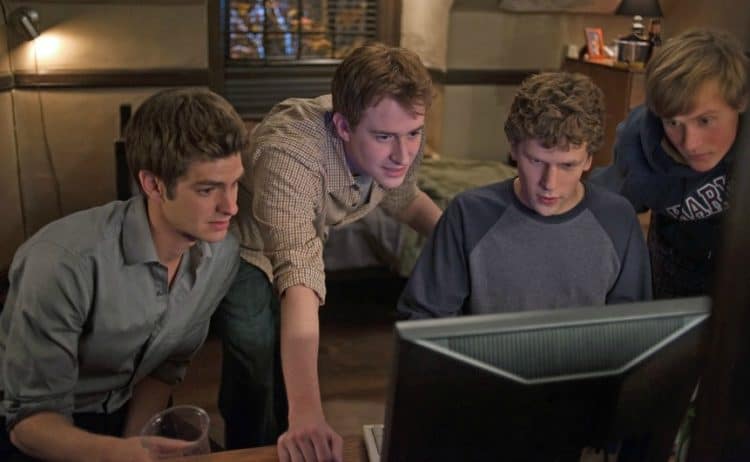 Most of us won't be able to relate to the daily lives of the one percent. Good thing biopics about them exists, which give us a glimpse of how life is like on top of the capitalist food chain. If you are curious about the personal lives of the richest and most powerful people in society, here are five movie recommendations that will give you an idea on what it's like to be a billionaire.
Steve Jobs
Written by legendary screenwriter Aaron Sorkin, who gave us The West Wing and The Newsroom, Steve Jobs is a fast-paced portrayal of the life and work of Steve Jobs, the cofounder of Apple. The movie shows everything, from his tumultuous relationship with his daughter, Lisa, and her mother, his stormy reputation within the Apple company, his love-hate friendship with his Apple cofounder Steve Wozniak, and his controversial battle with former Apple CEO John Sculley. Masterfully portrayed by actor Michael Fassbender, Steve Jobs shows a side of himself in the movie that is only often the subject of rumors outside Apple. Steve Jobs stars Fassbender, alongside Kate Winslet, Seth Rogen, Jeff Daniels, Katherine Waterston, and Michael Stuhlbarg. Fassbender and Winslet received Oscar noms for their respective roles at the 88th Academy Awards. Angie Han's review of Steve Jobs for SlashFilm took note of how the movie exposes the Apple cofounder to the world, even if it was a heavily fictional one. "For most biopics, this would be a failing, but for a Steve Jobs biopic in 2015, it's an asset. We don't need a movie to tell us who Steve Jobs is as a tech guru. I'm currently typing this review on my Apple keyboard, which is linked to my MacBook Air, with my iPhone 6 by my side; I know exactly who Steve Jobs, Apple CEO, is. Steve Jobs feels a revelation because it exposes Steve Jobs, the man." Before his death, Steve Jobs' net worth was $10 billion dollars, according to Celebrity Net Worth.
The Social Network
While the movie doesn't quite portray Mark Zuckerberg as the billionaire yet, The Social Network portrays the operations and legal complications of Facebook as it was gaining traction. The movie features Facebook founder Mark Zuckerberg as he wrestles with the demands of building the most popular social media website on Earth. Written by Aaron Sorkin, who also wrote Steve Jobs, The Social Network stars Jesse Eisenberg, Andrew Garfield, and Justin Timberlake. It received eight nominations at the 83rd Academy Awards, including Best Picture, Best Director, and Best Actor for Jesse Eisenberg. It won three of those eight nominations, which are Best Adapted Screenplay, Best Film Score, and Best Film Editing. A review of the film from The Hollywood Reporter wrote: "Social" has the potential to be that rarity — a film that gains critical laurels and award mentions yet also does killer boxoffice. Certainly, Sorkin, the film's director, David Fincher, and its heavyweight producers have crafted a smart, insightful film that satisfies both camps. The hook is the film's of-the-moment topic but the payoff is its hero. Or antihero or villain or whatever." Mark Zuckerberg's current net worth is $118 billion, making him the seventh richest person in the world, according to Forbes.
The Aviator
The Aviator is about Howard Hughes, the billionaire founder of Hughes Aircraft Company. The film featured the life of Hughes, as well as his unfortunate descent into severe obsessive-compulsive disorder or OCD. The Aviator starred Leonardo DiCaprio, who played Hughes, as well as Cate Blanchett, who played Katherine Hepburn. Both DiCaprio and Blanchett's performances were widely acclaimed, with both receiving nominations for Best Actor and Best Supporting Actress respectively. Blanchett would win the award, defeating other actresses in the category like Laura Linney, Virginia Madsen, Sophie Okonedo, and Natalie Portman. Roger Ebert's review of the film spoke praise of its director, Martin Scorsese. "The Aviator" celebrates Scorsese's zest for finding excitement in a period setting, re-creating the kind of glamor he heard about when he was growing up. It is possible to imagine him wanting to be Howard Hughes. Their lives, in fact, are even a little similar: Heedless ambition and talent when young, great early success, tempestuous romances and a dark period, although with Hughes it got darker and darker, while Scorsese has emerged into the full flower of his gifts." Before his death, Howard Hughes had a net worth of $11 billion, according to Celebrity Net Worth.
All The Money In The World
All The Money In The World tells the real story of the kidnapping of John Paul Getty III, the grandson of oil tycoon J. Paul Getty. The story focuses on the kidnapping of the 16-year-old as well as his grandfather's refusal to submit to the monetary demands of the kidnappers. All The Money In The World stars Christopher Plummer as J. Paul Getty, in one of his final on-screen roles before his death. The movie also features Michelle Williams, Mark Wahlberg, and Romain Darius. For his role in the film, Plummer was nominated for an Academy Award for Best Supporting Actor. The Guardian wrote a review of the movie: "All The Money in the World is not perfect; there is a touch of naivety and stereotyping in its depiction of the malign Italians with their one, redemptive nice-guy gangster. But with the help of Plummer's tremendous villain-autocrat performance, Ridley Scott gives us a very entertaining parable about money and what it can't buy." In 1966, J. Paul Getty was named the world's richest private citizen, with a net worth of $2 billion.
Pirates Of Silicon Valley
Pirates of Silicon Valley is a biographical television film starring Anthony Michael Hall and Noah Wyle, starring Bill Gates and Steve Jobs respectively. The movie depicts the rivalry between the two, and how their relationship sparked history-making changes in the concept of personal computers. Other cast members of the movie include Joey Slotnick, John DiMaggio, and Josh Hopkins. Macworld promises that viewers specifically interested in tech history will enjoy the movie. "Fans of the computer industry will enjoy a lot of "Pirates," since the film takes pains to recreate several famous events, including Gates being arrested for speeding; Gates, Allen, and Ballmer lying to IBM that they owned DOS and then swindling it out of a Seattle company for a paltry $50,000; John Sculley being forced to give a toast at Jobs' birthday party because nobody else is willing to, then firing him a few months later." Bill Gates' current net worth is $134.2 billion, making him the fourth richest person in the world.
Tell us what's wrong with this post? How could we improve it? :)
Let us improve this post!