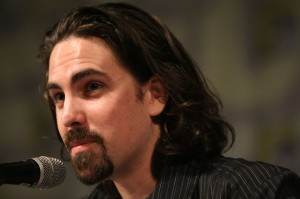 If you've been watching TV the last decade, chances are you've heard Bear McCreary's music. He was the composer behind Battlestar Galactica, Trauma, and now Caprica and The Walking Dead. Surprisingly, he's only been nominated for one Emmy – for the outstanding main theme for FOX's Human Target, which is still stuck in my head at random intervals. He was gracious enough to speak with me on Thursday, shedding some light on his expansive career and the reasons behind his unfortunate departure from Human Target.
How do you get involved with scoring a television series like Human Target? The role of the composer seems to be getting more and more important, yet it's still a job a lot of people don't know anything about.
Human Target was interesting because I had an early meeting with Jon Steinberg. He was looking at composers before they shot the pilot. He was showing an extraordinary interest in the music. It caught my attention right away. I knew I was dealing with a guy who took music very seriously. Most of the time, they'll shoot the pilot and score it with tracks from other soundtracks, a "temp score." But Human Target, Steinberg in particular, the music was so important to him. He knew even as a pilot that having an original theme and orchestral score was one of the selling points of the whole show. He had the vision to pull all that together. Jon really liked what I did and we had a meeting. About five minutes into the meeting, we realized we were just nerding out about soundtracks the whole time, and realizing that we were exactly on the same page about the kind of film music that we liked.
At the same time, there's sort of an emerging cult following for TV composers. Some have become quite popular, like you, Sean Callery (La Femme Nikita, 24) and Michael Giacchino (Alias, Fringe). What has that kind of attention been like for you?
It's not something I ever thought about. It's certainly a nice affirmation that you're doing something that people are responding to. The music on Battlestar has crossed over into fandom in ways that almost no other TV score has ever done. I'm continually amazed, when we book the concerts, how many people come out to hear this stuff. It's not like we're playing just the greatest hits – we're playing cues from within the dramatic narrative and people are really responding to it as a musical experience. When I see this stuff happening, it's definitely something that makes me smile.
When you get involved with a series, how do you create and settle on the sound for it? What do you draw from?

Some of that is just the magic of being a musician. I don't know. I watch the pilot, I think about the characters, and you just kind of start sharing things.
I have to ask you about that distinctive title theme for Human Target. Mark Valley has it as the ringtone on his iPhone, and of course you were nominated for an Emmy. How did you compose that?

Mark was telling me that he wished he could have that playing any time he walked into a room. I had long conversations with Jon Steinberg. The first thing I wrote was the Christopher Chance theme, which would become the main theme, because I knew I had to get this right. There was a first draft that I wrote that we didn't end up using, and it will be included on the forthcoming soundtrack CD. It's a little dark, it's a little more ambiguous emotionally. My second version was exactly what you hear on the air. But it was a real challenge at first, because there's a playfulness and an epic scope that need to be combined. If it doesn't feel like it's fun, you're missing a part of Chance's personality, but if it's too fun, and you're not capturing the action and adventure, then you're failing to fully represent the character in that theme. I was really happy with what we ended up with.
What were your inspirations for the show? I always got a kind of classic high adventure, sort of throwback action movie kind of feel from the score.
Our philosophy – Jon Steinberg and I – we had this idea that we wanted it to feel like a classic adventure score. This was something that we wrestled with. We wanted it to feel like a modern score, but in that style. I think we found that balance. There's a lot of contemporary electronic sound. The philosophy was in the late 80's, certainly up until the 80's, there was always a strong orchestral presence in film music. Transitioning up to now, the emphasis in feature film scores started to drift away from orchestral writing. That style kind of became passe. So we had this idea of, "What if that had never happened? What if that never went out of style and it continued to evolve, what would that sound like now?"
You also created some pretty great themes for the main characters as well. Is there a major difference between composing those themes and standard score, or is it just that they're recurring cues?
The episodic score is what I'm dealing with every day. My first and foremost job is to provide the underscore. You have to navigate these waters very carefully. I wanted to do all these big picture things, but I also had to make sure of all these other things at the same time. Having all those themes makes that job immensely easier. You kind of know automatically, when a character is in a scene, that you have a starting point. Once that work is done, I could start coming up with variations of it. The Winston theme is very playful and it's kind of the classic sidekick theme, but then Winston got his own chances to be involved in fights and save the day in a few cases, and the theme actually changed.
I would have to write the themes in advance. In "Sanctuary," there was a reference in there to Katherine Walters, who in that episode is nothing more than a name in a file. But Steinberg was telling me there were a lot of things in play that you don't necessarily know about yet. These were things I hinted at in "Sanctuary" without knowing what these things were. You've heard [Chance's] old boss theme twenty-five times before you've ever seen the guy's face. To do that in TV requires a lot of cooperation from your producers. But it made it so much more rewarding for me, in the last episode, to play Katherine's theme and have it feel familiar.
I know you've stated you had a close relationship with series creator Jon Steinberg. Can you talk about that, and the collaboration between the two of you to create that great finished product?
I worked with several of the writers and a couple of the producers, but Steinberg really was my point man on this. He was the one who had the clearest vision of what the music wanted to be. Once he and I got on the same page, we were really in sync. I was able to predict what he wanted to hear and how he envisioned these characters, and he began to trust that I knew what was best for the show. In the second half of the season, we actually didn't even meet anymore. He had faith that I would do what he would want to have done. It's a great thing when you're in an artistic relationship with someone that you can have that kind of trust. I've never met a producer who's more in tune with music.
I've seen the first episode of the second season of Human Target, and your score is sorely missed. Can you shed some light on your departure from the show?
Honestly, I have no idea. I just know that I wasn't invited back. I could only speculate, but I wouldn't be any more informed than you. The reality is that songs are very expensive, and orchestral score is not. I would be very, very surprised if it was a purely budgetary reason. But I'm very happy with the work that Steinberg and I did over the course of the first season.
But fans are lucky in that we'll be seeing a CD release of your score. How did that come to be? What can fans expect from it?
It comes out in a shortened version on iTunes on October 5, and a 3-disc, four-hour version on October 19. You can expect almost everything. I'll be stunned if there's a cue that isn't on the album. Especially because I knew that I wasn't coming back, there was no reason to save anything for later, so I asked if they'd be willing to put out a 3-disc album. Major points go to those guys because they knew Human Target fans wanted to hear this stuff.
You're going to hear a couple of different versions of the main title, an extended version of the main title. There's an even longer version of it there. It's got all the best action scenes from every episode. It's got the big finale from "Christopher Chance." It's honestly the most incredible soundtrack album I've ever put out. When I put on one of my CD's, this is the one I put on.
It seems a lot of series are moving away from main title themes. Do you have any thoughts on that?
It's happening. It's happening to a point where the television academy, they voted this year on whether or not to even have a category for Best Main Title Composition at the Emmys. For what it's worth, I'm doing my part, with Trauma and Caprica and The Walking Dead. I'm fortunate to work on shows where people recognize that a main title sequence is important. I certainly hope that trend reverses itself, and I think that it will.
What do you listen to? Are there any composers whose work you particularly enjoy?
I grew up listening to almost nothing but film scores. So I grew up on Jerry Goldsmith, Elmer Bernstein, Alan Silvestri, Danny Elfman, John Williams. These are people that were and are my musical heroes. They continue to inspire me to this day. I had the great fortune of working with Elmer Bernstein. That's a generation of Hollywood that I have a tremendous respect for. The nicest thing that I hope someone thinks about my work on Human Target, I would love to think that there's some 13-year-old kid not realizing how great some of this music is, and watches Human Target and goes back to discover all these people. Another one is Shirley Walker, who worked on the Batman animated series. That's the holy grail of TV scores that everything falls short of, including Human Target. It's really a thrill to give back to that.
Thank you to Bear McCreary for a great interview. You can stop by and say hello to Bear yourself on his blog. Much of his television work is available commercially on Amazon. The Human Target score is currently slated for an October release through La-La Land Records.