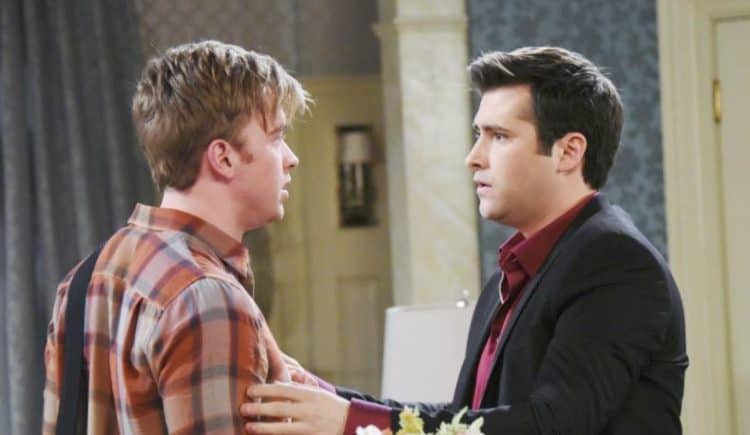 Days of Our Lives fans watched as the Fourth of July brought some interesting situations, and we are all just sitting here loving the moment that Eve brought her A-game — and her surprise witness — to Tate's hearing. She's showing us that she's not going to make any mistakes where Brady is concerned. She's decided she loves him and wants to be with him, and that's all she wrote. She's not going to stand around and lose out on a relationship with him this time around just because her sister is back and ready to make her life miserable. It's not who she is, it's not what she wants, and it's not where she is going in life. She's got bigger, better things going on in her life, and she's going to make sure they all know about it. We thought she rocked her moment in the courtroom.
And then there is Stefan. He's going about his life demanding that Kayla do things she's not comfortable doing, even though she agreed to do them. She's told her friend, Marlena, what she's doing with Stefan, and they are going to work together to see if they can change how this is all going down. She's no longer sure she can get this cure for her husband, but she's got to do something to get out from under what he's doing to her. But that's not all. They will plot against him, and we're also watching Gabi plot against everyone. She will take this pregnancy news that Abigail shared with her, and we have a feeling after watching her yesterday, that she might just use that to break up her friend's marriage to Chad. It would serve her right in Gabi's mind, and that is all she wants to see happen in her life. It's not good for Abby, but nothing is right now.
What's Happening on Days of Our Lives
Does she have the best intentions? #DAYS pic.twitter.com/pPL8F0huxf

— Days of our Lives (@nbcdays) July 3, 2018
Sometimes a holiday brings out the absolute worst in everyone, and that's how we feel right now about what's happening with Gabi after the Fourth break. She's not in a good place, and she refuses to believe that there is a reason for what's happened. We get that she's been put through a lot. We get that it wasn't fair. We get that it was a horrible, life-ruining situation. But, she's not even trying to understand what her friend was going through, and we agree with this question.
What's Next on Days of Our Lives
This week on #DAYS: Sometimes it's best to sweep a big problem under the rug… Watch Days of our Lives, weekdays on @NBC. https://t.co/fDQMXAzAgQ

— Days of our Lives (@nbcdays) July 2, 2018
The holiday is over, things are changing, and everyone is unhappy about something. More specifically, there is a big problem brewing in the cabin, and it's going to take a toll on what Ciara is trying to accomplish. She's starting to get worried about Ben. He's a sick man who takes medication to make sure that he's not going to lose his mind again. It's part of his plan for release. He's got mental issues that need to be rectified via medication, and that means he has to go out of his own way to take the proper medication to get his life in order. And when he's not taking it — as he is not taking it right now — he's losing it. She sees that, and she's worried about what this means for her. She's got a lot to worry about right now.
And then there is the fact that there is going to be a major situation here. We hear there is going to be something happening that will put her life and his in danger, and it has nothing to do with the fact that her own mother is essentially ready to kill her for the worry she's putting her through. Rumor has it that there will be a fire, and it will not be good. Ciara is still hurt, and she's slow, and Ben is not right in the head without his meds. This could be a recipe for disaster, and it's all going down soon.
Stay tuned for more Days of Our Lives and be sure to check out TVOvermind daily for the latest Days of Our Lives spoilers, news, and updates.