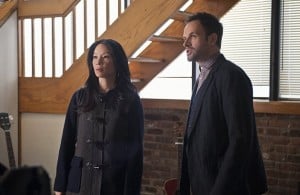 On last week's Elementary, Sherlock Holmes got himself into a bit of a sticky situation when he went rogue and sought out to kill the person who murdered his beloved. Not only was he bested by his enemy, but his bad choices led to his suspension from the NYPD and a more permanent stay with his sober companion Joan, who's not actually getting paid any longer. Not that Sherlock knows that, of course. That would be too simple, wouldn't it?
If we know anything about Sherlock, it's that he'd spend his suspension at home like a good little boy, staying out of trouble and out of sight, right?
Hahahaha. On the contrary. Holmes wouldn't be himself if he were able to stay away from the siren call of a great mystery. So when one of his online conspiracy theorist friends ends up dead, Sherlock Holmes is…well, on the case.
The conspiracies don't end with one victim. In fact, his death leads to a few other victims, who are all linked to a hypothetical game of war that they were a little too good at. So good at, in fact, that their hypothetical military takedown scenario had the potential to be a national disaster if their plan were ever made public. When the murderer starts plucking them off one by one, Holmes' savvy and astute observations lead him to weasel his way back into the NYPD, much to Captain Gregson's chagrin, who can't actually turn him away because he's so damn good at what he does.
With a case that has more twists and turns than the windiest of roller coasters, the Suspended Consultant is as brilliant as ever in his discoveries. It's too bad that he can't stop pissing off Captain Gregson with insincere apologies and little remorse for his attempted acts of revenge. The tension between the two is somewhat resolved in the final scene. Sherlock's kind of an ass. Gregson's kind of holier-than-thou. You get the picture. The two make quite a pair of antagonists.
The episode also brings a little more insight into Joan, whose therapist insists that hiding her secret from Sherlock could actually send him into a fall off the wagon, which ironically, is what she's been trying to prevent by staying after her commitment ended. Only for a little while, Watson insists. Unfortunately, I don't think Sherlock will be quite as understanding about her little lie. It'll be compelling to see how this starts to unravel by season's end.
Grade: B+
Tell us what's wrong with this post? How could we improve it? :)
Let us improve this post!