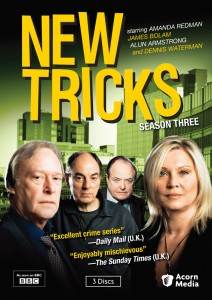 You look at the cover to New Tricks, and you think that it's going to be a dark police drama with a bit of lightheartedness stemming from the main characters. It's like hundreds of other shows you've seen, you think. Seen the cover, seen the show, right?
That's what I thought, at least, but I was entirely wrong. I popped the DVD into my player, and after skipping through the Acorn Media ads I've seen a thousand (hyperbolic) times, I was shocked by a twangy country theme song that played over the main menu. The show's theme song.
The rest of the series continued to surprise, with hardly a gritty moment permeating throughout the show's entire first episode. Sure, it involves the death of a woman who had been secretly involved in pornography, but the episode takes all of the weight from itself by having Alun Armstrong's character getting a penguin tattoo on his buttocks to a appeal to his wife, or Amanda Redman's character convincing her rude dinner party friends of her affairs with not one but two older married men – both of whom were aware of each other.
The case wasn't engrossing, but the characters surprisingly were. Sure, even in its third series, the show falls back on the typical nature of the three older leads. There's sexism toward woman drivers, for example, as a source of tension between the team. It was a little painful to see both that and the self-righteous response of Redman's character, but beyond that, the characters were actually pretty fun to watch (with Alun Armstrong being my favorite of the three).
You won't get lost starting with season 3, but as always, it's probably the smarter idea to start back at the beginning. While I wouldn't recommend it over Acorn's other February releases Single-Handed and Garrow's Law (which also stars Armstrong), New Tricks isn't a bad show at all. Fans of shows like Life and Monk will probably enjoy it most.
A pretty neat behind-the-scenes featurette is the only substantial bonus feature, clocking in at about twenty minutes long. On-screen cast filmographies, a staple of Acorn Media releases, are also provided.
You can order the set from Amazon for $29.99.