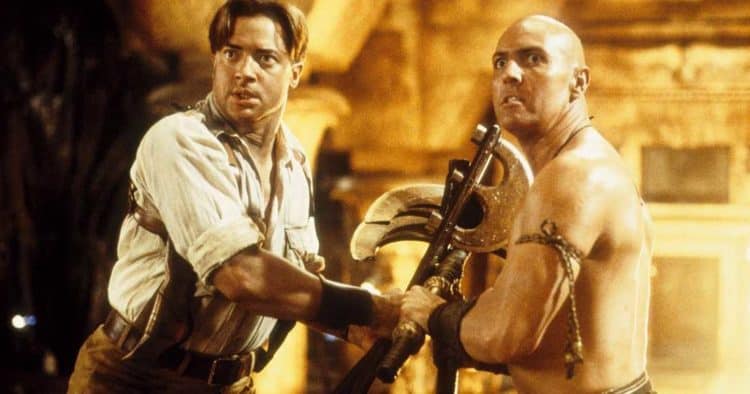 Quite a few fans tend to speak for their favorite actors at times since they believe that Hollywood, other fans, and sometimes the world, in general, should be treating their favorite actors far better than they are at times. This is kind of amusing really since the whole idea of treating the actors better is something that depends on a lot of different factors that fans have little to no control over. When it comes to getting a star on the Hollywood Walk of Fame though, it does feel as though Brendan Fraser should be able to see his name on the list, as some might argue that he should have already had a star by now. His list of accomplishments in cinema stretches out further than people know, and even if he's had a few flops in the past several years that's not enough to state that he shouldn't have his name on that walk. There are quite a few people that feel that he's been snubbed in a big way, but there are others that are thankfully asking better questions when it comes to this matter.
There is the question of whether he really wants a star on the Walk of Fame, as not every star does. There is more that goes into the star after all than a lot of people know about, such as the cost of the thing. A lot of celebrities might have no trouble footing the bill for a star, but there are those that question whether they really need it or want it. While a lot of fans might wonder why anyone would refuse a star on the Walk of Fame there have been some celebrities that simply don't want this honor for their own reasons. Just because it is a huge honor doesn't mean a person is going to go along with it. Whether fans like it or not, some celebrities don't care for all the fanfare that goes into being recognized in one way or another.
It might be that Fraser wouldn't say no to the opportunity, but the committee that decides such things still has to take note of everything he's done and make the decision to include him or not. There's likely a number of factors that go into deciding who gets a star and who doesn't, but understanding what's on that list would likely be a little confusing since quite honestly there are people on the Walk of Fame that don't make as much sense as others. There are a few arguments that one could make about the Walk of Fame, but in the end, they'd be pointless since the whole thing is more or less another way to commemorate various celebrities that have become legends in their own time or are being recognized as legends after their passing. To say that Brendan Fraser has earned it is something that many people would agree with, but griping about why it hasn't happened yet is equally pointless since until it's deemed necessary there's not much anyone can do.
The guy has been a part of several great movies and has also become one of the most well-known names in Hollywood, so it's only natural to think that his name should be on the Walk of Fame, but again, without being in control of what goes on it's fair to say that until those that are in charge make that decision, the wait will continue. It is interesting to wonder if his fall from grace if people want to call it that, is one reason why he hasn't been given a star yet. At one point in his career, he was one of the hottest stars on the block and had the credits to prove it. But after a while, he stopped showing up in the blockbuster movies and kind of slipped out of sight for a while. The funny thing is that a lot of people didn't appear to care or even take note that he was gone, which makes this sudden bid for a Hollywood star kind of suspicious since as a lot of people should know by now, many upon many fans are extremely fickle when it comes to celebrities and will either turn on their favorite stars when it becomes trendy or support them for the same reason.
So where were the people that think Fraser deserves a star several years ago when barely anyone knew what he was up to? Honestly, a lot of celebrities have different opinions about the stars on the Walk of Fame, and a lot of them might not even care that much if people didn't make a big deal out of it. But if Fraser's name is called in the years to come then it will be time to congratulate him. Until then, however, folks really need something better to do with their time.
Tell us what's wrong with this post? How could we improve it? :)
Let us improve this post!