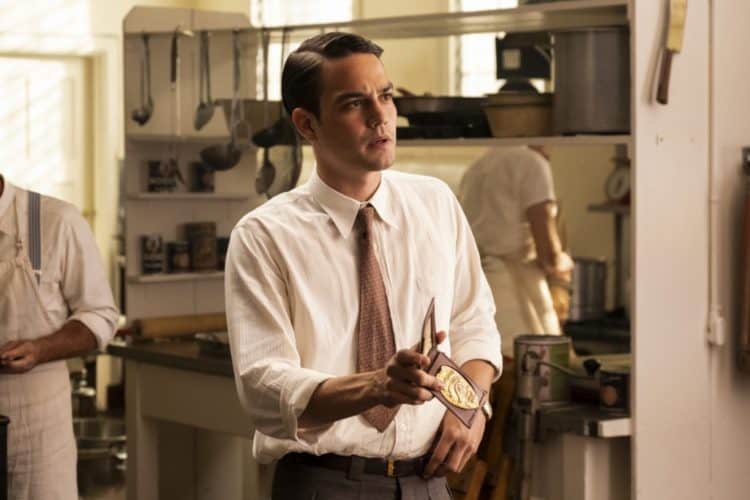 Finding consistent opportunities is something that every actor wants, and Daniel Zovatto is proud to say that he's been able to accomplish that. So far, his career has been full of great opportunities and he's had recurring roles in shows such as Revenge and Fear the Walking Dead. In 2020, however, he got a major opportunity when he was cast as Tiago Vega in the series Penny Dreadful: City of Angels. The role has introduced Daniel to a huge audience and his fan base has seen a huge jump. In 2021, he kept the ball rolling with the film Flinch and he is continuing to prove that there isn't anything he can't do. Continue reading for 10 things you didn't know about Daniel Zovatto.
1. He's A Painter
Acting is what people tend to think of when they think of Daniel Zovatto, but many of his fans don't know that he is also a very talented painter. He told Issue Magazine, "I have been painting and drawing since I can remember. My first canvases were walls, most notably my own bedroom walls or my mom's living room. Don't blame me. I just saw empty canvases around the house." Daniel also cites Picasso as one of his biggest influences.
2. He Struggles To Get Cast In Latino Roles
Daniel was born and raised in Costa Rica and he is very proud of his Latin roots. He has lived in the United States for several years and has found that he often struggles to be cast in Latino roles. During an interview with Latin Post, he revealed, "I think for me I always wanted to be that ambiguous person that could do everything. I want to be able to play an American, a Latino, a European and be diverse in roles. But if I had to be very honest with you, I think that has been my biggest struggle. Its convincing people I am a Latino."
3. His Mother Is A TV Personality
Daniel was introduced to the entertainment industry at a very early age thanks to his mother who is a TV personality in Costa Rica. He would often accompany her on the set of talk shows and it was there where he realized that he wanted to become an actor himself.
4. The Shining Is One Of His Favorite Scary Movies
So far in his career, Daniel has done quite a bit of horror/sci-fi work, and as a horror fan, he couldn't be any happier about it. He fell in love with the genre after watching The Shining with his father. The movie left a lasting impact on Daniel and he considers it to be one of his favorite scary movies of all time.
5. He Loves Being Outdoors
As of late, Daniel's schedule has probably been pretty full. When he does get the chance to take a break, however, he prefers to spend his free time enjoying the great outdoors. Daniel is an avid nature lover and he loves to do things like go hiking and exploring.
6. He Started His Career In Theater
Once Daniel decided to get serious about becoming a professional actor, he decided to relocate to New York City where his plan was to get started in theater. After doing some minor theater work, he decided to move to Los Angeles where he was eventually able to break into the film industry.
7. He Loves Interacting With Fans
Daniel is incredibly thankful for all of the people who have supported him on his acting journey. He looks forward to showing love to his fans whenever he gets the chance. It's very common to see him retweeting comments from fans and responding to their posts on social media.
8. He Believes His Art Has A Greater Purpose
Daniel has built a large platform over the years, and he wants to do more with it than just keep people entertained. He is passionate about using his talents to highlight things that are important. While talking to Issue Magazine he said, "artists are messengers. Whatever the format, it's our duty to address important parts of humanity that we as society tend to forget."
9. He Likes To Read
Learning has always been one of Daniel's top priorities. He loves seeking out new information. Books have become one of the best ways for him to find it. Daniel loves to read and he's always interested in exploring new subjects. Sitting down with a good book is also a great way for him to relax.
10. He's A Dog Dad
As far as we know, Daniel doesn't have any children. However, he has gotten a chance to practice his parternal skills thanks to his dog. Daniel is a very proud pet parent to his dog. Although we weren't able to find her name, Daniel's dog has made many appearances on his Instagram.