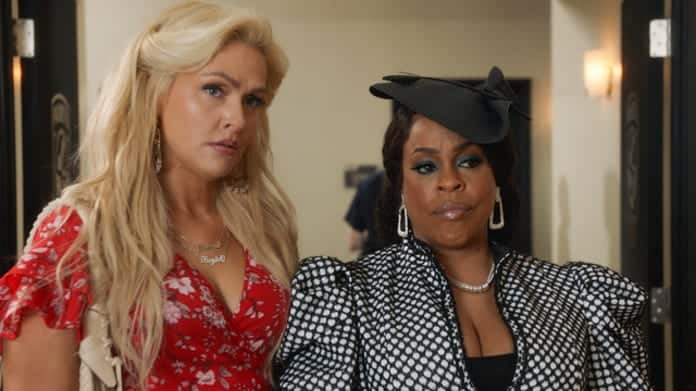 On Claws Season 4, Episode 4 Desna caught her first body! After finding out that Bambi, her top sales rep was stealing pills from her salon and packaging it as her own products the gang went to confront Bambi at her job in an auto body shop. The confrontation went left quick and Desna ended up killing Bambi in self-defense. But, that's not all. Jenn and Bryce children are in Social Services custody after a slip in miscommunication. On Claws Season 4, Episode 5 we finally get the old Desna back. Instead of brow beating her crew about making money she's being the loving and untiring friend that we have known her to be for the last three seasons. If you missed Sunday's episode here is a quick breakdown of the events that unfolded.
Custody
Despite Jenn and Bryce's former substance abuse issue they are both great parents. That's why Social Services swooping in and taking custody of the kids was unexpected and exceptionally hard for them to handle. Sure, Jenn relieved the babysitter before Bryce was home, but she was under the impression that he would touch down just a few short minutes after she left. Communication got mixed up, it was an innocent mistake. Nevertheless the social worker decides to send Brielle and Baylor to a group home for the night and they can work things out in Family Court in the morning. Desna offers to serve as a temporary guardian to the girls until Bryce and Jenn are able to work things out with Social Services. This makes sense because she is their godmother. But Clay feels that he should have custody of them because they are his grandkids. Although Desna and Clay are beefing, Desna doesn't stand in the way of this and agrees that Clay should have custody because he loves the girls. The judge officially grants Clay temporary guardianship. When the girls wander away from the house after Clay and Quiet Ann get into it with one of their employees they end up back at square one.
Bambi Is Dead
Meanwhile the ladies find out about Bambi's death and now they are hesitant about selling the pills because they believe that Bambi was targeted. Fortunately, Desna has the gift of gab and she promises to make sure they are safe. Desna convinces the smoothie dealer in the park that has been harassing Sheray one of her sales rep to get drugs from her connect, making him one of her subcontractors. Desna also agreed for Tony to have more involvement in her business. During one of their sessions, she opens up her sordid past and he vows to protect her essentially becoming the "muscle" that she needs. Thanks to Georgia's prodding and Virginia's big mouth Desna gained a new worker in her Oxy business. After Georgia found out what was really going on around the shop, Virginia showed her the ropes. Polly found out that Georgia knows their business and told Virginia that she had to Desna or she would have too.
Flashback
Desna followed the girls back to their temporary group home. It triggered flashbacks of when she and Dean were abused in foster care. She made the mistake of telling Jenn and Bryce where the girls were located. Jenn and Bryce couldn't help themselves. They went to go see the girls at the foster home and ended up kidnapping them. Desna is livid and she tears into them about the poor choices they are making. After an Amber alert is issued naming them as the suspects they get a huge wake up call. Clay feels guilty that the girls were taken a second time while in his care, so he enlists the help of Quiet Ann and makes things right. Uncle Clay took the rap for the kidnapping temporarily throwing the heat of them. Jenn called EJ, Brielle's biological father down to take temporary custody of the girls. Jenn and Bryce's problems are far from over. Jenn is starting to turn to Oxy to deal with the pain and Bryce resorting to violence by fighting down at the underground boxing ring. If they continue on this path they risk losing the girls for good.
Pregnancy Hormones
Quiet Ann apologizes to Cherry after assuming she had ulterior motives for asking for a pay increase. Uncle Clay and Quiet accompany Cherry in the field to assess the concerns she has. It turns out they are selling drugs in a gang's territory and the gang wants them gone. Fortunately, only Uncle Clay gets shot in the butt. Quiet Ann apologizes to Cherry for doubting her, obviously, it was the pregnancy hormones. They make up with a kiss. We're happy that Uncle Clay and Desna were able to focus on what's really important; the kids.
Tell us what's wrong with this post? How could we improve it? :)
Let us improve this post!