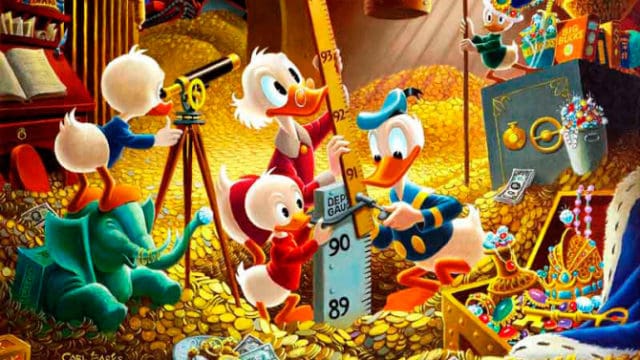 It's different, that much is obvious, and it's well done as well. But somehow I think I'd still prefer the actual Ducktales them as it's written and performed for the show. But one thing kind of confuses me that I can't believe I've never really heard until now. Maybe it's because the acapella version brings it out a little better, but when the theme says "grab onto some duck tales", doesn't that seem a little odd?
I'm not going to go into any type of sexual harassment rant if you're concerned about that, the phrase just struck me funny and I can't believe it took this long to notice it. Otherwise the theme seems pretty tame and recognizable from the original since, obviously, it is the original. Ducktales might have changed slightly but it's still essentially the same cartoon it was from years ago when it was shown along with TaleSpin and Chip and Dale: Rescue Rangers. Even if the cartoon's been updated it still hasn't changed enough to be unidentifiable from its original programming, and that's pretty cool.
As a kid I remember getting so excited to learn that Ducktales was coming on that I'd be home on the dot to watch the show and have my homework out or already done so I could sit in front of the TV and zone out for the duration of the show. It was one of the perks of being a latchkey kid for a while, I could watch cartoons and snack until my parents got home and the TV became an unrelenting newscast or started showing old movies that I had no interest in. Ducktales was kind of like an escape from the world so to speak that I looked forward to and enjoyed for its duration. Of course once I got older it became less of a thing and by the time high school came around I think a lot of us had put away our childish things and moved on.
But to hear Ducktales was coming back out again made me feel slightly nostalgic as well as a bit uneasy. What if the creators of this new version did something so off the wall that it ruined the cartoon for good? The cast of Ducktales were classic characters after all and during the show's first run were loved characters too. To think that someone would take control of the show and just reboot the entire thing was kind of like a betrayal of childhood. But thus far it seems like the cartoon is going to be close to the original and keep the same feel that so many of us probably forgot.
That means Scrooge will still be a crusty old duck that can have fun now and again, his nephews will still be rascally troublemakers that try to do the right thing and yet fall short occasionally, and Donald will, well, he'll be Donald. The inclusion of Donald Duck in this cartoon is a nice switch since in the original he only showed up every now and again.
It's going to be different, but not so much that we can't recognize it.