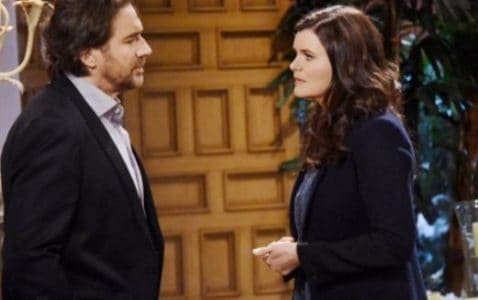 The Bold and the Beautiful never fails to bring the love triangle to a new art form. Right now it's Katie and Quinn both going after Eric. Quinn managed to marry the man, so she's kind of already the winner. However, it seems that Katie now has her sights set on him. Quinn is already making out with Ridge, who happens to be her husband's son and a married man. Katie suspects there might be something going on there, and she's not going to get that stop her from getting precisely what she wants from this relationship.
These two are doing everything in their power to keep their new relationship a secret, but everyone seems to suspect there is something going on. Steffy is suspicious, Katie has her ideas about them, and Ridge's wife isn't exactly thrilled about the idea her husband and her step mother-in-law seem to be spending so much quality time together. When this relationship goes south, we suspect it's going to be because Katie had everything to do with it. Brooke, Ridge's wife, is not home at the moment, but when she gets there she's going to talk to Katie.
And Katie is going to tell her she's fallen for Eric and wants him for herself. Will he leave Quinn? He might leave her if he finds out his son is having an affair with her, but will Katie take Eric for herself if it means hurting Brooke? We aren't entirely sure what's happening as this love triangle plus two goes on any further, but we know the math is getting a little confusing with the all the love interests going on.
It seems to us that Katie is not going to miss the opportunity to get her way with Eric, and she's going to do whatever it takes. She's not afraid to take Quinn down and use her as a pawn to get what she wants, and it's all Quinn's fault for cheating on her husband with his own son. Of course, there are some other factors at play, too.