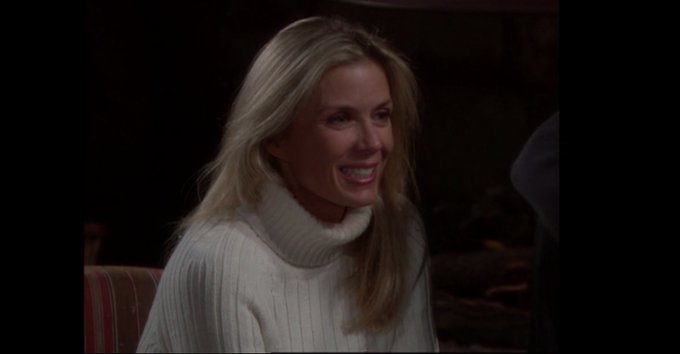 Bold and the Beautiful fans continue to thrive throughout Brooke week. She's such a mess that her entire life brings us so much joy. We cannot help how much we love her and the mess she makes, and the problems she creates. She's so good to us in that way of thinking. She's been able to give us so much more than we ever thought possible in that manner of speaking, and we are enjoying seeing her in all her glory. Seeing her make friends, enemies, marriages work and not work, stealing men from her kids, and then doing it all over again, getting pregnant time and time again and rarely knowing who the father of her baby might actually be on the first guess. This is just good stuff. We've seen so much fabulousness from her that we cannot even handle it. But, one thing we cannot handle even more than that is the fact that this Flashback Friday is a good one.
It's all about the day that happened on December 19, 2013 when Eric talks to his son, Ridge, who has been gone for some time. He tells his son all that has been going on with Brooke since he left and things changed so much, but he says not one word about Bill Spencer Jr. or any of that mess. He's careful to keep things happy for his son, and it's the day that Brooke walks out to see him standing in front of the staircase with a single rose — so romantic, right — and she is shocked to see him there. So, let's talk about this disappearance for a moment, shall we?
The Disappearance
It was August 2012 when the world realized that Ridge Forrester was not coming home with Brooke and his family after yet another fight regarding their daughters, Steffy and Hope, and Liam Spencer. You see, he was done with this. She continued to support her daughter at the risk of hurting his daughter, and she continued to get mad at him for wanting to support his own daughter through all of this. When they decided to return home, he made the announcement that he would not be returning with her. It was crushing to all the people, but we know that it was all because Ron Moss, the original Ridge Forrester, had decided his time on the show was up. There was not a tragic death or anything like that, but we do know that this is a situation that really does work for no one but himself. We knew he'd be back.
His Return
It was more than a year without Ridge in the picture, and Brooke had a heck of a year in the meantime. She didn't waste any time getting into bed with some other men, changing her own life to suit her own needs, and not really making it seem as if she missed Ridge in the very least. On the day that he came back, his father told him everything Brooke had been up to in the year-and-a-half that he was gone except for the part about Bill Spencer Jr. Their reunion was such a sweet one, as you can see on this day, but it did not last. He left her and told her he didn't want to come home with her, but he came home to her after 18 months and was furious that she was with another man.
But, not just any other man. He was furious that she was with a Spencer. Not just any Spencer, either. She was with the one married to her own sister, who was dying and wanted her own sister to fall in love with her husband so that they could be a family and raise her son together. That was a straw he was unwilling to deal with at that time, so their happy reunion when he came home after so long was just not that long-lasting. Though, we can be honest here, right? None of their reunions are all that long-lasting. They're good for a hot minute, and then they remember they don't like one another all that much. It's the way it's always been.