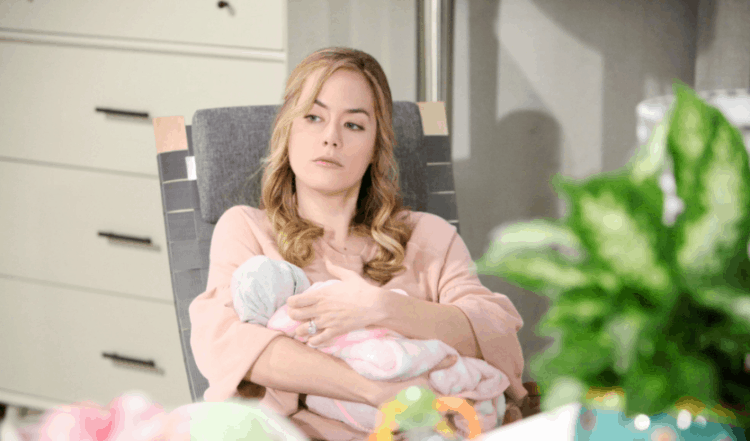 The Bold and the Beautiful fans are not surprised that Zoe is apologizing to Flo and demanding more answers from her. She knows this woman is lying about all that is going on and all that is going down, but she is not sure how to make this seem like it's not a big deal. She's got to make it seem like she can get a handle on it, even though we are certain she can't. There's so much she doesn't know, but we also assume there is a lot she's not dealing with, either. She's got some situations on hand that she has to deal with, but she's got to handle what she can, when she can, and with the help she can. Will Flo be able to help her make the most of what is going on in her life at the moment, or will we all find that this is not working to her level of satisfaction? We can't decide.
Additionally, Hope is spending as much time as she can with the new baby Steffy adopted, and Steffy is a little worried. She wants Hope to be happy, but she's worried that she's becoming too close to her own baby. She's not sure she's comfortable with Hope's desire to spend this much time with the baby, and she's not sure how to handle this. We know that this will not end well for anyone, and we also think that Steffy will say something sooner than later. She knows Hope is struggling, but this is something she's becoming very nervous about. She thinks it will ultimately hurt Hope more to grow attached to Steffy's baby than it will help her. But will anyone else worry as much because it is not their baby or their own personal feelings on the line?
What's Happening on the Bold and the Beautiful
RT if you're happy to see Hope smiling again. #BoldandBeautiful pic.twitter.com/Ut9aJ9jc9M

— Bold & The Beautiful (@BandB_CBS) February 8, 2019
Just let her have this baby back knowing she is the baby she gave birth to. Please and thank you.
What's Next on the Bold and the Beautiful
https://twitter.com/BandB_CBS/status/1094627048767709184?ref_src=twsrc%5Etfw
Steffy cannot go another day without saying something to someone about all that she feels is happening. She's convinced that Hope is growing too close to the baby that she just adopted, and that this is something that is concerning to her. Hope just lost the baby she carried for an entire pregnancy, and she's becoming very attached to Phoebe. Steffy is very worried about this, and she's not happy that this is happening. She wants to be there for Hope, but she is very worried about what this means for her own new daughter. And she's going to say something to Liam, who will only defend his wife. He is just happy that she seems to be coming out of her depression and things are working in her favor at the moment.
But, that doesn't mean he might not think the same thing, too. He might just not want to admit that just yet. He might know that there is something that Hope is doing that might make him worry, but we have a feeling that he is choosing not to see that. Meanwhile, Zoe is working very hard to find some answers about all of this. She's working to make it all work out for her own benefit, but will she say something if she finds out what happened knowing how much it could hurt her father if he's caught? We just don't know this young woman enough yet to know if this is who she is or if she will protect him until the day she dies.
Stay tuned for more The Bold and the Beautiful and be sure to check out TVOvermind daily for the latest The Bold and the Beautiful spoilers, news, and updates.