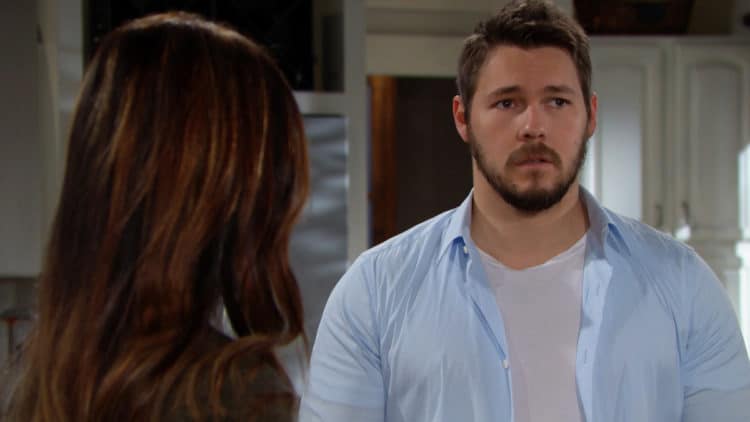 Bold and the Beautiful fans are not surprised that the first thing Shauna did when her daughter came back to town was work to encourage her to spend her life getting Wyatt back. Because, in her mind, what is a woman without a man to make her whole? And what in the world does she think thinking that her daughter even has a chance? Sure, Wyatt was quick to forgive her when she gave a body part to Katie — a woman he'd loved previously — but she did awful, terrible things to two families, to a newborn baby, and to people that will never get over this horrible thing she did. Their entire relationship was a complete and total lie from day one, and how does anyone expect him to just forget about that? She's a liar and a con artist, and trust is more than a little important.
Also, we know that Steffy is concerned about Sally. She's seen the work and the ideas that Sally is working with for the fashion show, and Steffy is more than a little concerned. She's not sure what to think, but she knows something needs to be done in this moment to correct a few things before they go completely and utterly awry. However, she's still in the middle of a shocking feeling after what happened with Liam. He confessed things to her about their encounter, and they both feel very guilty about it. Hope saw all of it, and she's horrified and upset and now their plans for the future are marred by many things that aren't going to work well for any of them. They all need to move on and away from one another in this matter, but they will be right back to where they started.
What's Happening on Bold and the Beautiful
Ridge and Brooke's "destiny" gets side-lined by Thomas. WATCH FULL EPISODE: https://t.co/anvKgoU3BC #BoldandBeautiful pic.twitter.com/mE2nke9H9l

— Bold & The Beautiful (@BandB_CBS) January 10, 2020
Can we just talk about how they didn't see this coming, at all?
What's Next on Bold and the Beautiful
https://twitter.com/BandB_CBS/status/1216328976492158977?ref_src=twsrc%5Etfw
Flo is back in town, and she's making things right in her own life. Katie has called a family meeting, and we have a feeling that she's asking everyone to forgive this young woman who has helped her live her life. We get that giving up a kidney was a wonderful thing to do to help Katie live, but we just don't get how it can overrule the fact that this young woman kidnapped a baby, faked it's death, sold it to the stepsister of the baby's real mother, and let them all think that the baby had died. We don't get it. We just don't. But, maybe her family meeting is about something else. We doubt it, though. There is nothing there that is going to make this right or better, but it might just help out in the long run. For now, though, we can see this being what it is.
Though we know that Flo is going to spend a little time with Wyatt before the meeting. We know that she sought him out and she wants to speak to him, but he needs to tell her he's happy and he's getting married and she needs to go. This will not work. Oh, and did we mention that Brooke is about to find out that her husband, the one she just asked to move back in with her, has been going around and kissing Shauna pretty regularly for a few months now? Well, she's about to find out — thanks to Thomas, we're sure — and she's going to lose her mind completely.
Stay tuned for more The Bold and the Beautiful and be sure to check out TVOvermind daily for the latest The Bold and the Beautiful spoilers, news, and updates.