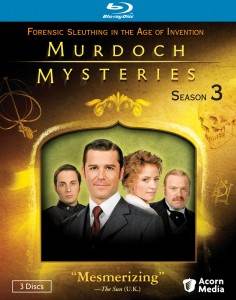 What a strange show Murdoch Mysteries is. At times the show feels like it could veer into the street of steampunk while at others it looks to go the way of Sherlock Holmes. At most general, though, it's a marvelously crafted detective drama set amongst the Wellsian science fiction that defined the Victorian era. That makes sense, considering that H.G. Wells himself turns up in the series, as does scientist Nikola Tesla (though unfortunately he's not played by David Bowie as he was in The Prestige). All these characters help William Murdoch solve some pretty heinous murders, while narrowly avoiding becoming a science fiction spectacle. The show's delicate balance is what makes it so watchable.
Yannick Bisson plays Murdoch, the charismatic but principled title character who goes around the Victorian era as a bit of a mystery-solving prodigy. After all, it's the only show set in the 1890s in which you're likely to find the role of a forensic pathologist. It's Bones from Canada, set in the nineteenth century, with better stories.
The show looks fantastic on Blu-ray as well. Scenes that are just mediocre on standard definition look brilliant in higher def; I'm thinking in particular of a scene in which someone looks through a massive bullet wound in someone's head. The show looks fine on DVD, but as with most things, the Blu-ray gives it a crisp pop.
Special features include some behind-the-scenes featurettes that are nice enough, though the episode 13 alternate ending is more fun. Murdoch Mysteries season 3 hit shelves on May 3. Get it on Amazon.