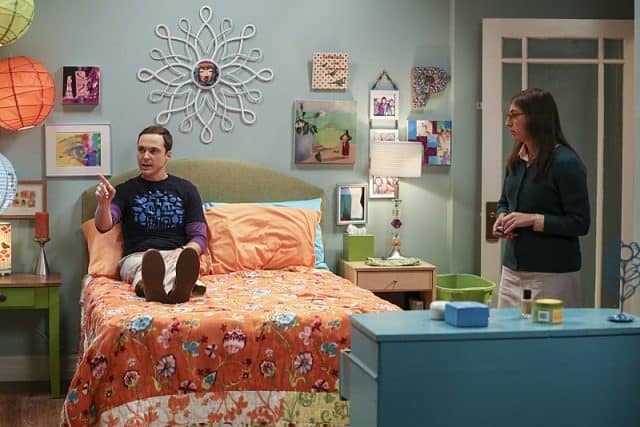 Ah, just when I was starting to fear for the long-term sustainability of The Big Bang Theory, (ignoring for a moment the 10 seasons of sustainability already experienced) they go and explore more issues that are common and realistic. Moving in with someone and finding out the sex of your baby can both be emotional and patience testing, but Big Bang shows us the flip side, which is how funny they can be.
This week on The Big Bang Theory: Amy's apartment had a pipe burst, so she and Sheldon move in together in Penny's apartment across the hall. Of course, the transition is rough for them. Leonard and Penny take full advantage of having a house to themselves. Raj finds out the sex of Howard and Bernadette's baby, which causes them to be conflicted about whether or not they want to know themselves.
Like I said, one of the things I appreciate most about this show is its willingness to tackle issues that seem so simple to everyone else. Whether some people think so or not, cohabitation is a big decision that directly affects other aspects of someone's life. Sheldon and Amy are a perfect way to illustrate the common man struggles in a funny way. Sheldon and Amy are (sometimes) caricatures, but their struggles once living together are all too common. Differences in personality, and growing accustomed to living alone are just some of the things couples face. It may not be the deepest issue in the world, but it's real.
Then there's the matter of finding out your baby's sex. Personally, my wife and I wanted to know what our baby's sex was going to be. We were struggling with picking a boy's name, so I said "let's find out so if it's a girl we don't have to worry about it anymore." It's a little less complicated than living with someone, but the complicated thoughts and emotions of a pregnant woman are never to be underestimated. Though, seriously, someone should do something about that Raj and his attachment to them.
A comedy is only as good as its one liners. As always, here are some of my favorite quotes/moments from the episode:
"Why are you all smiling like crazy people?"- Sheldon
"What if living together kills the romance?"- Sheldon
"If you want to lure me in with your sexy talk, that's how to do it." "Don't be proud of that!" Good point, Penny.
"With that many Sheldon's it'd be such a party nothing would ever get done."- Sheldon
Penny giving Sheldon advice, while Leonard gives it to Amy was spectacular.
"I was wondering how you'd feel about separating us with a pillow wall." -Sheldon
I loved every minute of the underwear dancing.
"The world may have forgotten about Dance Dance Revolution, but not this smooth criminal."- Leonard
As the above section clearly implies, Sheldon was back on in the comedy game this week. He's had some down weeks, but the show makes the best use of this marvelous asset they have when they try to explore a real life situation with him. But that's not a bad thing at all.
What did you guys think? Did you enjoy the episode? Let us know in the comments!
The Big Bang Theory airs Mondays at 8/7c on CBS
The Big Bang Theory Season 10 Episode 4 Review: "The Cohabitation Experimentation"
Summary
Sheldon and Amy experiment with living together on this week's hilarious episode of The Big Bang Theory.