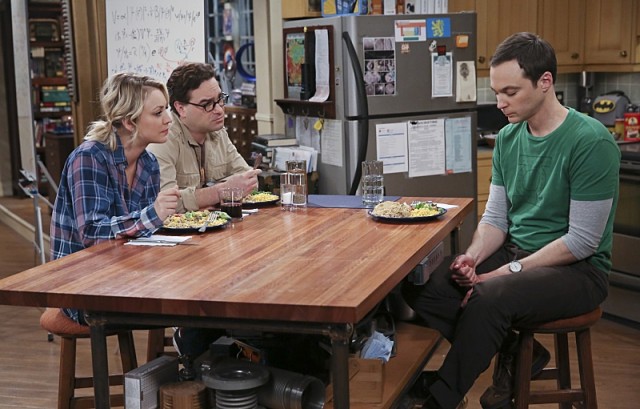 After a multi-week hiatus, The Big Bang Theory has finally returned to new episodes for the next couple of weeks. I quite missed the show, and I'm disappointed that its return is brief. The emotional payoff that Big Bang has spent the first half of the season building toward affectionately known as the "Shamy" break-up reached a dramatic climax, and the comedy has lost zero steps in its short time off.
This week on The Big Bang Theory: Footprints on the Moon (Howard and Raj's "band") gets its first Facebook fan, who Howard and Raj idolize. Sheldon has a song stuck in his head and cannot pinpoint what song it is, so he drives everyone crazy trying to figure it out. Amy calls Dave for another date, but while he's at her place, her date is interrupted.
I really appreciate the "Shamy" payoff, because it shows that the creative team cares about the fans and the creative integrity of the series. Sheldon and Amy obviously belong together, but it wasn't difficult to watch previous seasons of the show and wonder how she put up with this sometimes completely insufferable character. Before the aquarium a couple of weeks ago, I wasn't convinced that they DID belong together. Until I saw the charming, fun Sheldon that Amy loved. Now I'm not sure about the "earworm" way of getting there, but Sheldon is truly the type of character to analyze something like that, and for him to arrive at that conclusion was inevitable. This show really knows its charactersm and it was a wonderful build; although, apparently the climax comes next week.
Howard and Raj were a little goofy, lame, and forced this episode. Although the whole thing was amusing (Yes, I laugh at boogers and I always will), the story didn't really fit with everything else. Not everyone could be involved in Sheldon's earth-shattering realization, so they had to come up with something for the other characters to do. Still, Footprints on the Moon will be the source of much comedy yet to come, of that I'm sure. It's a really funny thread; it just didn't fit in "The Earworm Reverberation" very nicely.
As always, here are some of my favorite quotes/moments from the episode:
"Sheldon Cooper's descent into madness, Day 2."- Three guesses
"I WAS humming! One point for Hufflepuff."- Sheldon, though Leonard strikes me as a Ravenclaw
"Public nudity" is Sheldon for "barefoot." Gold.
"Music is dangerous. The movie Footloose tried to warn us."- Shelly again
"If I was wearing a bra, I'd throw it at your head right now!"- Raj
"Oh yeah, he got a tuba."- Leonard. Does that need more context? I'll just leave it.
"Have you ever dealt with something so relentlessly irritating?"- Sheldon, ironically
"She's like the dryer sheets of my heart!!"- Sheldon had all the good ones tonight
Ultimately, "The Earworm Reverberation" had an excellent build to a moment fans have spent the whole season waiting for. I was pleased with the emotional side, and laughed quite a bit along the way. After nine seasons, The Big Bang Theory has to do two things, and the show did both in this episode.
What did you guys think? Did you enjoy this episode? Let us know!
The Big Bang Theory's fall finale airs Thursday, Dec. 17, at 8/7c on CBS.
[Photo credit: Michael Yarish/Warner Bros. Entertainment Inc.]