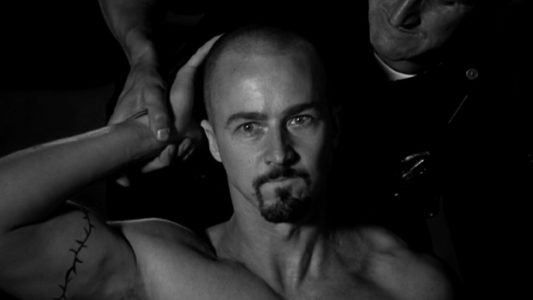 Brotherhood is one of the strongest things in the world. Through all of life's trials and tribulations, brothers know they can always count on each other to be there when needed. At the same time, however, the rivalry between brothers can also be extremely bitter. Over the years, the bond — or lack thereof — between brothers has made for great content in the entertainment industry. Hollywood has produced countless movies about brothers, and some of them have gone on to become classics. Although these films deal with a variety of subjects, the concept of brotherhood is always at the core. We've seen on-screen brothers overcome all sorts of obstacles. Even if you don't have a brother in real life, many of these movies are still very relatable. Keep reading to see our list of the 20 best movies about brothers.
20. East of Eden
Released in 1955, East of Eden is one of the oldest movies on our list. It stars legendary actor James Dean as a character named Caleb Trask. The movie is essentially a re-telling of the biblical story of Cain and Abel, however, it is set during the early 1900s. Throughout the film, Caleb and his brothers fight for the attention of their father, but their relationships end up getting more complicated than any of them could've imagined.
19. Four Brothers
Four Brothers is the story of four men who come together to conduct their own investigation after their adoptive mother was brutally murdered while shopping in a local convenience store. The movie is full of action and drama, but it's also a good story about the strength of family.
18. Rocco and His Brothers
Rocco and His Brothers is an Italian movie, but it was released in the United States in the summer of 1961. Like many of the other movies on our list, the brothers at the heart of this film become rivals after they both develop an interest in the same woman. The tension between them eventually starts to impact the entire family. Even though the film is now 60 years old, it contains several timeless themes.
17. Onward
Onward is the only animated movie on our list, but it definitely deserves a spot. The movie centers around two elf brothers who are on a journey to spend one more day with their father who has passed away. Onward may not have been a big hit at the box office, but it's still a great movie and it will definitely tug on your heartstrings.
16. My Brother's Wedding
Relationships between brothers can be beautiful, but they can also be incredibly complicated. That's something the 1983 movie My Brother's Wedding focuses on. The film tells the story of Pierce Mundy (Everett Silas), a man with very little ambition. When Pierce is asked to be the best man in his brother's, Wendell's, wedding he initially hesitates because he doesn't like his brother's soon-to-be wife. The movie didn't do well at the box office and it has largely been forgotten about since its release, but My Brother's Wedding truly is a solid movie that is worth checking out.
15. The King of Marvin Gardens
The King of Marvin Gardens is a classic film starring Jack Nicholson as a radio host who reconnects with his brother who happens to be a con man. The two end up getting in a scheme to attempt to make some quick and easy money. However, their plan results in lots of speed bumps along the way.
14. The Fighter
If you're a fan of sports movies, then The Fighter will be right up your alley. Starring Mark Wahlberg and Christian Bale as boxing loving brothers, The Fighter is a movie about hard work, dedication, and sacrifice. The film is based on the true story of boxer Micky Ward and his half-brother and trainer, Dicky Eklund.
13. A River Runs Through It
On the surface, A River Runs Through It is a simple movie but it's much deeper than it may seem. At its core, the movie is about the enduring strength of brotherhood. The film follows two brothers living in Montana. Although they separate briefly while one of them attends college, they eventually reunite. The movie was nominated for three awards at the 1993 Academy Awards.
12. Warrior
Released in 2011, Warrior is another movie about brotherhood and boxing. In Warrior, Tom Hardy and Joel Edgarton play estranged brothers who eventually find their calling in the world of mixed martial arts (MMA). However, the two eventually end up facing each other in the ring and they're in for the fight of their lives.
11. Before the Devil Knows You're Dead
Before the Devil Knows You're Dead centers around Andy Hanson (Philip Seymour Hoffman) a finance executive whose under-the-table schemes are on the verge of being exposed. In order to save his reputation, he decides to flee the country and relocate to Brazil. He enlists the help of his brother, Hank (Ethan Hawke), to raise money. The two come up with a plan to rob their parents' jewelry store, but when the plan goes awry their mother is killed in the process. In an attempt to get to the bottom of what happened, their father starts an investigation of his own.
10. Brothers
Love triangles are a common theme in movies about brothers, and the 2009 film Brothers is a prime example. In the movie, Tobey Maguire plays a marine captain named Sam Cahill who is presumed dead after being shot in Afghanistan. After hearing the news, his brother, Tommy (Jake Gyllenhaal), vows to take care of his brother's wife and children. However, Tommy and his brother's wife eventually end up developing a strong connection which becomes a problem when Sam returns home.
9. Twins
Everybody loves a good buddy comedy, and that's exactly what Twins is. Starring Danny DeVito and Arnold Schwarzenegger as fraternal twins who were separated at birth, Twins is hilarious and heartwarming. However, they eventually reconnect and the meeting changes both of their lives.
8. The Boondock Saints
If there's one thing everyone knows, it's that you better not mess with the mafia. However, in The Boondock Saints, fraternal twin brothers Connor (Sean Patrick Flanery) and Murphy (Norman Reedus) MacManus found themselves on the wrong side of the mob when they killed two members of the Russian mafia in self-defense.
7. Saving Private Ryan
Saving Private Ryan is a little different from the other movies on the list because it's not exactly about brotherhood. However, brothers are at the core of the story. Set during World War II, the movie is about the quest to save Private First Class James Ryan (Matt Damon) after his three brothers were killed in action. The goal is to return him home safely so his mother won't have lost all of her sons. The film was a huge success at the box office and was the highest-grossing movie in the United States in 1998.
6. What's Eating Gilbert Grape
What's Eating Gibert Grape is a movie about the persevering nature of brotherhood. In the movie, Johnny Depp plays the title character, a young man living in a small Texas town. He is responsible for caring for his mother and his younger brother Arnie (Leonardo DiCaprio) who is mentally impaired. Although he loves his family, Gilbert also wants to be able to focus on his own happiness.
5. Legends of The Fall
Legends of The Fall is yet another movie about brothers and love triangles. Set in the early 1900s, the movie tells the story of three brothers, Tristan (Brad Pitt), Alfred (Aiden Quinn), and Samuel (Henry Thomas). After falling in love with the same woman, Susannah (Julia Ormond), Tristan and Alfred become estranged. Although Susannah falls in love with Tristan, their relationship fails because he is emotionally unavailable. After Tristan decides to leave home, Susannah marries Alfred. However, their love triangle doesn't stop there.
4. Step Brothers
If you're looking for a movie that will make you laugh, the 2008 film Step Brothers is it. The movie is about two grown men who become stepbrothers after their parents get married. However, since both men still live at home, they end up having to live under the same roof.
3. American History X
American History X is probably the darkest movie on our list. In the movie, Edward Norton plays a skinhead named Derek Vineyard who goes to prison after years of committing racially motivated crimes. Upon his release, he becomes serious about turning his life around. Unfortunately, however, his younger brother has already started following in his footsteps and is on a path towards becoming a skinhead himself.
2. Rain Man
Rain Man is a movie all about discovery, family, and loyalty. When Charlie's (Tom Cruise) father passes away, he learns that he has an older brother named Ray (Dustin Hoffman) who has autism. The two end up taking a road trip across the country that becomes a life-changing experience for both of them.
1. The Blues Brothers
Widely considered an 80s classic, The Blues Brothers is one of those movies that never gets old. The movie is about a set of brothers who reunite their old band in an attempt to save the orphanage they grew up in. Not only is the movie full of good acting, but it also has some great music including an appearance from Aretha Franklin.
Tell us what's wrong with this post? How could we improve it? :)
Let us improve this post!