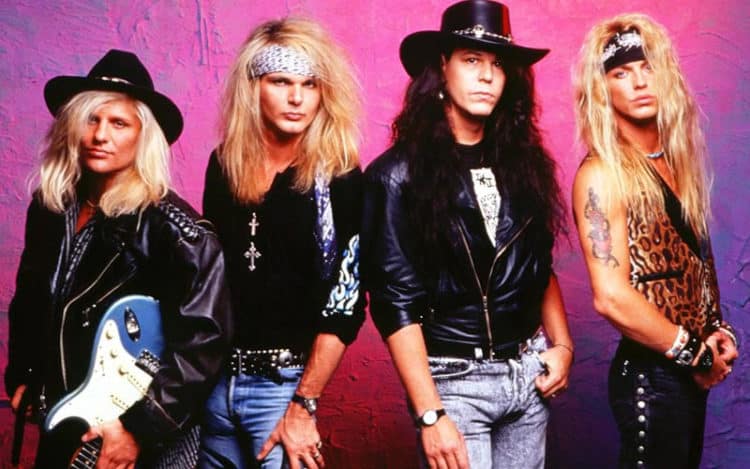 Hair metal, also known as glam metal, is one of the quintessential genres of the 1980s. It is a subgenre of heavy metal that makes use of pop-like hooks and riffs, while borrowing heavily from the aesthetics of 1970s glam rock. Hair metal bands can be easily distinguished by their style — big hair, denims, headbands, and spandex were mainstays of any hair metal band.
Hair metal musicians were famed for their love of the fast life. Drugs, all-night parties, strippers, and other excesses were the central subjects of a lot of glam metal songs — not to mention huge influences on the lives of the musicians themselves. The lifestyles associated with hair metal were a big draw to music stations such as MTV, who helped to popularize the genre during the 1980s.
Glam metal enjoyed about ten years at the top of the music world. It was not until the mid-1990s that the indulgent and excessive lifestyles began to come into public scrutiny. The craziness of glam metal began to be overtaken by the stripped-down grunge aesthetic, especially with the release of Nirvana's Nevermind in 1991. Studios and stations scrambled to catch a ride on this new music wave, leaving the glam metal superstars of the 80s in the dust.
Despite the eventual downfall of hair metal, the glory days of this genre produced some of the most legendary songs in rock and roll history. These songs will remain famous for an indefinite period of time — they are unlikely to ever go completely out of style, especially because they are gaining new, younger fans on the Internet. Maybe a few of our readers will join that number — especially after reading this article: The Top Twenty Hair Metal Bands of All Time.
Whitesnake
Whitesnake originally formed in 1978, right before the first glam metal wave. They were headed by David Coverdale, a former member of the hard rock band Deep Purple. This band started off with a distinct blues rock influence, but soon found that this style wasn't too commercially viable. They began to gravitate towards a more accessible style, and soon found themselves charting in the UK Top Ten with albums such as Ready an' Willling and Saints & Sinners.
The band had its most successful years during the 1980s, as it had come into the glam metal scene right when it was about to take off. Their most well-known album is Whitesnake, a self-titled album that they debuted in 1987. In the United States, it went eight times platinum. It also scored them a nomination for the 1988 Brit Award, "Best British Group".
Since their heyday in the 1980s, Whitesnake has seen more commercial success despite the fall of hair metal. Though they broke up in 1989, they reformed in 1994 and again in 2002. Since the 2002 reformation, Whitesnake has officially been permanently back together. They have done several tours, and will keep rocking as long as they can.
Skid Row
This band from Toms River, New Jersey was first formed in 1986. They caught the very end of the hair metal wave, and released their first album in 1989. Skid Row — their self-titled debut — was a huge commercial success. It went five times platinum, and featured some of the Jersey band's more famous songs such as "18 and Life" and "I Remember You". As time went on, Skid Row released a few more albums. Their second album also achieved a lot of success — known as Slave to the Grind, it was also certified multi-platinum and reached number one on the Billboard 200. However, they soon began to lose steam, as their next few albums did not achieve many positive reviews.
Though Skid Row's original singer left the band, they remain mostly-intact to this day. Former DragonForce vocalist ZP Theart has since taken on the role of lead singer, and the band continues to tour to this day. Hair metal won't ever die, it just won't be mainstream for now.
Poison
One of the most successful glam rock bands was, without a doubt, Poison. Since their inception in the early 1980s, this band has sold over 45 million records, charted multiple times on the Billboard Hot 100, and even scored the number one slot with "Every Rose Has Its Thorn". In fact, their very first album Look What the Cat Dragged In went multi-platinum and established their hold on the hair metal scene. Poison is an example of how some hair metal bands survived the rise of grunge. Though they were slightly displaced by the new style, they still achieved commercial success with their albums that were released during the 1990s. In fact, their greatest hits album (released in 1996) went double-platinum.
The band is still together today, and has all four of the original members — Bret Michaels, Rikki Rockett, Bobby Dall, and C.C. DeVille. After 25 years on the scene, they are still together and recording. They still tour, and released their latest album in 2007.
Def Leppard
On any list of legendary rock bands, Def Leppard will usually have a place. They first came about in 1977, and were originally formed to ride the new wave of British heavy metal. However, they soon carved out their own hold on the glam metal scene, achieving huge commercial success during the 1980s and early 1990s. Their most legendary album is Pyromania. This album was their gateway into the mainstream, and helped them to achieve recognition throughout the entire world. It was even certified diamond — that is, ten times platinum — and continues to be recognized to this day. Subsequent albums such as Hysteria and Adrenalize hit the very end of the glam metal trend, and both sold millions of copies.
Def Leppard is one of the best-selling bands of all time. They've sold hundreds of millions of records, have been certified diamond twice, and remain incredibly popular to this day. They continue to record albums and tour. In fact, a 58 date tour with Journey was just announced in January 2018.
Twisted Sister
So, even though frontman Dee Snider might disagree, Twisted Sister is synonymous with glam metal. They've got the look, the sound, and the message to cement them within the hair metal genre. They even achieved most of their mainstream success during the heyday of glam metal — their biggest success hit stores in 1984 (Stay Hungry, an LP). It sold nearly two million copies in a single year. Twisted Sister was the subject of a lot of controversy during their time at the top. Because a lot of their songs focused on conflicts with parents, as well as faults in the educational system, many conservative pundits declared that the band was a bad influence on the nation's youth. In fact, Dee Snider was even called to testify in front of the Senate in 1985.
The band had a hard time with the fall of glam metal, and ended up splitting in 1989. They had brief reunions several times, especially to work on projects. In 2003, they reunited permanently until the death of A.J. Pero in 2016. Unfortunately, the band officially played their very last concert during their farewell tour in November of that year.
Cinderella
Straight out of the suburbs of Philadelphia, Cinderella was one of the best glam metal bands on the scene in the 1980s. They rode the glam metal wave, with several multi-platinum albums and a lot of MTV airplay during this decade. In fact, their album Night Songs peaked at sales of 50,000 copies per week in 1986. Cinderella has performed alongside a lot of famous acts — Ozzy Osbourne, Skid Row, Bon Jovi, and the Scorpions (among others). They had a lot of fans during their day, and had huge exposure through many media channels. However, the lead singer (Tom Keifer) had a lot of problems with his voice that may have contributed to their downfall.
The band broke up for about two years (1995-1997), but officially reunited to tour — but not release any new albums. In fact, their last studio album came out in 1994 (Still Climbing). They still had a lot of commercial success, selling over 15 million records worldwide. However, infighting in the band led Keifer to announce in 2017 that they will never reunite again.
Ratt
Ratt is a well-known hair metal band that was instrumental in the formation of the scene. Their style — musical and aesthetic — can be seen in many other bands from the era. They are one of the most successful bands in the genre, with gold, platinum, and multi-platinum albums on the market. The band originally formed 1976, an offshoot of an older band formed by lead singer Stephen Pearcy. It was first known as Mickey Ratt, which was shortened to Ratt in 1981. They released a self-titled EP in 1983, which brought them to the attention of Atlantic Records. Only a year later, they released their first full-length album, Out of the Cellar. After this album released, they became incredibly famous with a lot of MTV and radio airplay.
Ratt has had a lot of lineup changes and breaks in production. However, the band continues to tour and record to this day. They even released a new studio album back in 2010 called Infestation. Though the group is plagued with legal issues and infighting, it has not yet broken up entirely (and doesn't seem to be on that course).
Dokken
Hair metal wouldn't be the same without Dokken. The band had a significant impact on the scene, selling millions of records and charting a few times during their time in the mainstream. They have even been nominated for a Grammy — the 1989 award for Best Metal Performance. Plus, this was the very first time that this award was offered, so this is a significant achievement. Dokken began in 1979, but struggled to achieve any success right off the bat. Despite the best efforts of the band members, their first few albums never achieved popularity in the United States. Even an arena tour alongside Blue Oyster Cult failed to bring the name Dokken into the public light.
They finally had a hit in 1984, with their album Tooth and Nail. It sold over two million copies worldwide, and a million in the United States alone. It was during this time that Dokken started getting picked up by bigger bands to open shows, and began to rise in popularity. Though the band has gone through extensive line-up changes, and a five-year hiatus, they continue to tour and record to this day.
Motley Crue
When you think of hair metal, Mötley Crüe might be the first band to come to mind. Their hedonistic lifestyles, outrageous personas, and distinct aesthetic sense were mainstays of the glam metal scene. They hit the first wave of glam metal, releasing their most famous albums and songs during the 1980s. Mötley Crüe formed in 1981, and achieved early success only a couple of years later. They played some big festivals, and released some albums that had moderate amounts of sales. After a few PR stunts, and playing Ozzy Osbourne's 1984 world tour, the band found themselves in the center of the 80s glam metal scene.
Despite a few lineup changes, the band stayed together pretty much continuously from 1981 to 2015. In 2014, they announced The Final Tour, which was their final tour (obviously). They played their very last show at the Staples Center in LA on New Year's Eve of 2015. Every good thing has to come to an end — but we are going to miss this legendary group.
W.A.S.P.
W.A.S.P. rose to success in the hair metal scene as early as 1984, with their self-titled album W.A.S.P. They had been formed only two years earlier by frontman Blackie Lawless. They were known for outrageous shows, and pioneered shock rock alongside their glam metal roots. The band released a single called Animal, with a parenthetical name that we won't name here. It was extremely controversial, and was actually left off of their debut album to prevent it from being banned from stores. This was a wise commercial move, as the Parents Music Resource Center began to target the band for their explicit content in the mid-1980s.
Despite conservative backlash, W.A.S.P. was very successful during the 1980s. They charted fairly highly on the Billboard 200 and made a good amount of record sales during their time in stores. The band is still together, and most recently announced a new studio album coming out hopefully sometime this year (announcement came in December 2017).
Warrant
No list of hair metal bands can be complete without Warrant. They are mostly known for their hit song "Cherry Pie", but their success began before this song even came out. Their debut album Dirty Rotten Filthy Stinking Rich went double-platinum, and provided a song that reached the second slot on the Billboard Hot 100. Warrant was among the original hair metal bands to come out of Los Angeles in the 1980s. They were a great fit for the scene, and their style was a perfect reflection of the glam metal aesthetic. Warrant is well known for their melodic rock anthems and ballads — two of the most important mainstays of hair metal.
The band has changed lineups frequently, with over twenty people laying claim to a spot in the band for at least a short period of time. Despite this instability, the band never broke up (even after the arrival of grunge) and continues to record and perform to this day.
Quiet Riot
Though Quiet Riot finds its roots far before glam metal took hold on the music industry, they are one of the main bands of the most popular genre of the 1980s. In fact, their breakthrough album Metal Health included a couple of hits that were covers of the British glam rock band Slade. They were first formed by Randy Rhoads (future Ozzy Osbourne guitarist) and Kelly Garni. They went through a series of name changes before they decided to use the name Quiet Riot, which was inspired by the British pronunciation of "quite right".
The band had a rocky start — and even broke up after the departure of Randy Rhoads — but later achieved a lot of success in the glam metal scene. Despite this success, the band hasn't stayed together consistently (they were inactive for periods of time beginning in 1989, 2003, and 2007). However, since 2010 they have begun performing live shows and recording albums again.
Bon Jovi
Another hair metal band out of New Jersey, Bon Jovi is one of the main American glam metal bands. They have been hugely successful since the release of their third album, Slippery When Wet. This album came out in 1986, and brought the band into the public light. It charted on the Billboard 200 and featured two singles were number one on the Billboard Hot 100. Bon Jovi songs are some of the most popular hair metal songs ever created. They appealed to a lot of people, young and old, and solidified the presence of glam metal in the music scene of the 1980s. Plus, they have had widespread commercial success and are one of the most recognized bands in the world.
The lineup of Bon Jovi has been pretty consistent since 1983, and has only had two major changes since (the departure of Richie Sambora and the firing of Alec John Such). The band will soon be inducted into the Rock and Roll Hall of Fame, and Jon Bon Jovi himself has already been inducted into the Songwriters Hall of Fame (alongside co-writer Richie Sambora). They still tour, write music, and record new albums.
Hanoi Rocks
The first name on our list not out of the UK or the States, Hanoi Rocks was a Finnish band that first formed in 1979. They were the very first band out of Finland to chart in the UK, and received mainstream popularity in Japan. They were also a major influence on the American glam metal scene — and are cited as such by Skid Row and Poison, among other bands. Hanoi Rocks were never hugely commercially successful. They never released any albums that sold too many copies, and have only sold about one million records worldwide since their inception. However, their distinctly-glam style and huge influence on the early hair metal scene scores them a spot on this list.
Hanoi Rocks was active from 1979 to 1985, and broke up after their drummer died in a car accident. The band was revived in 2001, and toured together and released some albums for a while. However, they officially broke up in 2008 as members moved on to other bands and new projects.
Kiss
Though Kiss came to prominence before the glam metal wave, one needs only look at their style and music to see the influence that they had on the glam metal scene. They are known for their elaborate live shows, and have had worldwide commercial success. In fact, they have sold over 75 million records since their formation in 1973. Kiss achieved success much earlier than some of the other bands in this list. Their first successful album was released in 1975, and was (unusually) a live album. Known as Alive!, the album went gold and spawned their very first top 40 single ("Rock and Roll All Nite", live).
Since 1973, the band has been together. They have since been inducted into the Rock and Roll Hall of Fame, and have released numerous albums that have achieved moderate success and critical acclaim. Kiss may not be glam metal per se, but they definitely influenced many of the hair metal bands greatly — especially with their focus on personas and the rock n' roll lifestyle.
Scorpions
Scorpions are the oldest band on our list, and the first to be formed in Germany. In 1965, the band first started in Hanover. However, they took over a decade to achieve mainstream success. They latched on to the burgeoning hair metal scene in order to achieve huge commercial sales in the late 70s and early 80s. The first commercially-successful Scorpions album was Animal Magnetism. It went Gold in the United States, and was their first album to do so (despite being the seventh album released by the band). It was during this time that Scorpions began to expand their provocative side (a considerable portion of what glam metal was all about).
The band has now been together for over 50 years — and is still going strong. They have been inducted into the Rock and Roll Hall of Fame, praised by Rolling Stone, and have a star on the Hollywood Rock wall. Their most recent album Return to Forever came out in 2015, and was a great throwback to the heyday of this band from Hanover.
Tesla
This band formed in the early 1980s in Sacramento — not too far from the hotbed of glam metal (Los Angeles). They based their name on Nikola Tesla (a famous inventor and engineer) and even wrote some songs that had lyrical content relating to this figure. They first found some success with their very first album, Mechanical Resonance. In fact, they toured with Alice Cooper, Def Leppard, and Poison during their early days. This is what really cemented their spot in the glam metal scene — though the members of Tesla themselves didn't like being labeled as such. However, their style and music were quintessentially hair metal.
Less than two decades after the band was founded, they disbanded for several years for the members to work on solo projects. However, they reformed in 2000 and have been together since (though Tommy Skeoch left due to substance abuse in 2006). The band has sold 14 million albums in the United States, and will likely continue to be successful in the 21st century.
Stryper
This band is the first one on our list that proclaims itself to be Christian music. They originated in Orange County in the 80s, and were the first glam metal band to bring Christian music into mainstream acceptance. Their third album To Hell with the Devil even went platinum (after being on the charts for three months). After this initial success, Stryper continued to work hard and released two more gold albums. The band eventually disbanded in 1992, citing that members wanted to pursue different paths in life. However, in 2003 they reunited for a show, leading them to record a new album.
Since 2003, Stryper has stayed together. Though they have had a few lineup changes, and album delays due to other projects, the band isn't set to break up again anytime soon. They released an album in 2015, and have another one on the way (hopefully sometime this year).
Europe
Though most glam metal bands come from America, Europe was Sweden's addition to the hair metal mix. They first came into the public light after winning the Swedish Rock Championships on Swedish national television. Though this was the first time this contest was held, Europe ended up far overshadowing it with their own mainstream success. They first came to international prominence with The Final Countdown, their third studio album. In fact, this album sold over 3 million copies in the US, with sales reaching over 15 million copies worldwide. After this, their success continued, with their songs and albums easily reaching top spots on the Billboard lists.
Europe broke up for awhile beginning in 1992, but reformed in 2003 for a tour and a new album. Since then, they have found new musical synergy and have released a couple more albums — and even a television commercial for Geico. Their most recent release was Walk The Earth, which came out in the middle of 2017.
Winger
An East coast classic, Winger was one of the most quintessentially glam bands to come to light in the 1980s metal scene. They released two albums that went platinum (their self-titled debut and In the Heart of the Young), as well as a few singles that have reached top spots in the radio charts. The band was a victim of the downfall of hair metal, especially alongside the rise of grunge. Though they enjoyed a brief period of fame and recognition, their third studio album Pull faded into obscurity with the advent of the new genre that overtook the industry. They broke up in 1994, about seven years after they first formed.
The band reunited in 2001, and has stayed together since. They have recorded a few new albums, as well as performed in a few tours. They last released an album (Better Days Comin') in 2014, and continue to perform for small tours and at private events to this day.
Hair metal spawned some of the most legendary artists and recognizable songs of the 20th century. Most of these bands continue to record and perform today, even though their genre of choice is no longer in the mainstream. So, now we ask the readers: what is your favorite hair metal band? Was there anyone that we missed on the list? Do you disagree with any of these names? Let us know in the comments!
Tell us what's wrong with this post? How could we improve it? :)
Let us improve this post!