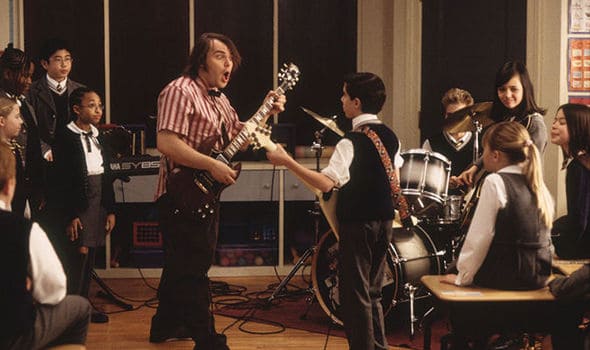 Originally Stevie Nicks's claim to fame was that she was a part of Fleetwood Mac, but when she went solo her career still soared to new heights that she hadn't expected. Stevie Nicks has been called the Queen of Rock and Roll throughout the years and has earned award after award for her hard-hitting and meaningful songs that so many have come to enjoy. A lot of fans have followed her extensively after her departure from Fleetwood Mac, claiming that she was the main sound that made the band so wonderful. While that's always up for debate the truth is that with a group or one her own she's been able to wow fans for quite a while.
Here are a few clips that show just how special her music is to some people.
5. School of Rock-Edge of Seventeen
School of Rock is one of those films you kind of have to get into unless you're an avid music lover. Jack Black isn't to everyone's taste obviously but his selection of music for this film is pretty awesome and manages to get a lot of emotion rolling throughout the movie. It's fair to say that this film is all about education through the eyes of some of the best music ever conceived.
4. Guardians of the Galaxy-The Chain
https://www.youtube.com/watch?v=ayMW9qYGwsM
The song doesn't come in until the final battle between Quill and his father, Ego, but once it does you get the idea that Quill has had enough and is more than ready to take the fight to his father, despite the fact that Ego is a planet-sized organism that could kill them all with very little effort. Sometimes though the fight is worth more than what it's going to cost.
3. American Horror Story: Coven- Seven Wonders
It was pretty cool to see Stevie Nicks show up in AHS: Coven, mostly because it had so much to do with the song and because one of the witches was, at least onscreen, a huge Stevie Nicks fan. Her opening song to this episode was powerful enough and pleasing enough to be one of her best performances ever. She might have even been great enough to play a bigger part if the creators had thought about it.
2. The Tonight Show w/ Jay Leno-Stand Back
https://www.youtube.com/watch?v=Mlz-0_GrOFY
Anytime a performer comes onto the Tonight Show it means that they've got a new album coming out or that they're just the hottest thing going at that moment. Stevie Nicks has always been on fire since she took up her solo career, but coming on live TV definitely makes that point a little more firmly since the audience can actually see and cheer her on.
1. The Voice-Landslide
https://www.youtube.com/watch?v=rnkFPB9stlM
This is one of the most classic songs ever devised to be honest and truthful about it. The song has been featured in so many shows and films and in so many different ways that it's become something of a favorite and a very time-honored piece.
Stevie Nicks is just awesome, and that's not even close to saying enough.
Save
Tell us what's wrong with this post? How could we improve it? :)
Let us improve this post!