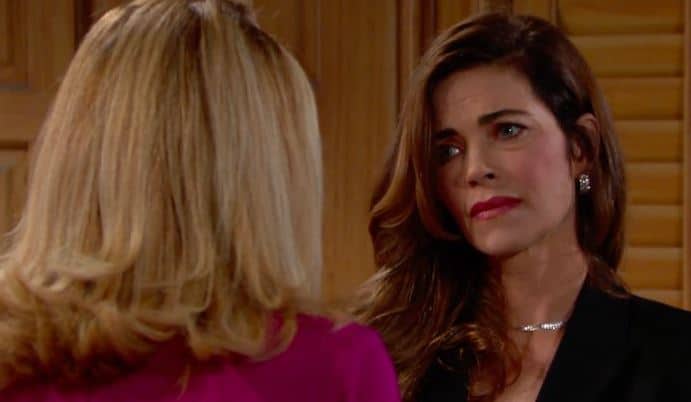 Young and the Restless fans are not going to enjoy what's happening around here this week. It turns out that there is not much going on to make this situation between Sharon and Phyllis any better. They continue to fight and argue and work their way through this situation with very little finesse. They are not the kind of women who like to get their situation under control without first making it all about them and what the other is doing. Now, we know that Sharon has every single right to be upset with Phyllis. She knew that Nick was a taken man when she took him to bed, and nothing about that is good news for anyone. There is very little that will go well with them. They have too much stress and too much animosity with one another to make this work out well. They are unhappy with one another, and we don't blame them.
And we also saw that Tessa received a warning from Noah. He will not sit back and allow her to treat Mariah the way she has been. While Mariah has been so happy to have her situation out in the public for everyone to see, there has been a lot more that's happening for them that she cannot control. Tessa has been very upset about a lot of what is going on, and we just don't care to see her hurt anymore than she already is hurt. She's not someone we like or appreciate right now for what she's doing, and Noah wanted her to know that he is on to her and unappreciative of what she's up to. He wants her to be kind to Mariah and treat her with respect and love — or else he will find her and make her pay.
What's Happening on Young and the Restless
Kyle is definitely living la vida Lola! ❤️ What do you think of these two together? #YR pic.twitter.com/vfzRDorFMF

— Young and Restless (@YandR_CBS) October 9, 2018
We kind of like it, but we also think this will turn into the kind of mess that just makes everyone a little crazy. He likes her more than she likes him, and Summer isn't happy about any of it. We think this has potential to become a huge problem for everyone involved.
What's Next on Young and the Restless
Kyle and Lola get their signals crossed today on #YR. pic.twitter.com/CWDOJlWnrt

— Young and Restless (@YandR_CBS) October 9, 2018
Jack is going to face something big, and we don't know how he will handle that. He has a situation at hand, and he's not sure how to play it. He's still looking for information about the strange man who fathered him. Does he know the man? Does he not know who it is? He will eventually find out — we hope — but for now he's stuck. He's got a sister, a brother, and a son who all want to see him on their side, and that's not something they can handle. Will he show his own loyalty to them in a way that makes them all happy, or will he pick and choose?
His sister has done what she can to make her life miserable in the past, but she's also the new CEO of Jabot, and we have to wonder if there is a chance this might just be the moment he backs out on her. She might be leaving the show as we all know, but will it be because of Jack when that storyline is shown? Will this have something to do with why she is leaving and what her future holds? She announced at the beginning of summer she's leaving the role this year, and that is not something that really plays into her new role as the CEO of the company. We have to assume this means that Jack is going to see her go, and we want to know if he has anything to do with that.
Stay tuned for more Young and the Restless and be sure to check out TVOvermind daily for the latest Young and the Restless spoilers, news, and updates.