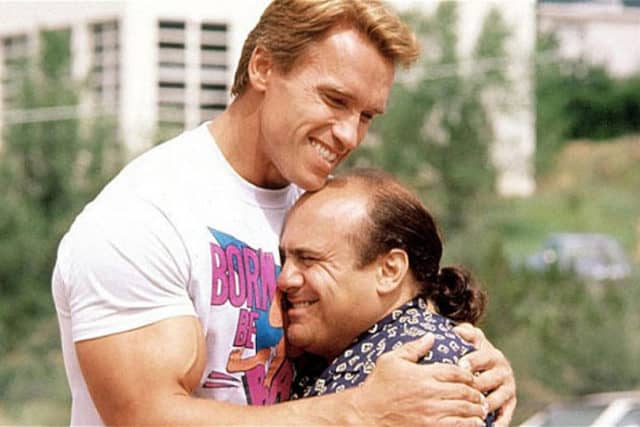 It's literally been almost 30 years since Arnold Schwarzenegger did his first comedy. In 1988 Ivan Reitman took a chance and directed an incredibly funny comedy that starred the action star and Danny DeVito as none other than Twins. No one could believe it. How would the star of The Terminator, Conan the Barbarian, Commando, and The Predator even be remotely funny? But Twins was great. Movie goers and critics loved it and Arnold showed us that he was more than just an action star. Schwarzenegger did Kindergarten Cop shortly after that which was also successful. Junior on the other hand, stunk.
But did anyone ever think there's be a sequel called Triplets in the works? I most certainly did not. And with Eddie Murphy added to the cast no less? In an interview with EW about his new film Aftermath, Schwarzenegger revealed that Triplets, the long-gestating sequel to Twins that would add comedy icon Eddie Murphy to the family, may start shooting by year's end. He says:
"We are just now working on Triplets. That is on top of the list, for me. Because I've been trying to do that for 20 years. Ivan Reitman (the director of Twins) believes in it. Danny DeVito believes in it — who always believed in it — and Eddie Murphy believes in it. It's going to be terrific! So, we are looking forward to that."
Yes, Eddie Murphy. Arnold is trying to get back some of his 80s glory right now but it's going to be tough on the action movie front. He's nearly 70 years-old and he's already turned down a role in The Predator, not to mention another Conan project is dead in the water. As far as Terminator 6 we might have to wait until 2019 for that. Time is running out for Schwarzenegger. We'll have to see if Triplets actually happens but I can't see this even being remotely watchable.
Tell us what's wrong with this post? How could we improve it? :)
Let us improve this post!