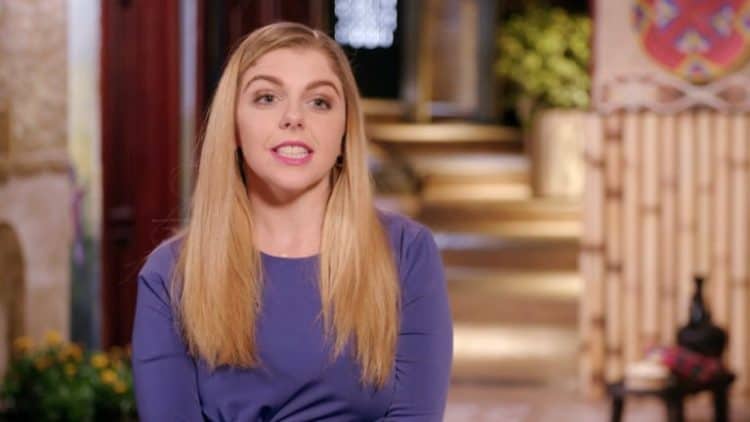 When Ariela Weinberg agreed to join TLC's 90 Day Fiance franchise, she knew that she was signing up to share her love story with the world. What she didn't know, however, was that she and her boyfriend, Biniyam Shibre, would quickly become fan favorites. With Ariela living in the United States and Biniyam living in Ethiopia, the couple had a lot of things stacked against them. During her pregnancy, Ariela made the decision to relocate to Ethiopia so that Biniyam could be there for the birth of their child. This decision caused some tension between Ariela and her parents because they felt that moving to Ethiopia would be putting her health at risk. Fortunately, Ariela made it through the delivery process and she and Biniyam's relationship has been able to withstand all of the ups and downs. Keep reading for 10 things you didn't know about Ariela Weinberg.
1. She Doesn't Blame Editing For Making Her Look A Certain Way
Since the inception of reality TV, people have blamed editing for making them look back. While there's no denying the fact that the editing is usually done in a way that creates the most drama, Ariela doesn't have any hard feelings towards the people who edit 90 Day Fiance. During an interview with the Escape to Reality Podcast, Ariela shared that she understands that things must be cut and pieced together for the same of time and entertainment.
2. 90 Day Fiance Is Her Only TV Experience
Ariela probably never imagined that she would become a reality TV star, but life has a funny way of working things out. That said, 90 Day Fiance appears to be the only work she's done in the TV world. Now that she's gotten her foot in the door, it'll be interesting to see if she looks for other opportunities.
3. She Has An Account On Cameo
If you're a fan of Ariela's you'll be excited to know that she records and sells personalized video messages on a platform called Cameo. She currently charges $50 per video and promises to have them turned around within 24 hours of payment. At the moment, she has a perfect five-star rating.
4. She Has Siblings
Since 90 Day Fiance is mostly focused on Ariela's relationship with Biniyam, viewers haven't gotten to know much about her outside of that. Some people will be surprised to know that she has three siblings: two brothers and a sister. Ariela appears to be the youngest. She is grateful for the support her siblings have shown her throughout her reality TV journey.
5. She's Sells Beauty Products
Ariela is all about making the most of her time in the spotlight, and she has come up with multiple ways to make money off of her popularity. She is currently an independent sales consultant for Arbonne. The large social media following she's gotten since being on the show has certainly helped with sales.
6. She Started A YouTube Channel
Selling products isn't the only way Ariela is trying to capitalize on her reality TV fame. She's also building a strong online presence that includes a YouTube channel. At the moment, Ariela's YouTube channel has just 145 subscribers. She's only posted one video so far, but hopefully, she decides to post content regularly. If she starts being consistent, there's a very good chance her number of subscribers will grow.
7. She's Gotten Criticism For Her Relationship With Her Ex
Biniyam isn't the first person from another country that Ariela has been in a relationship with. She was previously married to a man named Leandro. The couple tied the knot when Ariela was just 19 years old. Even though things didn't work out, they've remained good friends. However, some fans are questioning the nature of their friendship.
8. She Likes To Meditate
Life can get extremely hectic, and that is especially true for people in the spotlight. Meditating is one of Ariela's favorite ways to relax and center herself so that she can continue to take on the world. When the weather is nice, she often likes to meditate outdoors so that she can connect with nature.
9. It's Unclear What She Does For Work
Have you ever wondered what Ariela does for work? If so, you aren't alone. Initially, she was introduced as a writer, but it appears that she no longer does that. Ariela's LinkedIn profile lists her as a TV personality, so there's a good chance that that being on the show is her only job.
10. She's Struggled With Self Harm
From the outside looking in, it's easy to assume that Ariela hasn't had to deal with any real struggles in her life. That, however, isn't the case. In a YouTube video, she opened up about her experiences with self-harm. She also shared some insight into how she was able to stop and take better care of her mental health.
Tell us what's wrong with this post? How could we improve it? :)
Let us improve this post!