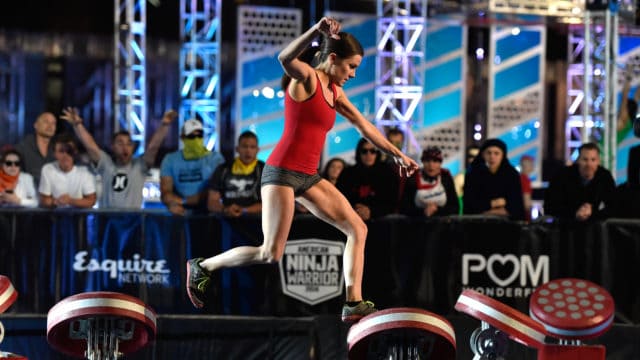 American Ninja Warrior first debuted on our TV screens in December 2009, since then it has grown to be one of the most popular TV shows in America. A few episodes into it's 9th season ANW has already been as exciting and captivating as ever. So it's hard even to imagine the show getting any better than it already is. But that's exactly what I'm going to attempt to do today. So how could American Ninja Warrior be better?
Here are 5 of my best suggestions. I think you'll like them.
1. More female competitors
My daughters are both admittedly Tom Boys. Climbing trees, playing sports, rough housing with their brothers, they do it all. So it's no wonder that they are huge American Ninja Warrior fans. Their only complaint? They would like to see more girls competing alongside the guys to be the next American Ninja Warrior. Honestly, I think this is something that will happen in the future as the show's popularity continues to grow.
2. More competitions
The Warped Wall, The Salmon Ladder, The Rolling Log. Many of the obstacles on American Ninja Warrior are nothing short of exhilarating. However, it would be nice to see them introduce more new obstacles to the show to keep us excited. The good news? I've already seen a few new obstacles in season 9.
3. More experienced competitors
It seems that in every episode there's a long stretch of inexperienced rookies that don't do much but fall in the water. I can't lie, this becomes a bit of a snack intermission in my house. We love the rookies, but watching long stretches of them try and fail is a bit boring. Let's cut that segment short and give more shine to the elite competitors.
4. Show more about the competitor's lives
Some of the most memorable moments on the show have nothing to do with the actual competition. But more to do with the lives of the competitors. During these short takes, they feature one of the contestants explaining how they train, why they decided to compete on American Ninja Warrior, and more personal details about their lives and families. It's always interesting to get that sneak peek behind the scenes. I would definitely like to see more of that.
5. More Celebrity Ninja Warrior
Wouldn't you love to see a few of your favorite celebrities compete on American Ninja Warrior? Me too. A few names I would throw out there are The Rock, Connor McGregor, Ronda Rousey. All athletic, all competitors, none of them are camera shy. The nice thing is that we're already seeing this but no huge names have come on yet. Stephen Amell killed it though.
Conclusion
Averaging over 6 million viewers per episode American Ninja Warrior appears to be here for the foreseeable future. And with this year's obstacle course already being heralded as the hardest yet, we're sure to be in for more dives, falls, and triumphs. It's hard to improve upon something that everyone already loves, but the producers of the show continue to one up themselves. Let's hope they keep the momentum going and keep improving the show! Good luck to the competitors in this year's competitions!
Tell us what's wrong with this post? How could we improve it? :)
Let us improve this post!