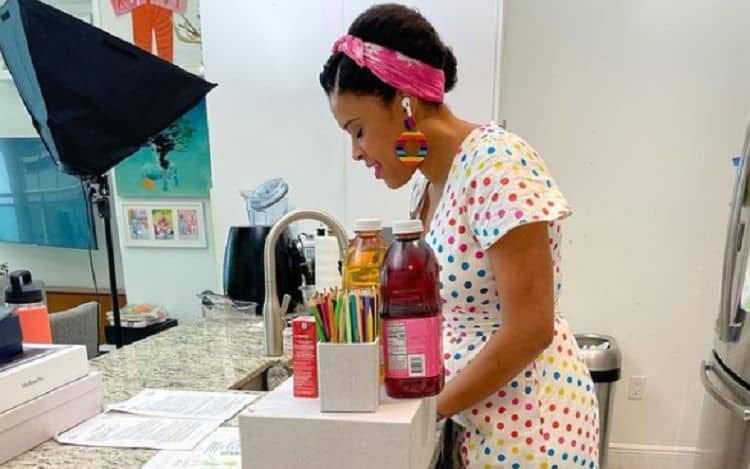 Amber Kemp Gerstel is a creative person through and through. She loves the arts and the process of being able to bring projects to life. Her passion and talent eventually brought her all the way to the reality TV world as a contestant on season one of Making It! During the show, Amber got the chance to share her crafting skills with the world and people fell in love with her work. Amber ended up coming in second place on the show, and the exposure has done wonders for her career. Since then, she has made a handful of other TV appearances, and it's very clear that Amber is here to stay. Continue reading for 10 things you didn't know about Amber Kemp Gerstel.
1. She Started Crafting As A Child
From an early age, arts and crafts were much more than just a fun hobby for Amber. Amber told Design Sponge, "When I was about eight years old, I asked for a pottery wheel and around that same age I convinced my mom that my allowance should be paid in stationery and Mary Engelbreit stickers. Needless to say, crafting and creativity have been running through my veins for a VERY long time."
2. She Has A PhD
Despite falling in love with crafting as a child, Amber still followed a pretty traditional path. In 2008, she earned a PhD from Vanderbilt University and she went on to work as a clinical psychologist. Eventually, however, she realized that she wasn't passionate about her job and she decided to leave it behind to focus on her crafting blog.
3. She Didn't Think She'd Be Cast In Making It!
Any time a casting call goes out for a reality show, there are lots of applicants. As a result, Amber didn't think she stood a chance to be chosen for Making It! During an interview with MarthaStewart.com, Amber said, "When the casting calls began for 'Making It,' I received a ton of messages from friends telling me to apply. I figured there was zero chance I'd be cast, but I applied anyway. At least, I'd be able to tell my friends that I'd given it a shot." Little did she know, producers were more than excited to interview her for the show.
4. She Loves Carbs
Lots of people feel so much pressure to maintain a certain weight or follow a certain diet that they're afraid to admit that they just love food. Amber, however, has no shame in her game. She loves carbs and she has an extra special place in her heart for biscuits and french fries.
5. She's A Hugger
For lots of people, handshakes are standard when meeting new people. However, that's not how Amber gets down. She is the kind of person who prefers a good hug. If you ever get the chance to meet Amber, don't be caught off guard if she wants to give you a hug.
6. She's A Brand Ambassador
Thanks to her blog, Amber already had a decent following before she was cast in Making It! However, being on the show only helped her build an even larger platform. She has gotten the opportunity to work with several major brands including Whole Foods and Scotch.
7. She's All About Family
Amber's journey towards being able to do what she loves has been made a lot easier thanks to the support of her loved ones. She is happily married and her husband has always been her number one fan. The couple has one child together and Amber loves being able to spend time with her family whenever she can.
8. She Has A YouTube Channel
Instagram is the platform where Amber has built the largest audience and many of her followers may be surprised to know that she has a YouTube channel, too. Amber started the channel back in 2007, but unfortunately, she never reached a point where she was posting consistently. If she ever does decide to really get into YouTube, there's no doubt that she'll grow a large following.
9. She's Bilingual
Being able to speak more than one language is one of those things that can be extremely beneficial no matter what you choose to do in life. According to Amber's LinkedIn profile, she speaks both English and Spanish. However, it's unclear if she speaks Spanish fluently.
10. Being On Making It! Changed Her Approach To Business
Amber's time on Making It! proved to be more beneficial than she ever could've imagined. While talking to The Every Mom, Amber said, "Being on Making It changed the way I create and the way I approach my business. There is truly nothing like being issued crazy challenges, crafting for hours upon hours, in a barn on a ranch…with cameras at every turn. …After doing Making It — there is no creative challenge I can't take on!"