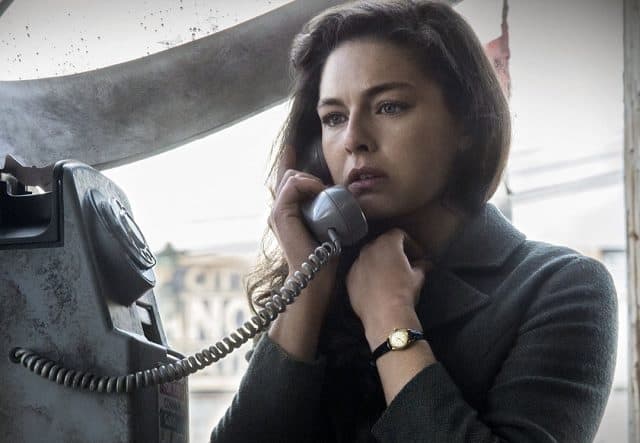 Alexa Davalos has been acting professionally for almost 20 years. During that time, she has become known all over the world. While she may not be as famous as some of her contemporaries, she has built a very solid career in both TV and film. She is most recognizable from her roles in movies like Clash of the Titans and The Chronicles of Riddick. On top of that, she was the star of the Amazon Prime series The Man in the High Castle. Although it's been a couple of years since Alexa's last on-screen appearance, there's a very good chance that we haven't seen the last of her. Continue reading for 10 things you didn't know about Alexa Davalos.
1. She Was Born In France
Alexa had quite an interesting upbringing. Although both of her parents are from the United States, she was born in France and spent her childhood between France and Italy before moving to New York. As a result, she is fluent in both English and French.
2. She Comes From A Creative Family
Alexa certainly isn't the first person in her family to embark on a career in the arts. Her mother, Elyssa Davalos, was an actress from the early 1970s to the late 2000s. Her father, Jeff Dunas, has been a professional photographer for many years. Her maternal grandfather, Richard Davalos, was also a successful actor.
3. She's Married
In addition to having a successful professional life, things in Alexa's personal life have also gone well. Alexa has been happily married to actor Josh Stewart since 2019. The two previously worked together on the Netflix series The Punisher. Alex and Josh do not have any children together, but Josh has two children from his previous marriage.
4. She Loves Taking Pictures
Alexa didn't just follow in her mother's footsteps by becoming an actress, she also followed in her father's with her love of photography. Alexa really enjoys taking pictures and I think it's safe to say that she's a natural at it. Her Instagram profile is almost entirely made up of pictures she's taken.
5. She's An Avid Reader
Alexa has devoted her career to helping tell great stories, but sometimes she likes to be on the other side as well. In her free time, she enjoys reading and she always gravitates towards interesting stories. Unfortunately, we weren't able to find any information on her favorite books or authors.
6. She Feels Like She Was Born In The Wrong Era
Have you ever felt like you should've been born in a different generation? If so, Alexa can relate. While talking to Vanity Fair, Alexa shared that she feels like she was born in the "wrong era". As a result, she enjoys doing projects that allow her to connect with different time periods.
7. She's A Private Person
Alexa has never been the type to put all of her personal business in the public eye. Instead, she has always maintained a low profile. When discussing how she's able to balance a 'normal' life with a career in entertainment, Alexa told Film Monthly, "I think it's a choice. I think it's a conscious choice of how you you're your life and what you allow to affect you and what you don't".
8. She Isn't Shy About Her Political Views
Most people shy away from discussing politics because it's typically seen as a subject to avoid in mixed company. However, in recent years, lots of people have decided to make their politics known. Alexa has often used her Twitter profile to share her political opinions. She made it very clear that she did not support former president Donald Trump.
9. She Started Her Career As A Model
Although she may not have always seen it this way, most people would agree that a career doing something in entertainment was inevitable for Alexa. However, it took her a while to discover exactly what she wanted to do. When she was a teenager, she moved out and began making money as a model. She eventually found herself drawn to the theater world and she realized that she wanted to get into acting.
10. She Loves Traveling
Alexa is fortunate to have lived in different countries, and this probably sparked her interest in seeing the world. She has always loved to travel and she enjoys the experience of visiting new places and learning new things. Her passion for traveling also goes hand in hand with her love of photography. She has gotten to take some stunning pictures in some of the most beautiful cities.
Tell us what's wrong with this post? How could we improve it? :)
Let us improve this post!